On November 22, NTCA Five-Star Contractor J&R Tile of San Antonio, Texas began a new chapter. Brothers John and Raymond Kotara started the company in 1984. Christine Kotara, John's wife became controller in 1987 and then President and CEO. John and Christine's daughter Erin Albrecht elevated the company and carried on the legacy as company Vice President, and Director of Operations and Pre-Construction.
And on November 22, Albrecht purchased J&R Tile, and gained the new title of Owner. The official transfer took place at Chicago Title Company in San Antonio. The company will continue doing business as J&R Tile, Inc., Albrecht said, noting, that John and Christine will stay on as consultants until new staff is added in accounting, estimating and project management.
"There's not much change at all, just new ownership! " Albrecht said. "Exciting new projects we have this year on the books are NTCA Five-Star specified."
Although Albrecht said "there's not much change," there is a plenty in the works for 2021 and 2022, including developing more relationships with the architectural and design community.  She noted that  J&R currently presents CEUs (Continuing Education Units) on industry standards and qualified labor to promote and specify Certified Tile Installers, Advanced Certified Installers, and NTCA Five-Star Contractors.  NTCA Five-Star Contractors have the ability to present 12 different one-hour presentations (developed by Amber Fox, NTCA Five-Star Program Director).  "Architects and designers need 12 hours of credits for Continuing Education every year," she said. "It is the best way to connect and be THE professional in your local market."
In addition J&R Tile is strengthening and building on its core values, which include attention to detail, accountability, continuous self-improvement, hunger for achievement, honesty and integrity.
"To accommodate the need for skilled labor in our industry, while still honoring our core values, we intend to grow our full-time installation teams internally with our Dept. of Labor-approved Apprenticeship," Albrecht explained. "J&R uses the NTCA University curriculum, along with field experience with a Certified Tile Installer. Apprentices receive weekly quizzes on Tile Council of North America (TCNA) standards that we started sharing on the NTCA Members Only Facebook Group. Our goal is to promote them from Pre-Apprentice (no experience) to Apprentice 1,2,3,4 then test them internally (similar to CTI testing) before promotion to Journeyman Installer 1,2,3,4 and eventually promotion to Certified Tile Installer."
Professional Development is also key for the company, including Leadership Training, monthly product training with ARDEX, and weekly focus on improving and bolstering employee engagement.
With these objectives firmly in place, and ignited by new leadership, this Woman Owned Small Business, HUB Certified, ESBE, SBE firm is uniquely positioned to take 2022 – and the future – by storm.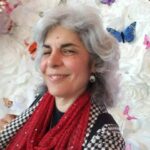 Editorial Director and Senior Writer for TileLetter and TileLetter ARTISAN
Lesley Goddin has been writing and journaling since her first diary at age 11. Her journey has taken her through a career in publishing and publicity, landing her the editor position of TileLetter and its special publications in 2006. Her goal is to educate, inspire, recognize and encourage those in the tile industry -- especially the tile and stone contractor. Other interests include the soft, purring marvels known as cats, labyrinth walking, drumming and percussion, and a range of spiritual, musical and artistic pursuits.