"Year's end is neither an end nor a beginning, but a going on, with all the wisdom that experience can instill in us."
– Hal Borland
---
As another year draws to a close (and a new one is just about to begin), take a moment to review your 2019. What were the high spots? What can you learn from the lows? What was the one new thing that you learned or implemented this year that made a difference in your execution or operations? Did you attend a training seminar or a workshop or perhaps a trade show or conference for the first time? How did that benefit your business?
In our busy world, it's tempting to race from one thing to the next without taking time to breathe and reflect. And yet, if we don't review or assess our day, week, month or year, how do we learn? How do we know where we need to improve or <gasp> congratulate ourselves and our colleagues on the victory of jobs well done – and repeat those steps that led to success?
Don't give in to temptation. Take the natural lull that comes at this time of year to consider what's come before and ponder how that can be a springboard for the year to come. That's what we do in our NTCA Review – looking back gives our road map for 2020 a solid foundation. Check out this story and see where the association is headed next year.
We announced our first ever NTCA Tile Setter Craftsperson of the Year back in September, but this month, read a little bit more about Lee Callewaert of Dragonfly Tile and what it means to him to win this honor, which was awarded at the end of October at Total Solutions Plus.
Did you get to travel to Italy this fall to see all the hot new products at Cersaie? If not, don't worry – we recap some of those new introductions in our product section in this issue.
Do you know what a flow-down clause is? You may know it as a "pass-through" or "conduit clause." Do you know that it binds subcontractors to the same duties and obligations as the general contractor has to the owner? Is this a good thing or not? Read our Business Tip section by Daniel Dorfman, Chair Construction Law Group, Fox Swibel Levin & Carroll LLP, and find out.
Whatever you do, DO take time to kick back and relax with those you hold dear. In the inimitable words of Ferris Bueller: "Life moves pretty fast. If you don't stop and look around once in a while, you could miss it."
God bless, and happy holidays,
Lesley
[email protected]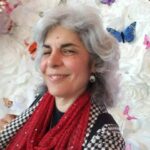 Editorial Director and Senior Writer for TileLetter and TileLetter ARTISAN
Lesley Goddin has been writing and journaling since her first diary at age 11. Her journey has taken her through a career in publishing and publicity, landing her the editor position of TileLetter and its special publications in 2006. Her goal is to educate, inspire, recognize and encourage those in the tile industry -- especially the tile and stone contractor. Other interests include the soft, purring marvels known as cats, labyrinth walking, drumming and percussion, and a range of spiritual, musical and artistic pursuits.