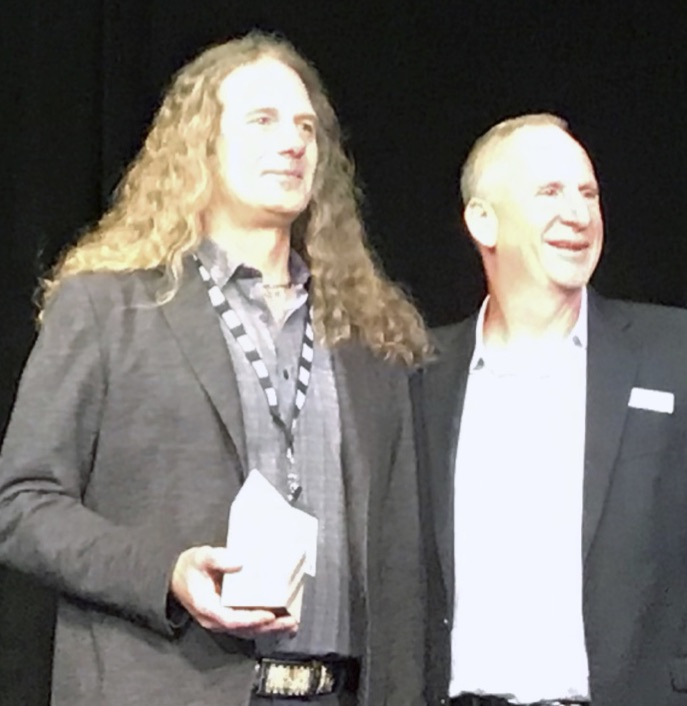 During the Awards Lunch at the 10th annual Total Solutions Plus in Nashville, Tenn., the National Tile Contractors Association (NTCA) awarded Lee Callewaert of Dragonfly Tile & Stone Works, Inc. the Tile Setter Craftsperson of the Year Award.
As part of his award, Callewaert received an all-expenses-paid trip to Total Solutions Plus. He and his wife, Jane, were also recognized at the NTCA Annual Meeting.
Over 20 candidates were nominated for the award. Requirements included a letter of nomination, a career summary, and descriptions of three to five projects the nominee has worked on. Nominees were required to be NTCA members, have a minimum of 15 years of installation experience, and still be active tile setters at time of nomination. Judges evaluated nominees based on their artistry, technical accuracy, problem solving skills, continuing education, and mentorship or leadership of others. 
In his nomination letter, Dragonfly customers and apprentices stressed Lee's commitment to the next generation of tile setters, saying he leads by example and teaches his students the importance of continually obtaining more knowledge in order to improve their skills.
During the NTCA Annual Meeting, Jan Hohn of Hohn & Hohn, Inc., talked about the Dragonfly apprentices' nomination. "Lee did not know that he been nominated for this award. His apprentices took it upon themselves to nominate him, and they worked with his wife, Jane, to get the application in. Lee did not know until the phone call came. That's how dedicated his apprentices are to him, the industry and the craft that they took it upon themselves [to nominate him]."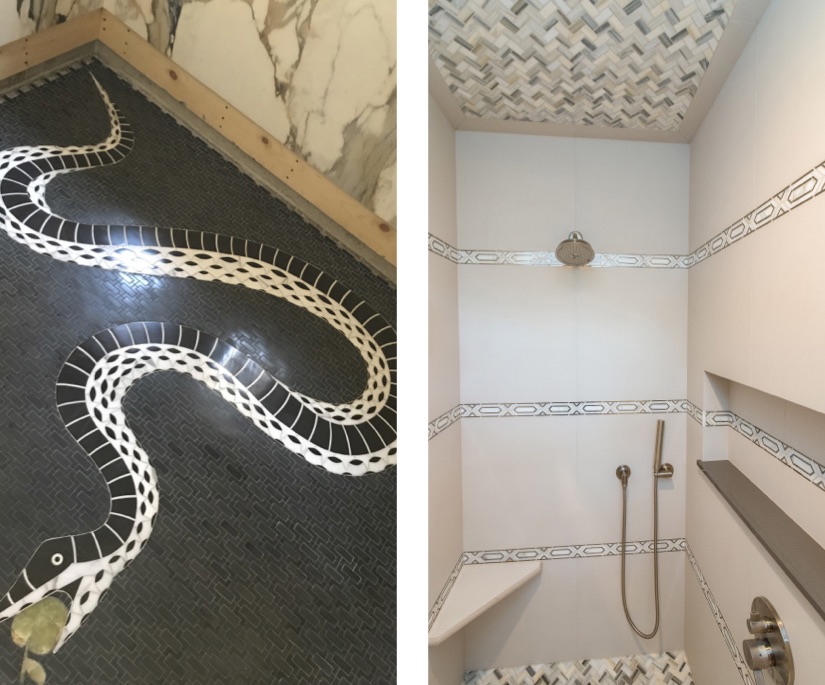 Callewaert, who has been setting tile for over 35 years, is the co-owner and senior craftsman of Dragonfly Tile located in Grafton, Wis. He began his career as an apprentice in Tennessee. Later, he moved to Wisconsin and where he started as a journeyman tile setter and later became foreman. In 2003, Callewaert founded Dragonfly Tile with Jane. By this time, he found his niche in custom tile and stone designs and installations. 
Callewaert said he started his own business in order to make a difference. He believes the trade is more than just setting tile. "There are a lot of people like me who want to bring the professionalism and the artistry back to this trade. It isn't about just setting tile. It's a craft with a proud history and that history should be preserved and built upon," Callewaert said.
He also stressed that his success would not the possible without the help of his wife. "I could not do what I do in the field without my business partner and wife, Jane. She is as committed to this journey as I am. I can't stress enough how important it is to have someone who can handle the other side of the business. There is no way without her that I could have achieved what we have achieved. She is as valued as I am by our employees and clients."
Jane said she was honored that Callewaert and Dragonfly Tile were being recognized by NTCA. "Being recognized by industry leaders and peers is a great honor. But it's also very motivational. It feeds your passion and commitment. I've seen this first hand."
NTCA Executive Director Bart Bettiga echoed Callewaert's sentiments about he and his wife working as a team. "I've been executive director for 18 years and I've been working with tile contractors for 35 years and what [Callewaert] just said is exactly what this industry is all about. We have a great association of husbands and wives that run family-owned businesses." 
Currently, Callewaert specializes in highly technical and challenging commercial and residential tile and stone installations. Additionally, he is a Certified Tile Installer (CTI) and dedicates a portion of his time mentoring the emerging setters on his team.  
Lee vowed to continue to pass his knowledge and the craft on to the next generation of industry professionals. "All of us started somewhere and we are indebted to those who launched our careers and supported us throughout the years. I'm so honored and will continue to pass it on."