Lexington, KY: August 6, 2018 ⎯ Florida Tile introduces Local HDP. This glazed porcelain floor and wall tile allows you to design an atmosphere that creates a sense of connection – a place of both possibility and comfort – a place to linger and belong. The look of weathered, painted wood introduces comfort and familiarity that is rustic…yet graceful.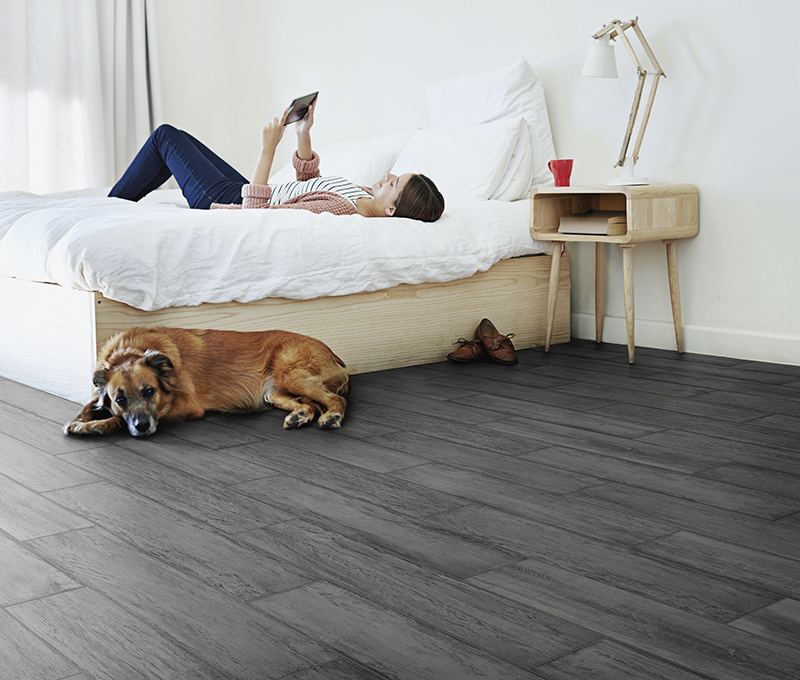 "Local HDP is one of those rare products that immediately gives you a warm, almost nostalgic feeling when you look at it. It reminds you of a place you have been, even if you can't quite remember where that place was," said Tressa Samdal, Director of Marketing for Florida Tile. "During development we focused on the urban planning idea of 'third spaces', places beyond home and work where you spend time. Those spaces transcend locale and invite you to be part of the community and its story."
The seasoned color palette of Bistro, Café, Lounge, Market, and Tavern will give any interior or exterior space tone and personality. The refined white, cool and warm grays, calming creams, and taupes set a mood that is welcoming and chic, delivering you to your favorite local haunt. An 8″x36″ pressed plank provides a format that works well in an array of traditional, contemporary, or eclectic environments. A 2″x12″ herringbone mosaic available in each of the five colors, as well as warm and cool mix cube mosaics make a modern and impactful statement.
Manufactured using proprietary HDP—High Definition Porcelain® printing technology, Local HDP is appropriate for all applications in both residential and commercial settings. It is entirely made in the USA in Florida Tile's Green Squared® certified Advanced Manufacturing Center in Lawrenceburg, KY, of 40% pre-consumer recycled content. It meets the DCOF AcuTest® requirements to be installed in wet areas and is GREENGUARD® and Porcelain Tile certified. Incorporated into the tile surface is Microban® antimicrobial technology that works continuously to inhibit bacteria growth, improve visible cleanliness, and reduce odors.
—–
Florida Tile is a fully owned subsidiary of Panariagroup, a publicly owned company traded on the Milan Stock Exchange (MILAN: PAN IM). Panariagroup is a leading manufacturer and distributor in over 60 countries around the world with six manufacturing sites in Italy, Portugal and the USA and nine brands positioned in the high-end of the market.