"An optimist stays up until midnight to see the new year in. A pessimist stays up to make sure the old year leaves."

– William E. Vaughan
It is October 30, and I am taking a breather between the Virtual Exhibits on the final day of the Total Solutions Plus (TSP) Virtual Conference, and the closing keynote by Peter Zeihan to write my Editor's Letter. It's been an interesting week. In many ways, the virtual conference has been useful, allowing me to type notes and story ideas during discussions and presentations, and finish up work on the December issue in between sessions. It's been fun to see company reps during the Exhibit Hour or request info, albeit not "in person." The Virtual Happy Hour led to some really connecting discussion in the Coverings room, and it almost felt like we were there live. Industry peeps who I talked to expressed the unsurprising desire to want to be around people: hug, handshake, meet in person away from virtual conferencing fatigue that many are experiencing. Yet there was also a widespread acknowledgment of the health challenges that we are all facing and the need – and maybe even gratitude – for this technology that still allows us to learn, be exposed to new ideas (even yoga!), engage in discussion and have face-to-face interactions of a sort.
The big take away is that whether in person or virtually, this is an industry that does what it takes to work together and move forward despite the challenges. And we already do that in many ways – the first Certified Tile Installer testing event for 2021 was announced this week (go to ceramictilefoundation.org for details), and companies are angling to carefully institute in-person trainings as early as spring 2021. The venue for TSP 2021 was announced this week – Hyatt Regency Jacksonville Riverfront, Jacksonville, Fla., from October 24-27, 2021. People are hopeful.
In the meantime, we adapt to survive – we stay connected the ways we can, via webinars, online training, discussion, videos on the NTCA YouTube Channel, or NTCA TileTV. There's a robust schedule of NTCA Roundtables Live! at tile-assn.com under the Education & Certification tab that allows for animated discussion: visit the site to find out more about roundtables scheduled this month. There are virtual trainings offered by individual manufacturers. There's nothing like getting your hands dirty learning new methods and working with new products, but these virtual events can lay the groundwork so that when in-person opens up again, you can hit the ground running.
And of course, there is always the TileLetter resource that brings information, and hopefully inspiration monthly and also online daily at tileletter.com, now with a new more accessible format across platforms and devices. This December issue has a wealth of information that can enhance your business operations and up your technical game.
This issue also contains news of an entrance and an exit. Martin Brookes has penned his first President's Letter for TileLetter and you can read about his vision for NTCA and the industry in this issue. Also, it is our sad duty to report the passing of Dan Hecox, of Hecox Construction, Inc., in York, Neb. He left a giant hole in the fabric of the industry, where he was known for his enthusiasm, positive outlook, generous attitude and constant willingness to help out and to share information with others. Read more about our late friend in this issue.
Since it's December, and the month of many holidays, please do take some time to value and uphold each other, especially during a time that is unlike any other most of us have lived through. There are still safe ways to celebrate and express love for each other that don't put health in danger – don't let the challenge of doing so prevent you from doing so. We are a creative lot! We can do this. And let's look with hopeful anticipation to turning the page on this calendar year and welcoming in 2021, and the many opportunities it brings. Happy, merry, blessed to all!
God bless,
Lesley
[email protected]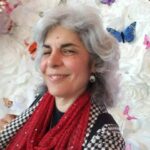 Editorial Director and Senior Writer for TileLetter and TileLetter ARTISAN
Lesley Goddin has been writing and journaling since her first diary at age 11. Her journey has taken her through a career in publishing and publicity, landing her the editor position of TileLetter and its special publications in 2006. Her goal is to educate, inspire, recognize and encourage those in the tile industry -- especially the tile and stone contractor. Other interests include the soft, purring marvels known as cats, labyrinth walking, drumming and percussion, and a range of spiritual, musical and artistic pursuits.