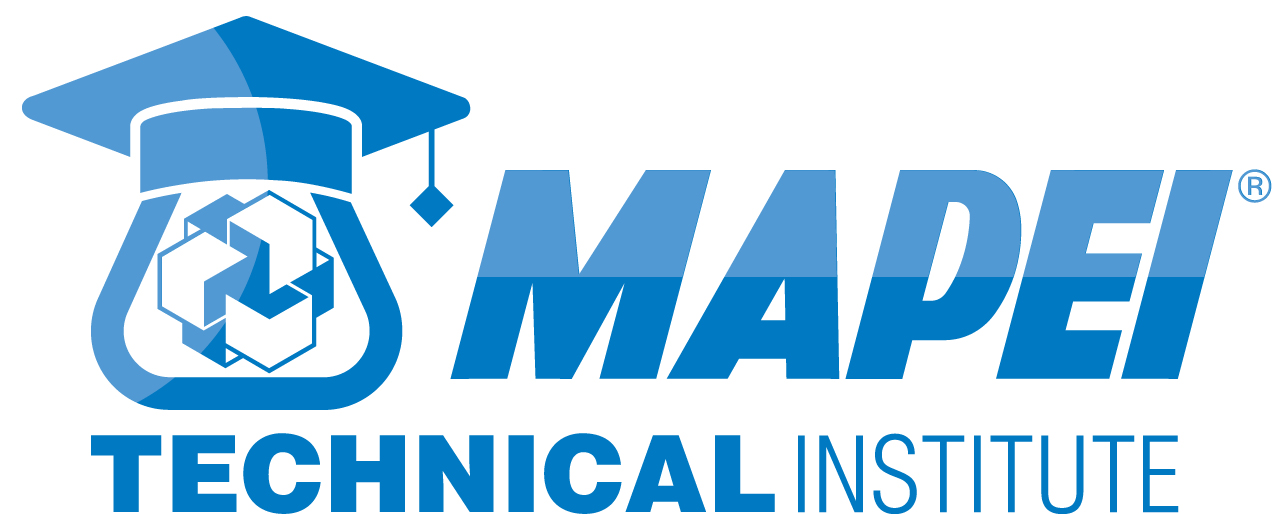 Deerfield Beach, Florida – MAPEI North America's training program, known as MAPEI Technical Institute (MTI), has introduced a redesigned logo in conjunction with a global rebranding of the company's international training initiatives. MTI provides high-quality courses with demonstrations and hands-on training to architects, contractors, installers and distributors.
The rebrand features the classic MAPEI beaker topped with a graduation cap and left-sided tassel, an ode to the commencement ceremony where graduates flip their tassels after earning a diploma. Minimal and modern, the new logo comes in two variations – one with the phrase "MAPEI Technical Institute" to describe trainings and workshops, and one with the phrase "MAPEI Technical Institute TV" for use with the MTI-TV videos hosted by Dan Marvin, MAPEI's Director of Technical Services, and Sam Biondo, MAPEI's National Technical Presenter. With this redesign, the new MTI logo visually focuses on high-quality installation education.

Along with the updated logo, MTI has seen an expansion in the number of its training sessions in the United States and Canada. New trainers have also been added for the United States, which has set up new training areas at the MAPEI plants in San Bernardino, CA; Dalton, GA; and Logan Township, NJ. The MAPEI facility in Calgary, AB, is also home to a new training area. For an agenda of training sessions, see the listings at www.mapei.com.
MTI currently comes in three variations: First, to offer industry insights and a better understanding into industry standards, MTI facilities host official product education events, hands-on workshops that provide specialized training on new products and techniques for specific installations. Technical experts also offer on-site trainings at distributor locations across the United States upon special request. Second, short MTI-TV videos inform about cutting-edge products, problem-solving solutions and step-by-step installations. Third is the tradeshow favorite MTI-Live, where Sam Biondo and a team of MAPEI sales representatives perform live demos of our latest products at national tradeshows such as The International Surface Event (TISE) and World of Concrete (WOC).
MTI is also an active supporter of the National Tile Contractors Association (NTCA) and the International Concrete Repair Institute (ICRI).
For registration information on U.S. seminars, contact Sophia D'Amico-Campbell at (954) 246-8555. For registration information on Canadian seminars, contact Marie-Christine Mercier at (450) 662-1212.