INDIAN WELLS, Calif. — November 7, 2022 – Merkrete, A Parex USA brand, welcomed leaders and influencers of the tiling world to its booth last week at Total Solutions Plus. The Hyatt Regency Indian Wells Resort & Spa hosted the conference November 6 to 8, allowing members of the tiling industry to network and educate themselves on the many new skills and products required to thrive in today's market. Merkrete presented its growing array of grout solutions to visitors determined on ending unwanted callbacks for their customers.
"The tile professionals who have visited our booth are most interested in providing their customers with quality installations utilizing superior-grade tile setting products, and grouts have been at top of mind for many of them," said Merkrete Director of Sales Todd Boos.  "Our team has had a number of conversations with visitors familiar with the current Merkrete grout offering who were eager to see the new product innovations we would be introducing into the line this year.  We did not disappoint."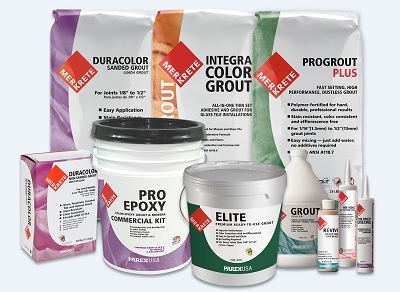 Merkrete is augmenting its grout offerings with the release of an advanced version of its ProGrout in the coming weeks.  This high-performance, rapid-setting polymer-modified grout incorporates DUSTLESS Technology for cleaner workspaces and greater workability to produce hard, durable joints.  It will be quickly followed by a ready-to use grout.  This grout is packaged premixed to provide simplicity and time savings to most grout jobs. Both new solutions promise to eliminate callbacks to commercial and residential jobsites through color-consistent, efflorescence-free results.
Total Solutions Plus is the brainchild of the four main associations of the tiling industry: Ceramic Tile Distributors Association, the National Tile Contractors Association, The Tile Council of North America and Tile Contractors Association of America. The three-day conference draws tiling experts from around the nation to listen to motivational speakers, engage in educational sessions and network throughout the industry. The presentation booths highlighting the event allow participants to meet with manufacturers and discover the latest tile setting innovations, like Merkrete's grout solutions. The interaction also lets participants express some of the challenges they face from the current economic climate.
"We attend Total Solutions Plus to educate and assist our customers so that they may provide the best solutions for their customers," noted Boos.  "By listening to our customers as they visit our booth, we have an opportunity to learn firsthand a great deal about their product development ideas and any recommended improvements to their current product's performance.  This provides invaluable insight to Merkrete as we strive to address current market needs and anticipate those upcoming.  These new grouts are fantastic examples of how we respond.
---
About Merkrete
For 50 years, Merkrete has provided architects, contractors and building owners with the most uniquely diversified and innovative product line in the industry. Merkrete has successfully supplied the building industry with over one billion square feet of tile and stone installation systems backed by extended warranty programs. From surface preparation and waterproofing, to a complete line of tile installation systems, Merkrete makes it all possible.  Merkrete is a member of the Parex USA suite of brands.  For more information, please visit www.merkrete.com. 
Parex USA Inc., a California Corporation, is one of the nation's leading manufacturers of specialty chemicals and ready-to-use mortars for the construction industry. To learn more about Parex USA Inc. please visit www.parexusa.com.