Innovations Provide New Solutions for Challenged Tile Industry
JACKSONVILLE, Fla. — October 26, 2021 – Merkrete, A Parex USA brand, welcomed leaders and influencers of the tiling world to its booth recently at Total Solutions Plus.  The Hyatt Regency Jacksonville hosted the conference October 24 to 26, allowing members of the tiling industry to network and educate themselves on the many new skills required to thrive in today's global conditions.  Merkrete presented its patented DUSTLESS variety of tile adhesives and shared an optimistic outlook with the hundreds of attendees throughout the assembly.

"We have been looking forward to Total Solutions Plus for more than a year," said Parex USA Western U.S. Manager Todd Boos.  "The virtual conference of 2020 was a stroke of genius on the part of the committees, but it hardly replaces the warm face-to-face interactions that let us reunite with industry colleagues and hold constructive meetings with the distributors, partners and customers we serve.  Total Solutions Plus this year let Merkrete really give a proper introduction to our DUSTLESS line of adhesives."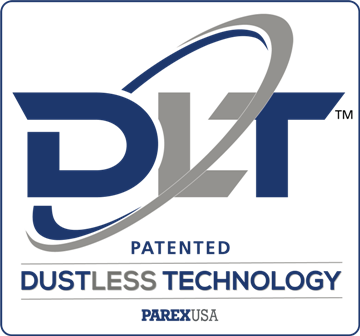 Merkrete's innovative and patented DLT™ – DUSTLESS Technology further expands upon Merkrete's full range of innovative solutions for the tile and stone installation market. The new products — 855 DUSTLESS XXL LHT Mortar, 820 DUSTLESS Merlite and 735 DUSTLESS Premium Flex — are easier to use, produce less dust and work in a complete system with Merkrete's product portfolio.
Total Solutions Plus is the brainchild of the four main associations of the tiling industry: Ceramic Tile Distributors Association, the National Tile Contractors Association, The Tile Council of North America and Tile Contractors Association of America. The three-day conference draws tiling experts from around the nation to listen to motivational speakers, engage in educational sessions and network throughout the industry. The presentation booths highlighting the event allow participants to meet with manufacturers and discover the latest tile setting innovations, like Merkrete's DUSTLESS Technology systems. The interaction also lets participants express some of the challenges they face from the current economic climate.
"A common theme I'm hearing throughout this event is contractors, distributors coming up to us and letting us know how difficult it is getting the materials they need to do their jobs," noted Boos. "Supply chain disruptions, raw materials shortages are affecting most of the people here, so it's extremely helpful to be able to work with them one-on-one to get them the high-performance tile setting materials they need. It's good to reassure them that Merkrete's 50 years of innovation and support means we have the solutions they need so they can continue their operations without interruption."