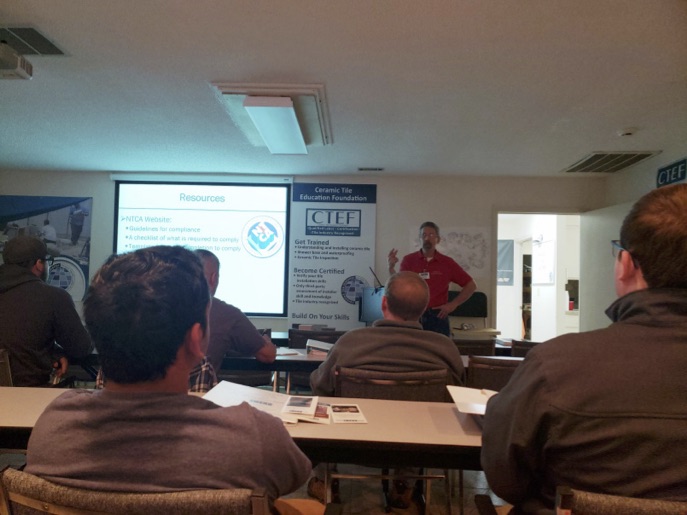 Spend a little time with me and it's quickly noticeable that I've worked in the flooring industry. The first thing I notice about a room is its flooring – whether it's hardwood, carpet, stone, tile or (ugh) laminate. Is it real hardwood, wood-look tile, or LVT? I notice how it works with the room and what installation pattern was used. Admittedly, I'm a realtor's nightmare; I partially rejected a house because it had plank tile that wasn't installed following the 33% rule. But that's where my installation knowledge stopped – until I spent a week at CTEF.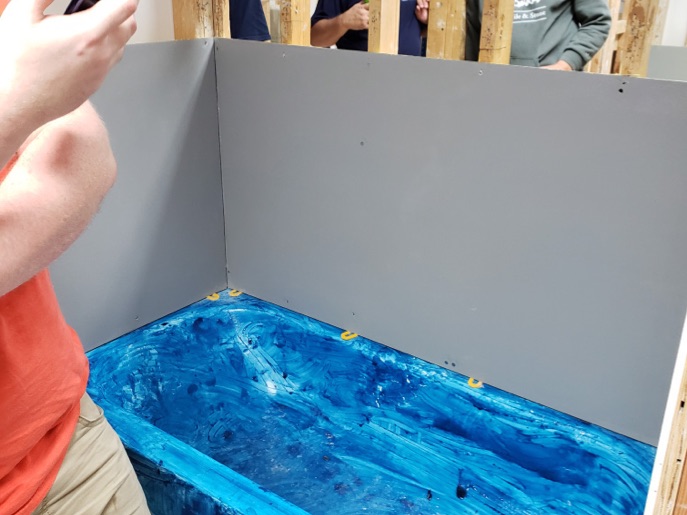 I know lots about tile, from how it's made to recommended usage. What I didn't know was how to install it, so I jumped at the chance to take CTEF's Understanding and Installing Ceramic Tile course. This five-day course teaches the basics of tile installation. That description will probably make quite a few seasoned tile guys and gals say they don't need that course. Think again. 
My class was filled with a mix of seasoned installers, experienced professionals, novice setters, house flippers, and builders. The one thing we had in common is by the end of the week, we all left with a lot more knowledge than what we entered with.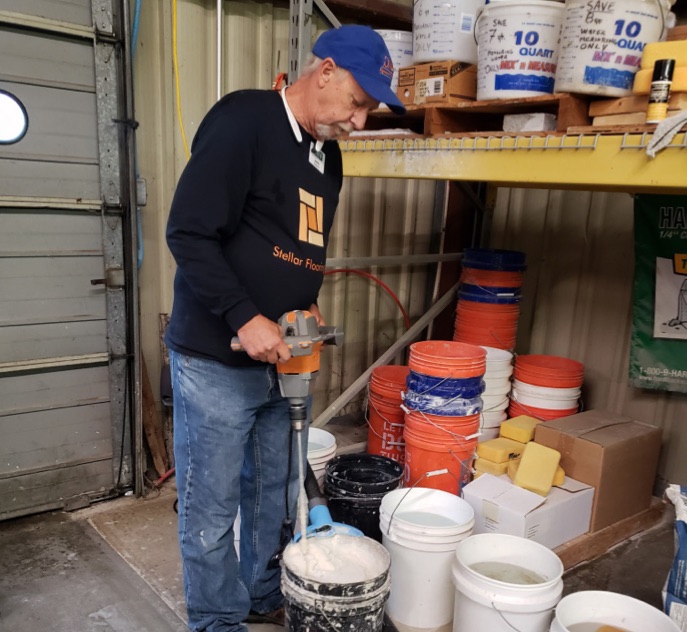 The course is structured as part lecture/instruction, part demonstration and part hands-on. We usually started the day in the classroom. Instructor Scott Carothers, aided by John Roberts of John Roberts Designs, Inc., – a NTCA Georgia State Ambassador, CTI #1278 Certified Tile Installer and CTEF Regional Evaluator – encouraged us to actively participate in the discussion and interject our own knowledge, experiences, challenges and successes. It allowed us to apply real-world experiences to what we were learning. (See more on John in the TileLetter December 2018 issue, Member Spotlight column, page 62.)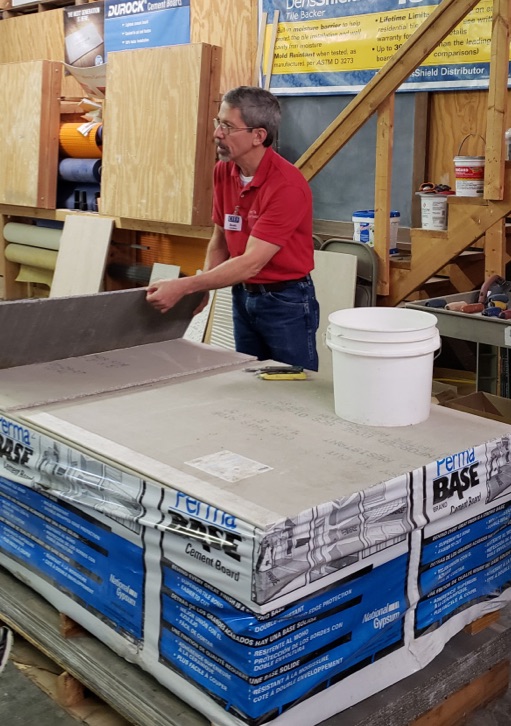 The demo portion really focused on the tools of the trade and how to pick the right tools for the job. This portion of the course really taught you about planning before you even start, choosing the correct tools, substrate prep, cutting tile efficiently, and the importance of correct mortar coverage. We learned everything from what trowel to use to how to use a wet saw (my favorite part).
I was eager and anxious about the hands-on portion. My class was filled with people who did this for living, and this was my first experience even picking up a trowel. We broke up into small groups and were assigned to a room. Throughout the week, we prepped and installed the tile of our choice in our spaces. I partnered with Kathy Meyer, Director of Marketing from the Tile Council of North America (TCNA). Together, we did part of a tub surround.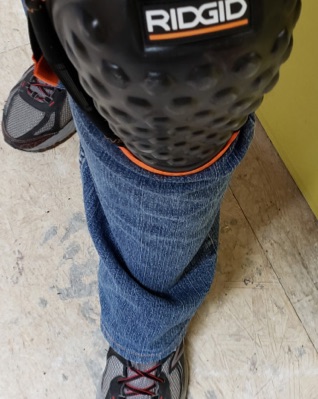 Throughout the week, I was relieved to find out that everyone was eager to help other groups succeed. The experienced installers often helped us novices figure out next steps. Once everything was complete and set, we pulled pieces of our tiles up to check our coverage. Achieving the correct coverage is much harder than many of us thought it would be, but is a lesson better learned in class than on the jobsite.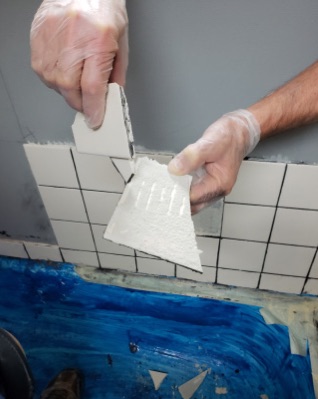 While the hands-on portion was fun, the group contribution and instruction is where I learned the most. I learned that there are common challenges that installers face on the job, just how much installers need to know to be really good at their trade, and that within this industry (unlike any other I've experienced) there is camaraderie, support and encouragement.
Now when I walk in a room, I still notice the flooring, but now I also see installation flaws and successes. I can see if the layout wasn't properly planned, have an idea why the tile might be cracking, and mentally pat the installer on the back for a job well done.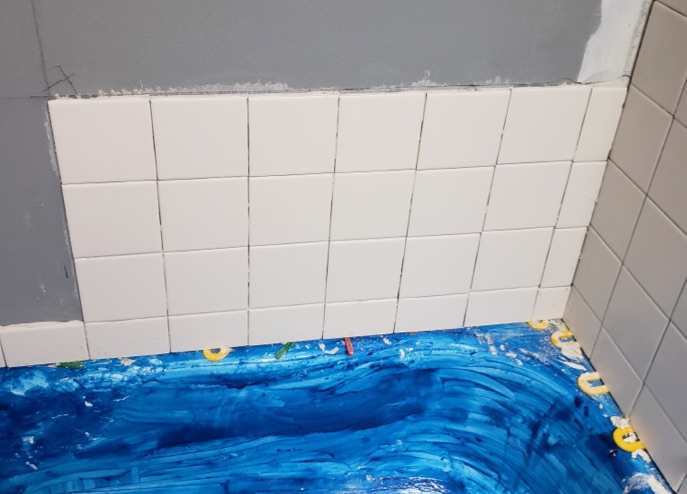 It was an exhausting week and my body hated me for choosing a tub surround, but the class was an amazing experience. I will never be an installer (it requires way more math and science than I care for, and more patience than I have), but I have a new passion for installation. And even though I will be calling a Certified Tile Installer for my next installation project, I'm still asking Santa for a 1/4" notched trowel, those awesome knee pads and a wet saw for Christmas. I think it is well-deserved for achieving 95% coverage on my tub-surround.