Cherie Bosela creates award-winning Natural Florida mural in Orlando Park
Tile artisan Cherie Bosela is no stranger to murals and public art projects. She is the owner of Luna Mosaic Arts in Orlando, Fla., – a location that also serves as her studio. Here she teaches a beginner mosaic art workshop and also hosts other mosaic artists from all over the United States to teach different styles and techniques of mosaic art. 
She has won many awards for her small-scale mosaic artwork, but recently The Diversity Mural was accepted into the Mosaic Art International exhibit (an annual exhibit by Society of American Mosaic Artists). This was a community project in memory of the victims of the Pulse Nightclub shooting, and all those who suffer from discrimination. She and another mosaic artist, Jennifer Kuhns, created the mural from mosaic hearts that were sent to her from all over the world. The mural includes over 1,000 hearts created by over 300 artists.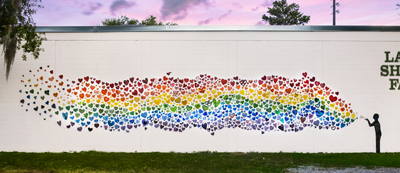 But the "Natural Florida" mural, a 12′ x 28′ piece at Bomberos Field Park in Orlando was the first public art project she won in a group submission process with other artists.
The park is 15 minutes from her home. At the first meeting for the project, three artists were chosen tasked with developing designs, sketches and drawings for adorning the space.
"I love Florida wildlife and nature," Bosela said. "That is what my design is based on. And I included a Florida Sandhill crane in background. I see them in pairs all over Florida, on the side of road eating lunch or dinner, in pairs or three, with child." She decided on a design of two cranes with Florida flora.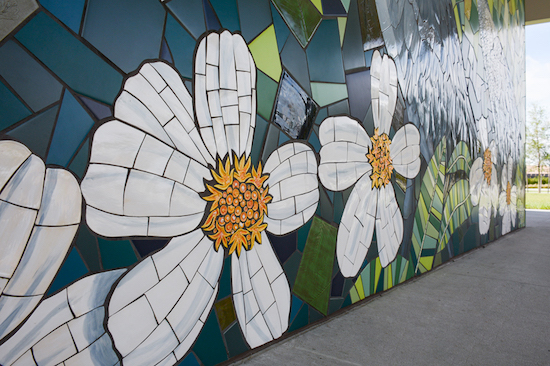 The mural was created out of handmade, hand-glazed tiles, and shapes hand-cut from Daltile's Natural Hues ceramic tiles for the background. Handmade tiles were hand-cut from rolled out clay when it was still soft, then hand-glazed. Bosela said, "Tiles have to sit out a week to dry, then 12 hours to fire in the kiln and 24 hours to cool."
Calculating shrinkage for the handmade tiles was tricky, she said. She used four different clay bodies – white, brown speckled, brown clay and red clay – and calculated 13% overall shrinkage. She enlarged her original drawing 13% and cut each piece of clay according to that enlarged pattern. The generic background allowed her to play a bit with the pieces and spacing that created the size of the birds, flowers and trees so they didn't have to all line up perfectly.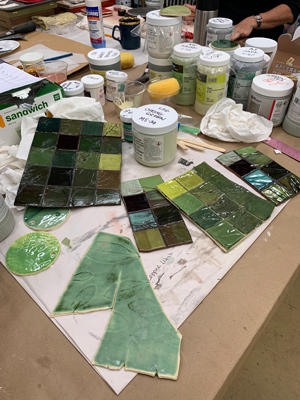 The clay is bisque fired and then a glaze or an underglaze was applied in a more painterly style, with different shading and effects. She created discs to test impressions, textures and glaze colors. "I had to make the test tiles and glaze combinations to figure out what colors to use that looked good with the store-bought tile," she said.
Some of the angular background pieces incorporated impressions of plants growing in her neighborhood. Getting the desired effect of the plant impressions required test tiles, too. "Regular glazes can be opaque and cover up textures. I had to determine how many layers to put on the tile to let the texture come through." Bosela also carved out lines in some of the clay pieces to simulate berries, and applied painterly glaze for color and depth.
At one point, Bosela's dog threw a wrench into the works when she injured her hand. Bosela had to resort to using a wet saw to cut the Daltile pieces since she couldn't put pressure on her traditional cutting tools. This injury resulted in the project going on hiatus for two months.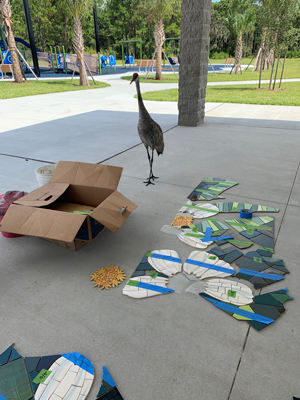 Because the mural was so large, she had to work in sections. The mural was assembled and tiles were glued to fiberglass mesh, which then were cut into 1′ x 1′ or
1′ x 2′ sections that Bosela carried over to the site to install. She laid the pieces out to see how they would be installed on the wall utilizing a tape grid on the tiles and the wall that allowed her and her crew to line up the pieces with a level. "If there is one section that's a little off, it's a huge headache," she said. Due to the height of the mural, she used a scaffold to reach the upper portions of the space.
To install the mural, she applied LATICRETE Platinum 254 mortar thickly with a palette knife to adhere the tiles to the wall. The knife allowed her to work efficiently with the smaller 1″ x 1″ and 1/2″ x 12″ pieces. "I buttered the back of every tile with an artist trowel and pushed them into the mesh," she said. In grouting she used LATICRETE PERMACOLOR Select in Mocha to compliment the sense of nature in her mural instead of her usual favorite, Midnight Black grout.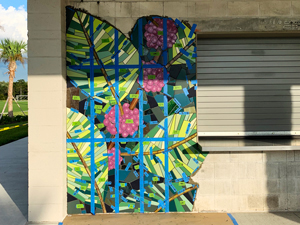 It seemed that some of her mural subjects approved of her work. She had company during the two and a half weeks she was installing the mural. A Sandhill Crane – like a part of her mural come to life – lingered around the jobsite as she installed. "He tried to steal my tools!" she said, and he was sometimes joined by two other cranes.
The finished project transformed a wall of concrete block into a lush portrayal of Florida greenery, flowers, plants and its distinctive avian residents, the Sandhill Crane. And this Coverings it was lauded as a Coverings Installation Design (CID) Award Winner in the Special Recognition category.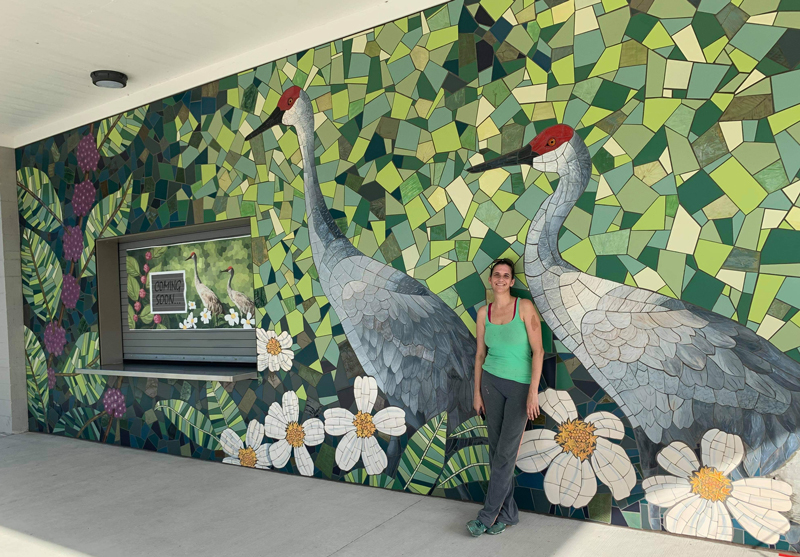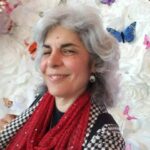 Editorial Director and Senior Writer for TileLetter and TileLetter ARTISAN
Lesley Goddin has been writing and journaling since her first diary at age 11. Her journey has taken her through a career in publishing and publicity, landing her the editor position of TileLetter and its special publications in 2006. Her goal is to educate, inspire, recognize and encourage those in the tile industry -- especially the tile and stone contractor. Other interests include the soft, purring marvels known as cats, labyrinth walking, drumming and percussion, and a range of spiritual, musical and artistic pursuits.