NTCA Residential Tile Setter Craftsperson of the Year 2021
During the NTCA Annual Meeting at Total Solutions Plus in Jacksonville, Fla., last October, lead tile setter Jay Cerda of Cox Tile was named as the NTCA Residential Tile Setter Craftsperson of the Year. Cerda was nominated by John Cox, Owner, Cox Tile, an NTCA Five-Star Contractor.
Cerda got his start in the tile industry right out of high school with Cox Tile, transitioning from helper to apprentice to setter to his current title of Master Tile Setter. He earned his Certified Tile Installer (CTI) #719 credentials and has trained many Cox tile setters. He exhibits a passion for precision in his work, and excels in mudwork for walls and floors. He's helped the company attain several awards, and is hungry for education. You can read more about his history and work ethic in the December 2021 TileLetter or at https://bit.ly/3w2RVBx. 
In this issue, we delve into Cerda's view about craftsmanship.
For instance, Cerda said artisan tile setting and craftsmanship means, "being able to create anything you desire from a vision…working with your hands to create the start-to-finish process and overcome challenges," on the smallest or largest jobs. "It is all about having fun and doing what you love. This is my passion. That's what gets me through the difficult challenges and struggles contractors face on a day-to-day basis."
Young people who are considering a career as a tile craftsperson should learn the methods and procedures from the start, and how to correctly apply them to get the job done.
Of course, craftsmanship is about creativity, and "applying a variety of skills and tools to create the project," he said. "You must get your mindset right…and be able to put something artistic together from paper to reality." There is always an element of experimentation in each project, and pushing the limits of possibility to achieve the result," he said.
Cerda says being a craftsperson enables him to do "what I love to do," whether that is straight-lay or a more complex job, and then grow and get better, do things right and take care of all the details.
When contrasting craftsmanship with traditional tile setting or contracting, Cerda said that the "mindset is the biggest difference." You still have to use the knowledge and skill set from traditional tile setting, and all the tools properly. But he added that, "You can have a lot of fun within the project and creativity is allowed to shine and show a different form than the typical day of setting." He combines tile, effort, internal drive and passion to push himself and his materials to bring someone's vision and dreams to reality, he explained.
As CTI #719, with 15 years of experience, Cerda still runs into day-to-day challenges, like staying patient, and evaluating the situation to come up with the best solution. "It is essential to stay on top of your game mentally," he said. "When you get frustrated and run into challenges, step back and learn from (or recall) your mistakes to prevent them in the future."
This approach has taught Cerda that the little things help a person grow from good to great and are essential when aspiring to be an elite craftsman. Driven by a desire to do the best possible job for every client, Cerda never skips the tiniest details, and keeps motivated and inspired, spurred on by what he learns and sharing those lessons with others.
Hands-on training, and having a mentor as a guide through the learning process and to help develop good problem solving skills is vital for those who seek to be craftspeople.
"An individual must push themselves and their capabilities, to try and be better than the day before," Cerda declared. "The NTCA has been invaluable in my process. From the seminars to new products, to the training from NTCA University has been helped me always try and improve." Keeping current with the industry and trends, asking a lot of questions, and keeping your core fundamentals are key for aspiring craftspeople. And so is trying "to learn something every day, and staying open minded to the fact that you will never know everything there is to know."
Young people who are considering a career as a tile craftsperson should learn the methods and procedures from the start, and how to correctly apply them to get the job done. He stressed "following the standards from the beginning to not develop any bad or incorrect habits will help substantially in the long term."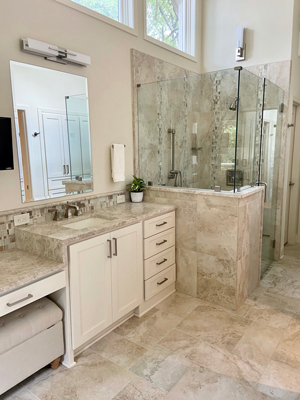 Cerda, "started right out of high school and instantly fell in with the trade," he said. "This gave me the ability to set serious goals on where I wanted to be and what I wanted to do with my future. The company surroundings helped me to seek the highest level of knowledge and skill."
Pride, and the ability to "create something with your hands from start to finish that lasts for life," help draw young installers. He pointed out that the tile setting skill set is something that can be passed on to future generations – as well as one's experience – to help them avoid mistakes. And the relationships built along the way are treasures – "working through the sweat and heartache with the camaraderie of your team helps you push past your physical limitations…to get the job done."
Cerda said, "An apprenticeship program is vital to the success of an installer. Just like in life, you have to learn to crawl before you can walk." Working diligently with a teacher or mentor, having patience with yourself and staying focused on goals are critical.
"The satisfaction of seeing someone you have trained step into the next level and flourish is what it is all about," he added. He urged newbies to realize that there is always something new to learn, and to keep an open mind to industry experts and their vast knowledge. "Absorb and apply as much as you can," he said.
There is real joy in tile craftsmanship. "The ability to create something with your hands from studs to sealer and go home knowing you made someone's dream a reality, is more than enough for me," he said. "Clients spend a lot of money with sometimes a vague idea or vision of what they want, and you're making it happen. Having a client smile and dance with excitement over an installation I executed makes my days worth having.
"Using artistic inspiration and skill to add a personal touch to each project is also priceless…to see the projects that I have worked on be published in trade magazines knowing the struggles we went through to get the job done is a phenomenal feeling," he said.
Integrity is also the mark of a true craftsperson. "It is especially important as an installer to do the right thing even when nobody is watching," Cerda said. "You must stick to your integrity and do what you know is correct to get where you want to go in life."
Cerda is also grateful to the knowledge and commitment of John Cox and the opportunity he's had to learn and grow as an installer with Cox Tile. "I wouldn't be where I am today without him and this company," he said. He also calls his wife and daughters the "bedrock" of his success, by his side during the trials and tribulations over the years.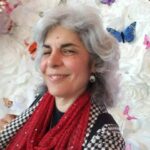 Editorial Director and Senior Writer for TileLetter and TileLetter ARTISAN
Lesley Goddin has been writing and journaling since her first diary at age 11. Her journey has taken her through a career in publishing and publicity, landing her the editor position of TileLetter and its special publications in 2006. Her goal is to educate, inspire, recognize and encourage those in the tile industry -- especially the tile and stone contractor. Other interests include the soft, purring marvels known as cats, labyrinth walking, drumming and percussion, and a range of spiritual, musical and artistic pursuits.