The new edition of the design competition highlights contemporary surfacing applications by architects, interior designers, builders, remodelers, students, and fabricators.
Castellón, Spain (2018) – TheSize, manufacturer of sintered stone brand Neolith, has announced its fifth annual international design competition. This global competition – with three submission categories is open now through November 11, 2018. It highlights creativity and innovation of designs incorporating Neolith surfacing by architects, interior designers, builders, remodelers, students, and fabricators.
For each category, a team of industry judges will focus on the proposal's originality, presentation creativity, technical complexity, variety of Neolith applications, quality before-and-after images, and the degree of environmental sensitivity in the project. The grand prize for each category includes an all-inclusive trip to the famed Salone del Mobile Milano show in April 2019 valued at approximately $5,000.  Winners will be announced on December 20, 2018 via Neolith's website and social media channels.
My Neolith Project 2019
"My Neolith Project" is open to design professionals that have recently developed a contemporary, residential design project incorporating Neolith in multiple applications, such as façades, flooring, cladding, kitchens, bathrooms, furniture, swimming pools and more. The project should also highlight today's modern design trends such as use of mixed materials, neutral elements and soft lines. To be eligible, the project must have been completed between 2015-2018, outside of Spain.
Neolith New Talents – Contemporary Neolith Homes
This year's "Neolith New Talents" is open to architecture, design and interior design students enrolled in at least one class from 2017-2019. Neolith is challenging participants to virtually design a contemporary-style home meeting design trends such as: a mix of materials, neutral elements, and soft lines.
Students will design different rooms in the home without limitations on budget. Successful projects will integrate Neolith through different applications and atmospheres such as dining rooms, bedrooms, or outdoor areas while considering Neolith slabs available to them.
Top Fabricator of the Year
The Top Fabricator of the Year category recognizes the most meticulous and labor-intensive projects made by fabricators with Neolith slabs.
Projects will be evaluated as "little great works of art" that are technically complicated and require outstanding knowledge, ingenuity and the skills to produce them. To participate, projects must be completed between 2015-2018, outside of Spain.
For more information on the design competition and application forms, visit www.neolith.com and click on the "Highlights" section, then "Contests." For specific questions on the My Neolith Project and Top Fabricator of the Year categories, e-mail [email protected]. For specific questions on the Neolith New Talents category, e-mail [email protected].
Neolith products are available in the U.S. and worldwide through a large network of distributors. For a location near you or to learn more, visit Neolith at www.neolith.com.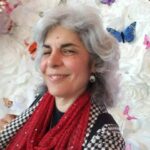 Editorial Director and Senior Writer for TileLetter and TileLetter ARTISAN
Lesley Goddin has been writing and journaling since her first diary at age 11. Her journey has taken her through a career in publishing and publicity, landing her the editor position of TileLetter and its special publications in 2006. Her goal is to educate, inspire, recognize and encourage those in the tile industry -- especially the tile and stone contractor. Other interests include the soft, purring marvels known as cats, labyrinth walking, drumming and percussion, and a range of spiritual, musical and artistic pursuits.