Dodge Outlook Report Predicts Deceleration in Total Construction Growth
Will Continue, Reflecting a Mixed Pattern by Project Type
NATIONAL HARBOR, MD – October 25, 2018 – Dodge Data & Analytics (https://www.construction.com) today released its 2019 Dodge Construction Outlook, a mainstay in construction industry forecasting and business planning. The report predicts that total U.S. construction starts for 2019 will be $808 billion, staying essentially even with the $807 billion estimated for 2018.
"Over the past three years, the expansion for the U.S. construction industry has shown deceleration in its rate of growth, a pattern that typically takes place as an expansion matures," stated Robert A. Murray, chief economist for Dodge Data & Analytics. "After advancing 11% to 14% each year from 2012 through 2015, total construction starts climbed 7% in both 2016 and 2017, and a 3% increase is estimated for 2018. There are, of course, mounting headwinds affecting construction, namely rising interest rates and higher material costs, but for now these have been balanced by the stronger growth for the U.S. economy, some easing of bank lending standards, still healthy market fundamentals for commercial real estate, and greater state financing for school construction and enhanced federal funding for public works."
"An important question going into 2019 is whether deceleration is followed by a period of high-level stability or a period of decline. For 2019, it's expected that growth for the U.S. economy won't be quite as strong as what's taking place in 2018, as the benefits of tax cuts begin to wane. Short term interest rates will rise, as the Federal Reserve continues to move monetary policy towards a more neutral stance. Long-term interest rates will also rise, reflecting higher inflationary expectations by the financial markets. At the same time, any erosion in market fundamentals for commercial real estate will stay modest. In addition, the greater funding from state and local bond measures passed in recent years will still be present, and it's likely that federal spending for construction programs will increase once all the federal appropriations bills for fiscal 2019 are finalized. In this environment, it's forecast that growth for construction starts will decelerate further, but not yet make the transition to the point where the overall volume of activity declines. For 2019, total construction starts are forecast to hold basically steady at $808 billion. By major sector in dollar terms, residential building will be down 2%, nonresidential building will match its 2018 amount, and nonbuilding construction will increase 3%."
The pattern of construction starts by more specific segments is the following:
Single family housing will be unchanged in dollar terms, alongside a modest 3% drop in housing starts to 815,000 (Dodge basis). There will be a slight decline in homebuyer demand as the result of higher mortgage rates, diminished affordability, and reduced tax advantages for home ownership as the result of tax reform.
Multifamily housing will slide 6% in dollars and 8% in units to 465,000 (Dodge basis). Market fundamentals such as occupancies and rent growth had shown modest erosion prior to 2018, which then paused this year due to the stronger U.S. economy. However, that erosion in market fundamentals is expected to resume in 2019.
Commercial building will retreat 3%, following 2% gains in 2017 and 2018, as well as the substantial percentage increases that took place earlier. While 2018 market fundamentals for offices and warehouses are healthy, next year vacancy rates are expected to rise as the economy slows, slightly dampening construction. Hotel construction will ease back from recent strength, and store construction will experience further weakness.
Institutional building will advance 3%, picking up the pace slightly from its 1% gain in 2018 which itself followed an 18% hike in 2017. Educational facilities should see continued growth in 2019, supported by funding coming from numerous school construction bond measures. Healthcare projects will make a partial rebound after pulling back in 2018. Airport terminal and amusement-related projects are expected to stay close to the elevated levels of construction starts reported in 2017 and 2018.
Manufacturing plant construction will rise 2% following the 18% jump that's estimated for 2018. The recent pickup in petrochemical plant projects should continue, and cuts in the corporate tax rate from tax reform should encourage firms to invest more in new plant capacity.
Public works construction will increase 4%, reflecting growth by most of the project types. The omnibus federal appropriations bill passed in March provided greater funding for transportation projects that will carry over into 2019, and environmental-related projects are getting a lift from recently passed legislation.
Electric utilities/gas plants will drop 3%, continuing to retreat after the exceptional amount reported back in 2015. New generating capacity continues to come on line, dampening capacity utilization rates for power generation.
The 2019 Dodge Construction Outlook was presented at the 80th annual Outlook Executive Conference held by Dodge Data & Analytics at the Gaylord National Resort and Convention Center in National Harbor, MD. Copies of the report with additional details by building sector can be ordered here or by calling (800) 591-4462.
###
About Dodge Data & Analytics:  Dodge Data & Analytics is North America's leading provider of analytics and software-based workflow integration solutions for the construction industry. Building product manufacturers, architects, engineers, contractors, and service providers leverage Dodge to identify and pursue unseen growth opportunities and execute on those opportunities for enhanced business performance. Whether it's on a local, regional or national level, Dodge makes the hidden obvious, empowering its clients to better understand their markets, uncover key relationships, size growth opportunities, and pursue those opportunities with success. The company's construction project information is the most comprehensive and verified in the industry. Dodge is leveraging its 100-year-old legacy of continuous innovation to help the industry meet the building challenges of the future.  To learn more, visit www.construction.com.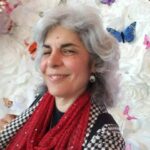 Editorial Director and Senior Writer for TileLetter and TileLetter ARTISAN
Lesley Goddin has been writing and journaling since her first diary at age 11. Her journey has taken her through a career in publishing and publicity, landing her the editor position of TileLetter and its special publications in 2006. Her goal is to educate, inspire, recognize and encourage those in the tile industry -- especially the tile and stone contractor. Other interests include the soft, purring marvels known as cats, labyrinth walking, drumming and percussion, and a range of spiritual, musical and artistic pursuits.