Going into any trade show, there are lots of cool and inspiring trends predicted. I wanted to share what I considered new and notable on my 15-mile journey on the Orange County Convention Center show floor a month ago.
Pro-Environment
An overarching effort evident at Coverings was measures companies are taking to counter their energy expenditures or reduce consumption and help bolster the environment on our planet.
Crossville has been in this game for a long time, with its Tile Take Back program and manufacturing adjustments to reduce and recycle waste. But now it has set a smart goal of a 30% lower carbon footprint by 2030, adding the purchase of carbon offsets to its already impressive measures. Crossville's Lindsey Waldrep also noted that its state is on the bandwagon too – The Tennessee Valley Authority is aiming for complete carbon neutrality by 2050.  
MAPEI has just gotten into the game as well with UltraLite Mortar Zero. MAPEI will purchase carbon offsets to support reforestation projects.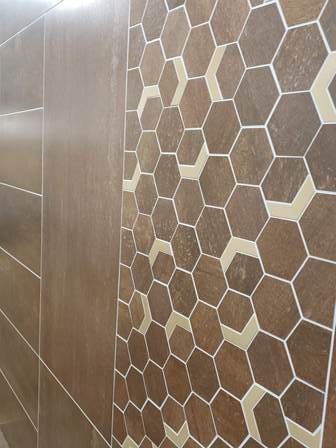 VersaTile 
A trend I noted are some new products that use texture, lines and shapes that can be combined for a seemingly endless array of patterns and designs.
Crossville's Snippet wall tile line, designed by Michael Golden (the mastermind of Crossville's Sideview Glass) uses a palette of three 3" x 12" tile shapes to form hundreds of patterns. The textural, matte and raised surface of the tiles lends it this versatility. Available in five colors, it coordinates with Crossville's Swatches line.
The Duet 4.5" x 9.5" piece in Lunada Bay's Graphite line also has this capacity to form many different patterns. It combines a molten bronze glaze with Kline Blue and Carmen Red for earthy and vibrant designs.
At Marazzi, Rhyme & Reason is a hex in four colors with directional lines that can be turned to create a multiplicity of patterns; Vivant at Portobello features the Ligne deco with raised lines that form designs and patterns.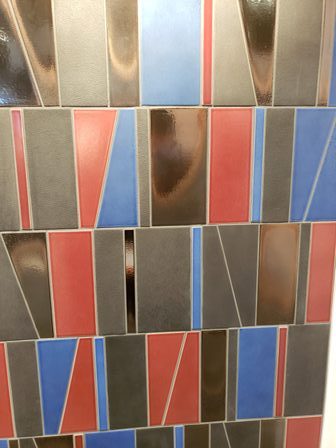 Big & Small 
Large tiles and slabs are no big surprise – they are almost commonplace but still offer breathtaking effects, such as stunning looks at SICIS.
Among the mammoth slabs, though, I saw resurgence of smaller format wall tile, like that at Florida Tile, and double fired small format wall tile at Cevica and Harmony, two Spanish brands.
Artisan glazes
The rise of Zellige tiles with their glossy, undulating glazes have swept the tile world. Other artisan glazes are being applied for rustic or artisan effects. Lunada Bay Tile's Shinju uses a new reactive glaze from Japan used in Raku pottery to create an artisan look, and Mistral redefines traditional Zellige with updated colors and patterns combined with Italian glazes.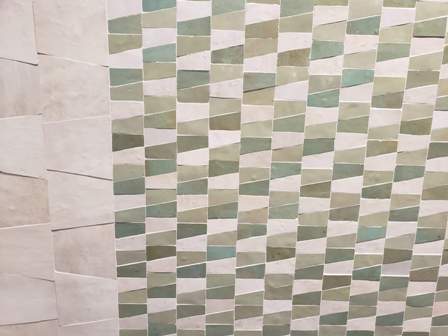 Storied at Florida tile showed the use of high-gloss artisan glazes in saffron and cinnamon for warm, deep tones. IRIS' Bottega d' Arte offers wall tile in colors ranging from delicate to bold and rich in polished and matte finishes.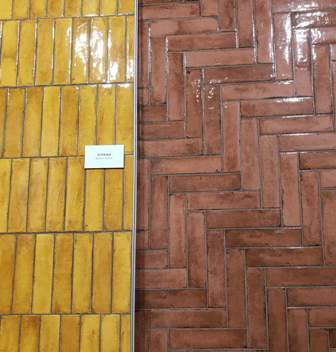 Branching out 
Allison Eden Studios pulled out all the stops this year. In addition to signature vibrant glass mosaics, Allison Eden introduced a stone line that interprets several of her favorite patterns in stone that makes these designs more accessible for floors. Also for floors was a luxury vinyl line that translates Allison Eden glass designs into vinyl by Graphic Image Flooring. And new this year was a Botanicus, a stained glass collaboration between Allison Eden and AKDO that is inspired by the beauty of nature.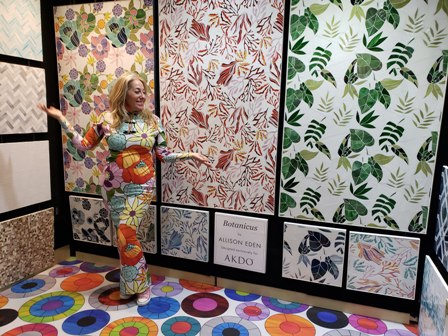 LATICRETE also stepped out into a new category with its luxury, high-quality, European-look profile and trim line. This introduction was years in development, with the goal to provide everything needed to finish projects. It includes an LED system for stairs and transitions for carpet and LVT, as well as sanitary cove base and colors that complement LATICRETE grout colors. There's an emphasis on service, with delivery available overnight, and surfaces that are prone to scratching covered with a protective film.  
Peek-a-boo
Lattice formats emerged at Coverings with Harmony's Castello and Pique that offer earthy decorative screenwork effects in natural colors of unglazed full body porcelain. At Portobello, the Carven deco in the Creta line creates a solid wall tile accent in four natural colors.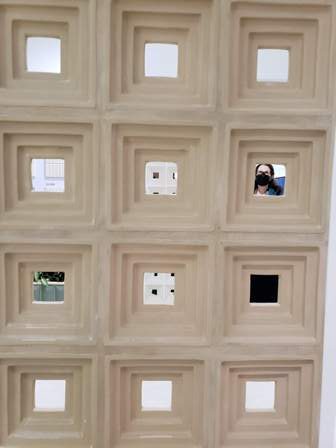 Color! 
A spin through the Italian pavilion showed a riot of luscious color from gem like slabs at Sant' Agostino to colorful, highly textured styles at Acquariodue, to the vibrant primary hues of Hexa by Bardelli, to the luxurious tiles from Versace.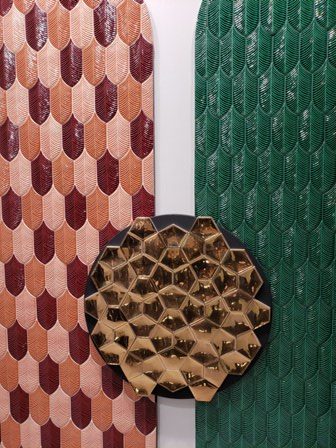 Technology 
I was mesmerized by the changing hues of slabs displayed at Tecnografica, which morphed from blue to green to gold to orange to red — a fascinating technology to employ in standout projects.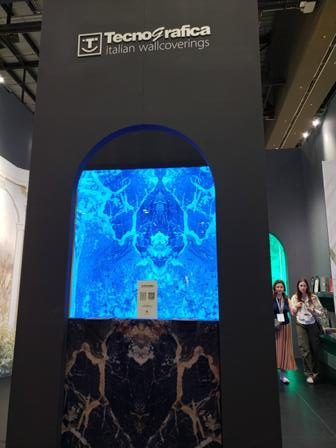 IRIS showed Hypertouch technology which invisibly embeds controls in smooth porcelain, so just by a touch of the hand one can control lights or kitchen functions.
The NTCA Contractor Tour stopped at the PDS – Porcelain Driveway Systems—booth to learn about a more attractive alternative for the driveway: a system of weatherproof porcelain engineered for outdoor driveway applications.
IQ Power Tools employed Augmented Reality (AR) in its booth. Customers can load iQ's AR platform onto their devices via QR code, allowing them to view a 3D model of the product in the customer's space. This allows contractors to visualize iQ tools at their construction site or shop.
The best way to see all the amazing new products at Coverings is to attend for yourself. Mark your calendars for April 22-25, 2024 at the Georgia World Congress Center in Atlanta. See you there!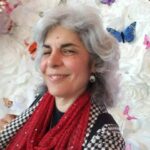 Editorial Director and Senior Writer for TileLetter and TileLetter ARTISAN
Lesley Goddin has been writing and journaling since her first diary at age 11. Her journey has taken her through a career in publishing and publicity, landing her the editor position of TileLetter and its special publications in 2006. Her goal is to educate, inspire, recognize and encourage those in the tile industry -- especially the tile and stone contractor. Other interests include the soft, purring marvels known as cats, labyrinth walking, drumming and percussion, and a range of spiritual, musical and artistic pursuits.