Exact measurement results over long distances
Expanded range of closed case and open reel tapes/Reliable measurements for distances of up to 330 ft. (100 m)/User-friendly design/Can be used flexibly thanks to special hooks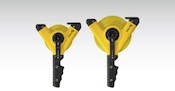 Various trades work together as a team on construction sites, whether they are at a residential complex or commercial building. All of the procedures have to be right to avoid unnecessary delays. And tradespeople put equally high demands on their equipment. The tools have to be reliable, precise and easy to use. So that it can offer the right solutions for a variety of requirements, STABILA has replaced its previous long tape measure range with two new models. With the LBM 1000 open reel tape and the LBM 2000 closed case tape, professionals have the right tools to hand for quick and precise measurements over long distances. Depending on the version, they can measure distances of up to 330 ft. (100 m).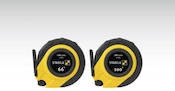 The LBM 1000 has a durable steel blade that comes in lengths of 165 ft. (50 m) and 330 ft. (100 m). The LBM 2000 also has a steel blade and comes in lengths of 66 ft. (20 m) and 100 ft. (30 m). Both tape measure models come with the option of imperial or metric scale.
For the steel blades, STABILA guarantees exact measurement results with accuracy class II. Measurements with the fiberglass versions achieve reliable measurement results to accuracy class III.
User-friendly design
You can see at a glance that the measuring tapes were developed with a focus on convenient use. The LBM 2000 sits securely in your hand thanks to its ergonomically shaped casing. The soft-grip handle on the LBM 1000 makes it easy to hold and tension securely. The crank is another clever detail on this model. It is easy to change it from right to left-handed use and, when folded in, it facilitates measurements by pulling.
Using tried-and-tested features

Both tape measures have been designed to reliably withstand heavy use on a daily basis. Here, STABILA relies on features that have proven themselves when put to the test in existing models, such as the STABILA Universal Spikes Hook, which comprises a large plastic ring with nail notch and an anti-slip Spikes hook with eyelet. It can be mounted in different ways, provides a secure hold when pulling the tape and better prevents slipping when measuring on smooth surfaces and over large distances.
Long-life, professional-grade equipment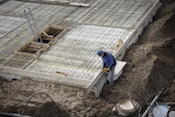 Professional-grade tools have to prove that they function well even in the toughest conditions. Therefore, STABILA kept the longevity of its products in mind when selecting which materials to use. The LBM 1000 tape measure's Y-frame and the LBM 2000's casing made of high-grade PC/ABS plastic are shatterproof and protect the tape against heavy impacts on the construction site or when being transported. The scale on the steel blades is protected by the STABILA nylon-wrap coating.


---
About STABILA
STABILA is a globally well-known, distinguished manufacturer of branded measuring tools of the highest quality. Active in more than 80 countries with its own sales companies, representatives and importers, the STABILA brand is the first choice for millions of professional tradespeople in important measurement technology sectors.
The product range comprises spirit levels, line and rotation lasers, electronic measuring tools, rules and tape measures. More than 550 employees are committed to STABILA's success worldwide, including around 350 in Germany at the headquarters in Annweiler in the Palatinate. In addition to the main factory in Germany, where all of the STABILA aluminium spirit levels, TECH products and high-end rotation lasers are manufactured, STABILA also maintains its own factories in the Czech Republic (rules) and China (laser measuring tools).
It owes its worldwide success and strong growth to its innovative strength, application-oriented product development in close cooperation with construction and trade professionals, modern production technologies and the consistent development of its sales and marketing activities.Further information is available at www.stabila.com.