Every year, the NTCA selects its NTCA Five-Star Projects of the Year. The announcement of these awards is a bit different this year – as are most things in 2020 – but the projects and contractors are being awarded all the same!
Judges included Consultant Dave Gobis; Richard Goldberg, Professional Consultants International; and Kent Klaser, Tile and Stone Consultants. The criteria included scope, complexity, technical soundness, online voting (People's Choice award), and presentation. Judges delivered a roster of one Grand Prize Residential, Commercial, and Commercial Elite winners, as well as one Achievement of Excellence Award in each category. A People's Choice Award was also selected by popular vote from the industry. Winners will receive a trophy or a plaque to honor their achievement plus a celebration of their accomplishment in social media.
Residential Grand Prize:
Heritage Marble & Tile, Mill Valley, Calif.
The Ultimate Grotto
Completed December 2019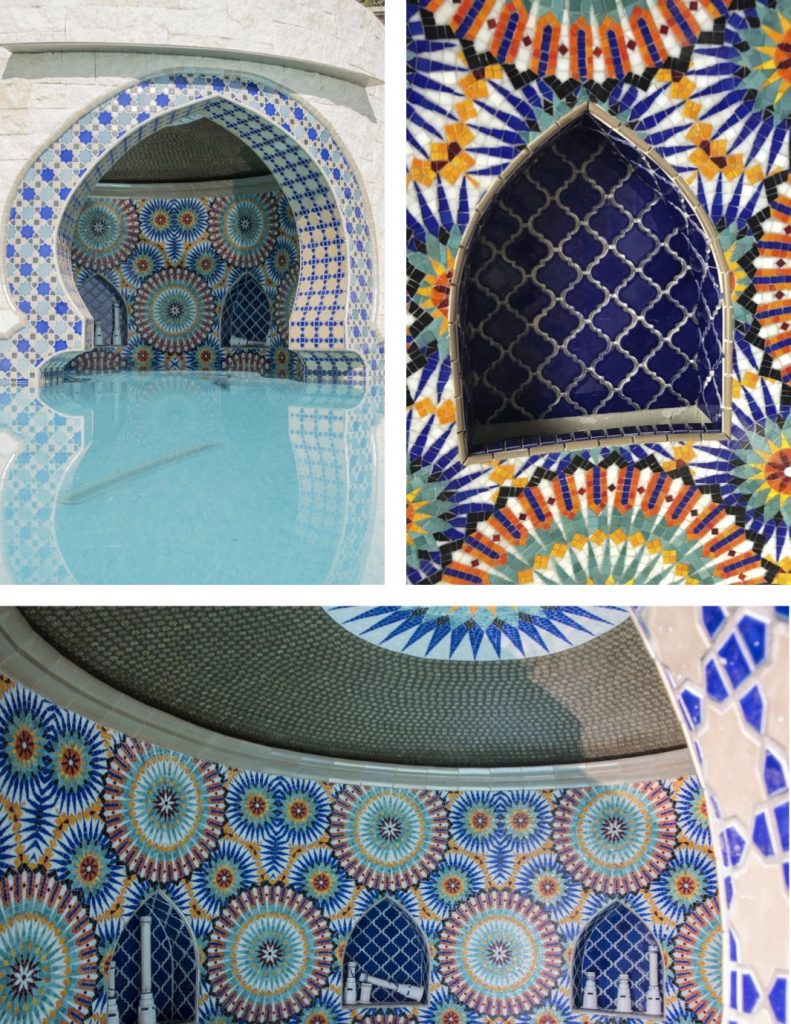 This project – which also won the 2020 Coverings Installation & Design (CID) Award for Residential Tile Installation – was recently featured in the September 2020 issue of TileLetter.
In brief, Heritage Marble and Tile installed intricate custom glass mosaic tile by Sicis, and handmade ceramic Pratt and Larson Tile onto a Moroccan style gunite grotto shell, which arched gracefully over the pool. The contractor had to float the walls with mud to meet the tolerances that would accept the glass mosaic. It then turned out that the niches were poured 2-3 inches off center, which did not match the careful calculations by the landscape architect that Sicis used to create the custom mosaic. In addition, the diameter of the bottom of the grotto was 2˝ larger than at top. Heritage Marble and Tile was faced with re-ordering all the glass mosaic from Italy – thus delaying the project – but chose instead to piece the niches by hand and rework the circles in the mosaic pattern to stay on schedule. This was a technically challenging installation that tested the focus, detail, and stamina of the installer. The end result was a stunning pool grotto that exceeded everyone's expectations.
Commercial Achievement of Excellence:
Artcraft Granite Marble and Tile Company, Mesa, Ariz.
Mission Improbable: Elevate 24
Completed March 2019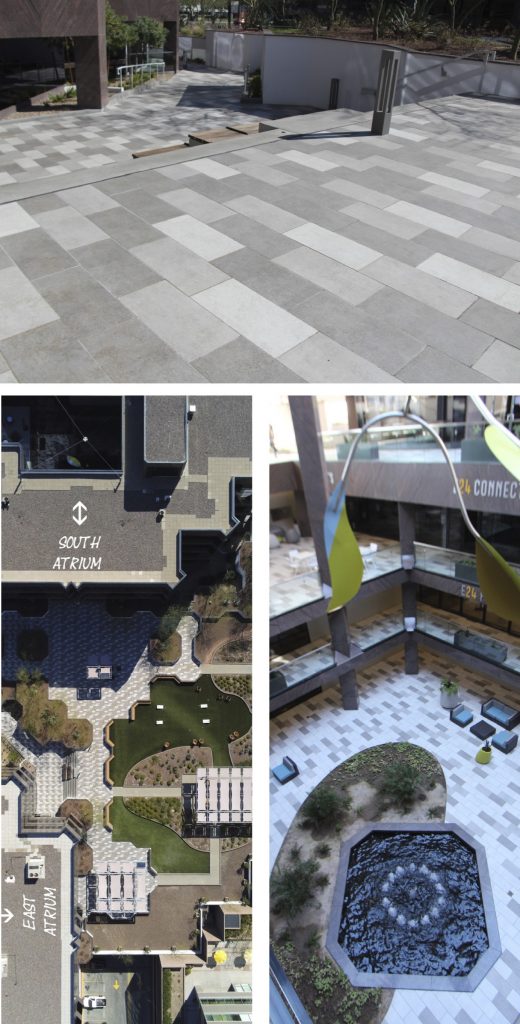 This massive business complex required exterior installation of 52,000 sq. ft. of 12"x24" porcelain floor tile. This was installed with nine different percentages within three uninterrupted 6' x 8' patterns specific to atriums, walking paths, common areas. It flowed though all levels of one building, through walkways and through the four levels of another building. Artcraft used a surveyor's transit and lasers to find square lines and gridded the entire installation.
Twenty thousand square feet of loose, unbonded tile and mud bed had to be removed, then re-mudded, waterproofed and reset per TCNA method F101-19 with an additional waterproof membrane, pushing original plans for the remaining 32,000 sq. ft. beyond budget. Using TCNA 2019 Handbook method TR711-19, Artcraft installed tile over tile, removing areas that didn't have the proper bond, cleaning tile and re-installing.
Wet soggy weather required tarping freshly mudded areas to protect from rain and snow and let the mud cure. Thanks to the gridded, proper layout, crews could work in exterior areas not exposed to rain; also Artcraft could reinstall mis-calibrated tiles that varied up to 1/8" between tiles.
Movement joints were installed to accommodate expansion and contraction of tile over 165 degrees of temperature change. Foam backer rod and 100% silicone formed joints at six- and eight-foot intervals, at changes of plane, and at different materials to conform with TCNA EJ171.
Artcraft's two ACT-certified and seven CTI- certified tile installers were vital to this project's success, ensuring all materials were installed per all national industry standards.
Commercial Elite Grand Prize:
David Allen Company, Raleigh, N.C.
Hotel Bennett, Charleston, S.C.
Completed December 2018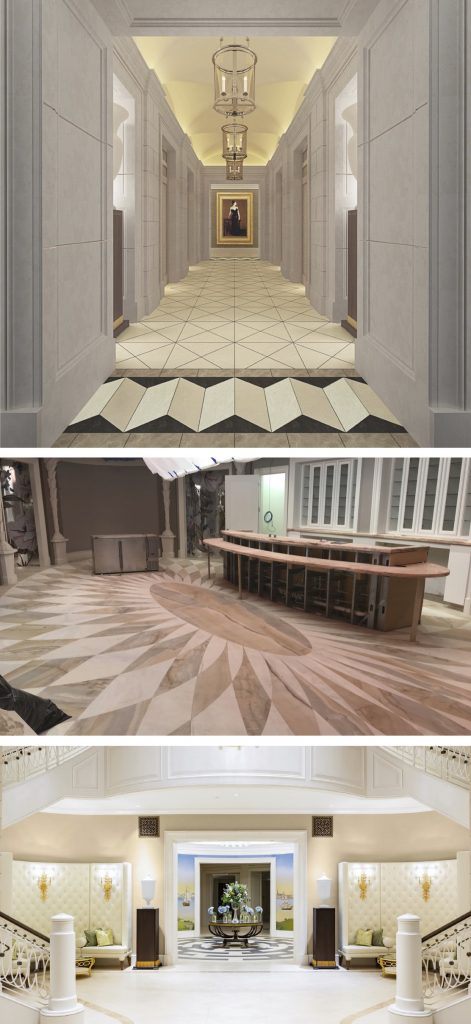 Hotel Bennett was the subject of TileLetter's cover story in July 2018. The many different patterns required strategic planning weeks in advance, including shop drawings for fabrication. Field measurements were double checked, and dry layouts were done to ensure pleasing pattern placements. The porcelain tile and stone border in the grand lobby were hand-cut in the field to be flush with the radial corners that wrap the room. Cut-to-size stone treads and risers were fabricated for both monumental staircases and mirror each other. The stair wells were designed at a radius requiring the top risers to be fabricated out of 5cm material, laminated together and waterjet-cut for a seamless finish. 
On the exterior, 12"x12", 12"x24" and 24"x24" porcelain tile covered over 8,000 sq. ft. of balconies and decks on multiple levels, some with individual adjoining guestroom balconies or a common gathering balcony. Each location created a different issue of how to slope tile to drains without creating out-of-tolerance lippage. Plus, the rooftop pool deck was in direct sunlight and scheduled for a summer install, requiring crews to work in cool morning hours, and tent the work areas in the afternoons. They also had to keep materials cool to maintain a reasonable pot life in the heat. The 100,000 sq. ft. project required planning, finesse and superior craftsmanship over the 47-month timeline.
Commercial Elite Achievement of Excellence:
DeAnza Tile, Fremont, Calif.
Oakland T-12 City Center, Oakland, Calif.
Completed: November 2019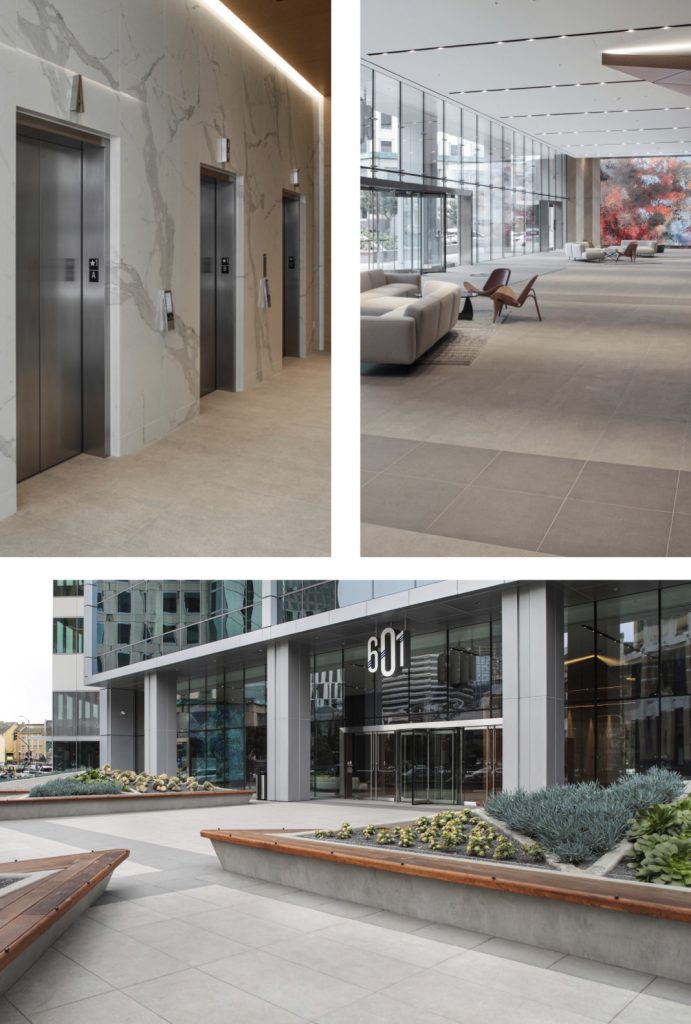 The main level public areas of the 23-floor Oakland T12 Office Building, designed by KSH Architects, feature Ariostea 24"x48"x3/4" and 24"x24"x3/4" porcelain pavers for interior and exterior. The interior elevator lobby and main corridor walls of the LEED Gold building feature Granitifiandre Maximum 9'x5'x6mm porcelain panels. To accomplish seamless alignment of porcelain paver grout joints from interior lobby to exterior and onto the concrete sidewalk, two different installation systems were utilized. The interior was installed per TCNA F-121-19 with a full Custom Building Product system. Exterior was a pedestal system engineered by Buzon with its screwjack pedestal system .
The marble veining on the porcelain wall panels was designed to align through four different panel varieties. They were installed per TCNA W 244-19, via scissor lifts and rolling scaffolds 25 feet high. The illusion of continuous veining was aided by perfectly mitered tile corners, all fabricated onsite. Absolute precision was required for reception desk veining to come together at three different angles to form a monolithic cubic appearance.
The overall project installed 8,000 sq. ft. on the interior and 10,000 sq. ft. at the exterior – 200 9'x5' porcelain panels at the interior corridor walls and reception desk.
People's Choice:
Premier Tile & Marble, Gardena, Calif.
Academy Museum of Motion Pictures – The Saban Building
Los Angeles, Calif.
Completed November 2019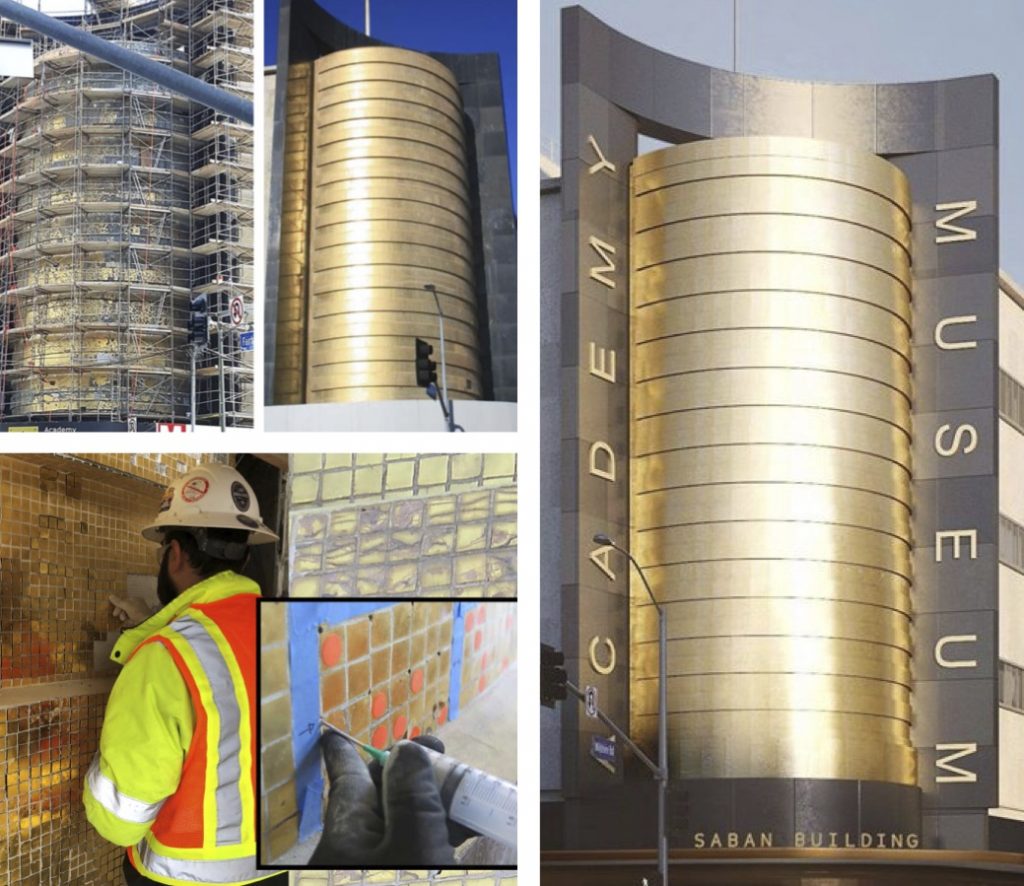 This project was the restoration of an iconic 1939, Streamline Moderne Building. It involved the preservation, rehabilitation and replacement that spanned six stories of 350,000 of its 500,000, 24 karat gold 1"x1" tile. Working hand in hand with preservationists and conservators, each of the 500,000 tiles were inspected, graded, marked and accepted or deemed unfit for rehabilitation, using technology employed by NASA on the Rover.
Damaged mosaics were removed with small 1" rotary power tools and low-impact pneumatic chisels. New mosaic installation had to fit flush and align with preserved existing tiles, one piece at a time. Special substrate preparation included hydraulic injection of ultra-low shrinkage, flowable, self- consolidating fine grout for structural bonding of delaminating mass, fortified mortar bed installation for delaminated areas and anti-fracture membrane over existing concrete cracks.
Crews had to replace their usual high-production pacing with slow, meticulous attention to detail and care of the original installation, focusing on preservation and a spotless installation; the reflective nature of the material made any deviation immediately apparent.
Premier Tile & Marble received the California Preservation Foundation award for outstanding achievement in the field of Historic Preservation and received an invitation to speak at The Surface Effects Symposium and Workshop.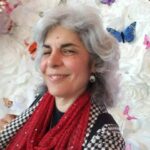 Editorial Director and Senior Writer for TileLetter and TileLetter ARTISAN
Lesley Goddin has been writing and journaling since her first diary at age 11. Her journey has taken her through a career in publishing and publicity, landing her the editor position of TileLetter and its special publications in 2006. Her goal is to educate, inspire, recognize and encourage those in the tile industry -- especially the tile and stone contractor. Other interests include the soft, purring marvels known as cats, labyrinth walking, drumming and percussion, and a range of spiritual, musical and artistic pursuits.