2020 and the COVID pandemic has brought a new emphasis onto cleaning and sanitizing surfaces. One way companies are addressing this is through antimicrobials that guard against dangerous microbes and support a healthy environment. Another approach is through sealers that prevent the opportunity for microorganisms to collect in crevices and the micropores in absorbent materials like grout. As we go forward, cleaners will be important tools in the arsenal for wellness.
---
Arthur Mintie
Senior Technical Services Director
LATICRETE International, Inc.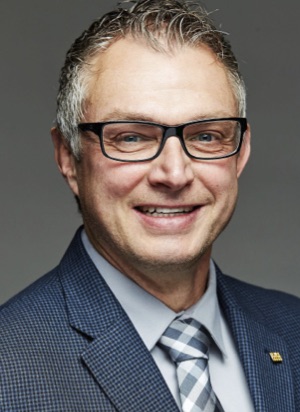 This year, we've seen all aspects of the tile and stone industries affected by the COVID-19 pandemic. CDC and OSHA continue to implement new guidelines to keep construction jobsites safe, and the project regulations are constantly changing on a job-to-job and state-by-state basis. LATICRETE recently recognized a major trend that has created a spark of demand in the tile and stone marketplace: the use of antimicrobials.
Known for being extremely effective against bacteria by up to 99%, and proven to be successful at fighting a broad spectrum of bacteria, it's not surprising why antimicrobial flooring is widely used in hospitals. In fact, LATICRETE predicts an increased demand for antimicrobial materials in hospitals and has noticed growth within the food and beverage industry. As our world keeps evolving and learning to adjust to differing industry trends and requirements, it's important to consult a trusted tile and stone installation materials manufacturer for assistance on which antimicrobial products work for your specific needs.
Grace Muñoz
Marketing Coordinator USA
FILA Surface Care Solutions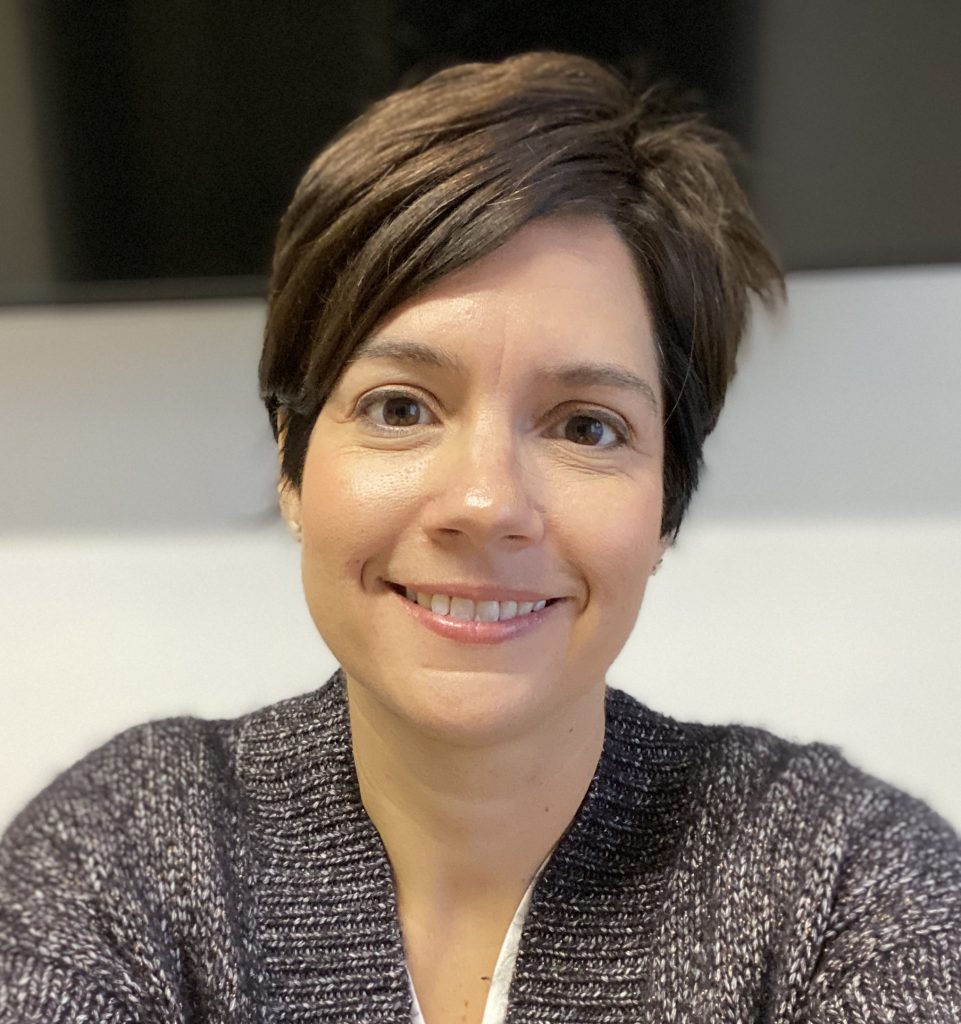 Protecting surfaces is now more important than ever! Grout and absorbent materials, in particular, tend to attract germs because they contain micropores, which facilitate the penetration of water and dirt. When water and dirt filter through the surface, the small holes become the perfect habitat for germs to grow: they are dark, warm, protected and rich in food. To prevent bacteria from proliferating in the micropores, it's important to apply premium sealers that block water, oil and staining agents, while creating a breathable barrier that keeps walls, floors and countertops hygienic and looking like new.
Water-based sealers do not release fumes and are ideal for high-absorption materials such as travertine, sandstone, terracotta and concrete. They are an optimal choice for maintaining the highest hygiene and environmental standards. Once the material is protected, it's vital to follow CDC guidelines and clean surfaces before disinfecting them.
---
FILA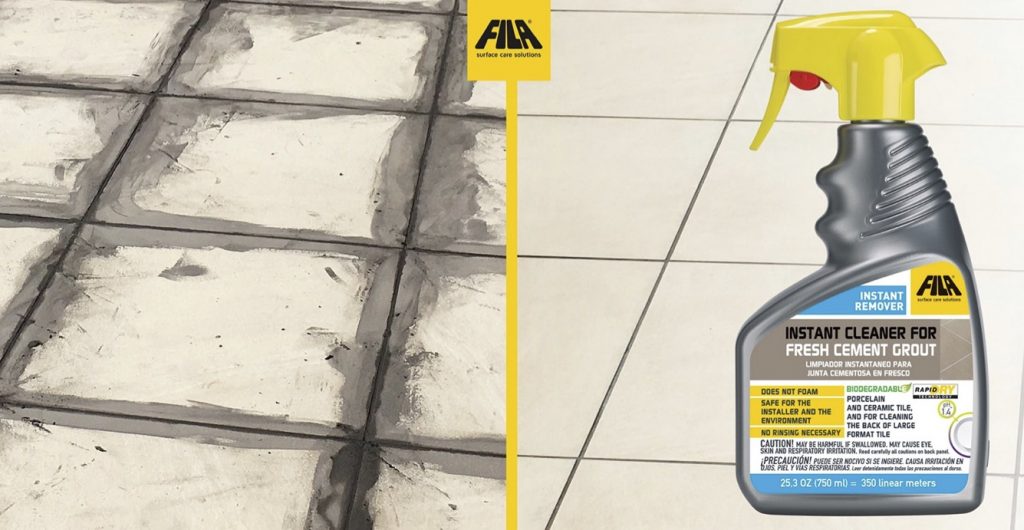 Goodbye grout haze! Grout haze, the residue left on the tile after grouting has always been a normal result of the tile installation process – until now! Designed together with tile installers, FILA's INSTANT REMOVER eliminates grout haze on large-format tile, porcelain and ceramic tile, glass mosaic and quarry tile before it even starts, leaving the tile surface completely clean right away – no returning to the construction site for post-installation cleaning! INSTANT REMOVER relies on unique RapidDry Technology, which allows the installer to apply the product on fresh grout without damaging it. The 24-ounce spray bottle is extremely user-friendly. The product dries quickly, doesn't foam, doesn't need rinsing and you don't need special tools to apply it. Just install, spray, clean and you're done! fila.com
LATICRETE International Inc.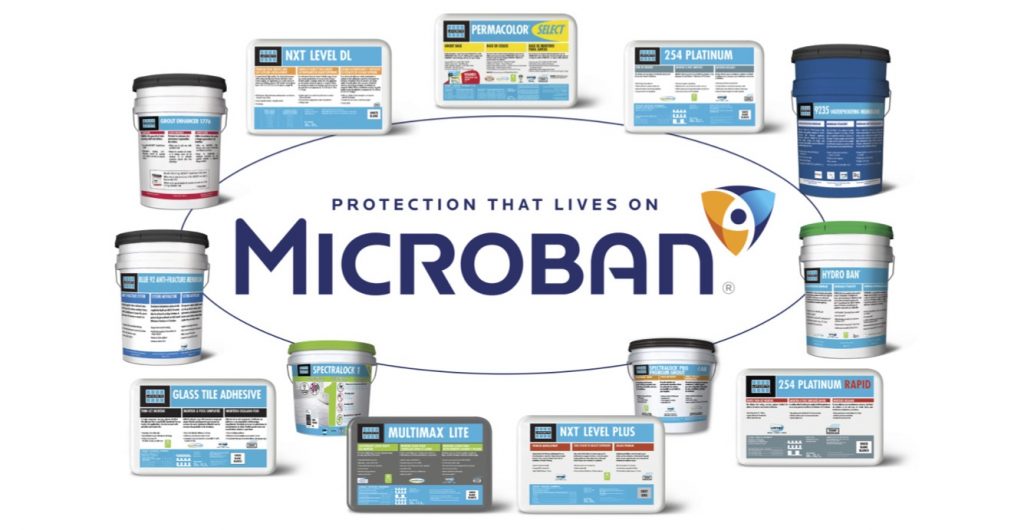 LATICRETE offers a comprehensive array of tile and stone installation materials with Microban® antimicrobial product protection. Microban® antimicrobial technology is integrated at the manufacturing stage providing around-the-clock product protection from the growth of microbes including bacteria, mold and mildew. The built-in antimicrobial technology will remain present and active for the expected lifetime of a product, working at a cellular level to continually disrupt the growth and reproduction of any contaminating microorganisms. For a full list of LATICRETE® products that offer Microban® antimicrobial protection, visit laticrete.com. 
Progress Profiles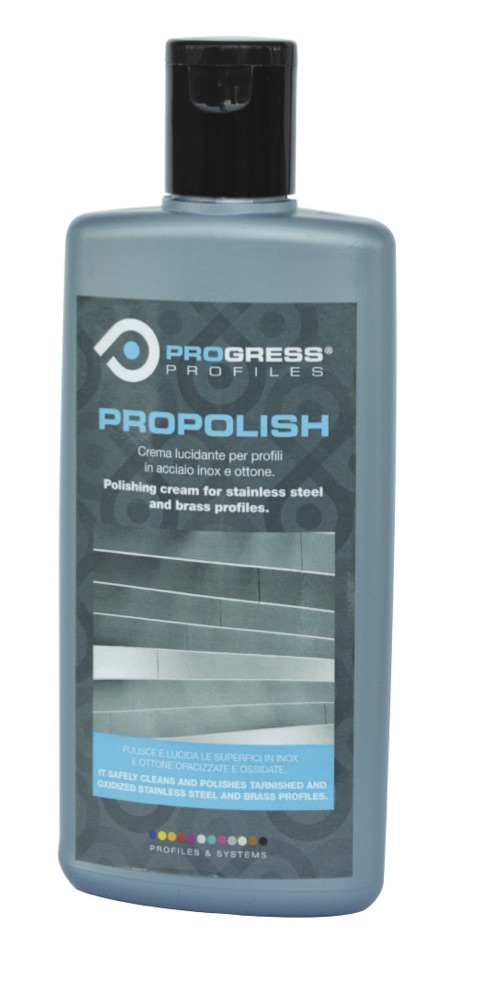 Propolish is a white cream-based formula for cleaning, degreasing and polishing of stainless-steel surfaces and opaque/matte brass. Ready to use, it does not contain acids and alkalis and leaves no marks after use. Proclean cleaning spray is ready to use for removing from residual surface oxide and limestone from stainless steel, brass and aluminium profiles. It deposits a protective film that prevents the deposit of limestone and soap residues. Regular use achieves bright and cleaner surfaces for a long period. Procare Clean is suitable for glass, mirrors and bathroom fittings. progressprofiles.com