The National Tile Contractors Association (NTCA), the world's largest tile contractor association, announced the names of its members who were recent recipients of key industry awards at Coverings Installation and Design Awards (CID) Ceremony in Atlanta, GA.
The Coverings Rock Stars  – an Emerging Leaders Program – honors the best and brightest young talent in the tile and stone industry. Since its conception, the program has recognized dozens of young leaders who have connected at Coverings through mentorship and networking opportunities. The program underscores Coverings' mission to support the growth and success of the industry by recognizing top-notch talent and fostering networking and educational opportunities.
The three individuals recognized are strong supporters and members of the association:
Triniti Vigil of J&R Tile, San Antonio, TX

Ceramic Tile Education Foundation – Certified Tile Installer Program Regional Evaluator
Bi-Lingual leader mentoring apprentices in J&R Tile's Department of Labor approved program
Cameron Proctor of David Allen Company, Raleigh, NC

Project Manager for the David Allen Company at just age 34; recording over 2 million square feet of tile and stone projects
Both industry educator and student, continuously developing his and others' technical expertise on a variety of products and projects
Jason McDaniel of Stoneman Construction LLC, Portland, OR

Nominated by a record 11 industry leaders for the Rock Star Award
Founder of Global Tile Posse Network; avid NTCA supporter and philanthropist with the Wounded Warrior Projects in Oregon
Four NTCA Members were among those selected as winners of the Coverings Installation & Design (CID) Awards, which honors exceptional design and installation of tile and stone in the categories of residential stone, residential tile, commercial stone and commercial tile.
A panel of judges consisting of ​editors, designers and industry professionals evaluated ​all ​submissions​.​
The NTCA congratulates the following members for being recognized for their outstanding accomplishments:
Camarata Masonry Systems of Houston, TX –Commercial Stone Installation winner
California Tile Installers of Cupertino, CA – Grand Prize winner for Commercial Tile Installation
Columbia River Tile & Stone of Portland, OR –Residential Stone Installation winner
Tile Design by (Nadine) Edelstein of Seattle, WA –Residential Tile Installation winner
"On behalf of the board members and staff of the NTCA, we applaud all of the award winners, both seasoned veterans​ and ​those '​up​-​and​-​coming,​'​" stated Bart Bettiga​, NTCA's Executive Director. "As our Association moves forward with its efforts to educate and train for the future, these accomplishments solidify what wonderful career accomplishments can be attained."
###
NTCA is a non-profit trade association serving every segment of the industry, spearheading education for the professional installation of ceramic tile, natural stone and allied products.  For more information, please contact NTCA executive director Bart Bettiga at [email protected], via telephone at (601) 939-2071, or visit www.tile-assn.com.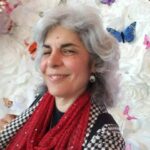 Editorial Director and Senior Writer for TileLetter and TileLetter ARTISAN
Lesley Goddin has been writing and journaling since her first diary at age 11. Her journey has taken her through a career in publishing and publicity, landing her the editor position of TileLetter and its special publications in 2006. Her goal is to educate, inspire, recognize and encourage those in the tile industry -- especially the tile and stone contractor. Other interests include the soft, purring marvels known as cats, labyrinth walking, drumming and percussion, and a range of spiritual, musical and artistic pursuits.