Mark Heinlein, NTCA Training Director said, "Attendees will receive direct instruction from highly-experienced NTCA Trainers who are seasoned experts with mud (thick-bed) and tile industry standards.
In August, the National Tile Contractors Association launched a brand-new training module in its Regional Training program: Mortar Beds for Floors and Walls, hosted by America's Floor Source (AFS) in Columbus, Ohio.
The team at AFS was excited to help facilitate this high-quality, hands-on educational experience for the installation community – and it was a great training opportunity for AFS Field & Installation staff too.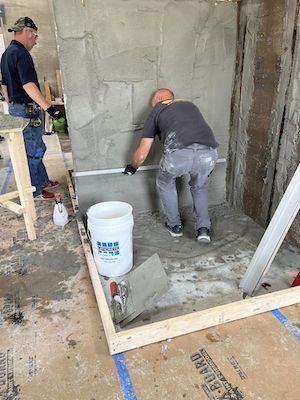 "Thick-bed mortar or mud expertise is often considered 'old school' or too labor-intensive by some installers, and thin-bed installation techniques are generally more prevalent," said Sarah Schnulo, America's Floor Source Director of Learning and Development. "However, many installers who do high-end custom work utilize this traditional approach – as do some general contractors and builders for shower pans. Finding skilled installers who can perfectly slope a custom concrete mortar bed can be a challenge in some parts of the country, yet more installers are now considering using this method. Contributing factors include an ever-increasing average tile size, the growing popularity of tile panels, and the declining quality of framing lumber."
AFS Vice President of Marketing, Josh Klynn, added that the NTCA training "was well attended by individuals from Ohio and surrounding states, as well as some who came from as far away as California and Florida. Attendees raved about the vast amount of information and hands-on practice of techniques packed into one day. It was an invaluable opportunity to learn from the highly-experienced and personable NTCA Training staff."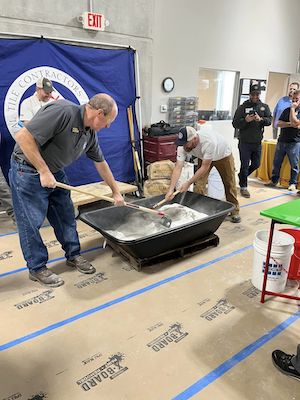 Takeaways
Attendee Rich Smith, of Rich Smith Enterprises, made the trip from Pompano Beach, Fla., for this class, which he said was "totally worth it." He added, "The classroom curriculum was very informative and the hands-on training outstanding – and very hard work! The trainers, Randy and Mark, are super knowledgeable and very helpful. I would highly recommend this class to anyone looking to increase their skill set."
David Romero, of Romero Enterprise, traveled to Columbus from Madera, Calif. "The class was A+ and verified things I use in my business as the best," he said.
Romero was talking to NTCA Trainer Randy Fleming at an NTCA workshop at Floor & Decor Fresno, when Fleming mentioned the mud class. He'd never been to that part of the county before, so he planned a vacation around the training.
Romero had high praise for the trainers, the AFS hosts, and top quality vendors, plus the opportunity to talk with industry folks from around the country.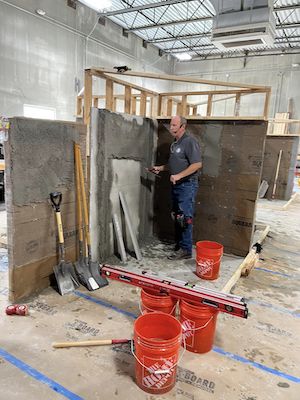 "They say that mortar walls and floors are not being done anymore, but in California and many other places it's still done when you want long-lasting quality," he said. "It's the shower you hide in when a tornado is near, a time-tested method of shower construction, the Cadillac of tile and stone walls and floors. Even Scott Carothers [of CTEF] says that when you have a problem surface you can always use mortar to make it work."
Romero mentioned that an experienced out-of-work union tile installer called asking for a job, and opened with, "I know how to mud shower pans and walls." Romero observed, "If you have this in your skills as a tile setter, you will be tiling with the best, as this program showed. "
A new opportunity for 2023!
This program was met with such avid interest and rousing success, that NTCA has made the decision to include it in its ongoing roster of Regional Training Events. A second Mortar Beds for Floors and Walls program was held on November 16 at Floor & Decor in Downey, Calif.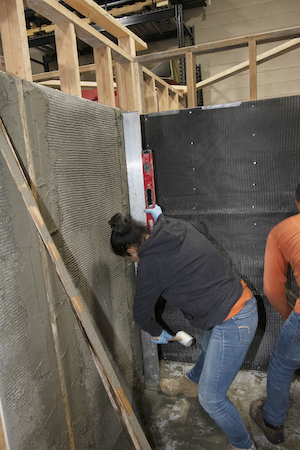 Programs are open to NTCA members and other professional tile contractors and installers, with a class size capped at 16. Led by highly-qualified and experienced NTCA trainers and supported by a team of tile industry experts and partners, instruction is given in both classroom and hands-on environments to address real-world tile system installation challenges. Attendees learn how to use and apply ANSI A108 installation standards and TCNA Handbook methods.
This free class demonstrates the flexibility of dry-pack mortar beds to resolve a wide range of installation challenges and to achieve tile industry standard substrate requirements. Focus is on thick-bed installations for walls, using different screed types along with scratch and brown and one-coat methods for wall installations.
Areas to be covered include:
ANSI standards and how to apply them
Different substrates and standards that apply to them
Analysis of wall and floor substrates for flatness
Substrate preparation requirements for floors and walls
Components, recipes, ratios for site-mixed dry-pack mortar mixes
Types and uses of pre-mixed/ bagged dry-pack mortar mixes
Bonded and unbonded thick-bed systems
Movement joints in a thick-bed system
Reinforcing materials in a thick-bed system
Tools used to construct thick-bed installations
Screed methods and techniques
This program will emphasize:
Industry standards and methods
Use of manufacturer instructions
Substrate installation, analysis and preparation
Selection and installation of thick-bed mortars
Selection and use of tools including specialty tools
Efficient work flow and teamwork
Job site safety and health practices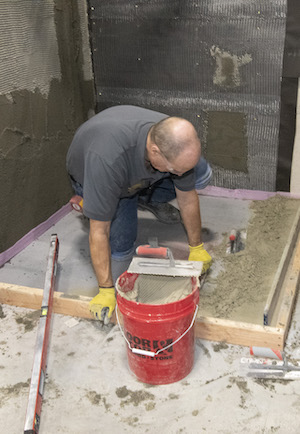 "We provide training on several areas of thick-bed training in a number of our traveling NTCA Workshop and Regional Training programs, and decided to develop a full-day Regional Training Program focused only on thick-bed/mortar-bed installations," said Mark Heinlein, NTCA Training Director. "Attendees will receive direct instruction from highly-experienced NTCA Trainers who are seasoned experts with mud (thick-bed) and tile industry standards.
"This is an important class for every tile installer – it provides instruction on skills that bridge the gap between a variety of installation materials and methods or can be used in standalone thick-bed/mortar-bed/mud installations," Heinlein added. "We are really looking forward to working with installers to help them build skill sets that will make them better at their tradecraft. Attendees are certain to take away new knowledge and skills that will help them on their next job."
Interested in attending? Register and get more information at the Community Calendar under the Training & Education tab at
www.tile-assn.com.