Leonardo Reynaga, Visalia Ceramic Tile
For this premiere issue of TileLetter ARTISAN, we invited the 2020 NTCA Residential Tile Setter Craftsperson of the Year Leonardo Reynaga of NTCA Five-Star Contractor Visalia Ceramic Tile to share his thoughts about craftsmanship and artisan tile setting.
Twenty-six years ago, Reynaga came to Visalia Ceramic Tile as a young father who started working before finishing high school. With no experience, but possessing a positive attitude, he learned his craft through training with owner Robert Martinho, and found that his tile setting career provided a good living for his growing family. Today he excels at projects large and small, simple and complex, pursues education and training to keep his skills sharp, and motivates and encourages others.
---
What is artisan tile setting and craftsmanship to you?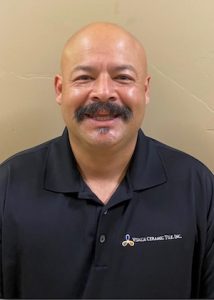 To start, the definition of the word "craftsmanship" is "a skill in a particular craft." Now to me, being a tile craftsman is bringing a person's vision to life in the works of tile, from the layout, to the design, and finally to the finished product. With 26 years at Visalia Ceramic Tile, when I start a new project, I walk in with a little bit of nerves, but those nerves bring the best out of me and drive me to be even more precise and perfect in detail with my work. As a craftsman, I visualize the finished product in my mind before I even begin the project; that leads me to know where I need to start and how I want to finish. Installing an artisan tile for me is an honor because I take as much pride installing it as the person who designed, carved, or painted the artisan tile. When I take a step back and look at the finished product I installed, I feel joy, as if I did it the justice that it was meant to show from the artist.
Why is being a craftsperson important to you?
Being a tile craftsperson is important to me because the satisfaction of seeing my finished project, whether it is something simple as a flat and plumb wall, the sun reflecting off the finished floor or the water draining smoothly on a shower floor. It brings me pure joy with knowing the owners will be delighted with my work. So, craftsmanship is important because it brings pride, satisfaction, and a big happy face at the end of the day.
What goes into being a true craftsperson?
For one, experience is very crucial to becoming a true craftsperson because with years in the tile trade you learn through different situations on how to perfect your craft. You learn through your installation what products you need to use and how to use them. With so many different options of tile from porcelain, to bisque, to glass, etc., knowledge of how to install each and every one of them is very important.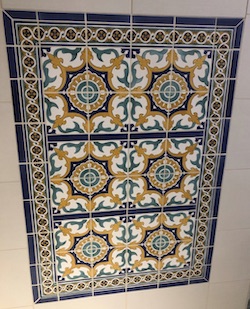 Problem solving is another aspect that goes into being a true craftsman because you have to be able to provide solutions to problems that may arise while on the job, whether it's fixing concrete slabs, tile floors, out-of-square walls, or out-of-plumb walls. These all require having experience to come up with solutions to these problems on the spot and execute the finished product.
To be a craftsman you have to have dedication and ambition. You have to be dedicated to your trade; you have to want to be the best and to be willing to take on challenging tasks. You can't settle for only what you are comfortable with. Don't be afraid to learn something new, whether it's new sizes of tile or new methods of installation. But most importantly you have to have ambition to want to move up in the trade and to keep achieving. My motto is "You only have one life, why not try to be the best?" Push yourself.
Being a true craftsperson, you have to love your trade. They say if you love your job, you will never work a day in your life. I wake up and smile when I go to work.
With a young person in mind who wants a career in tile setting, what advantage is it to be a craftsperson?
The advice I would give a young person who is interested in pursuing a career in the tile trade is: if you enjoy a challenge, if you like working with your hands, and have a hard-working and professional etiquette, then I'll see you at 6:30 a.m. ready to work.
An advantage of being a craftsperson is you can provide a good living for your family, you gain knowledge and skill of the craft, and it molds you.
What kind of joy and satisfaction does it bring?
The satisfaction my installation brings me is when the customer's face lights up when they see the finished product and you can tell that they're delighted in my work. The joy my craft brings me is when returning customers request to have me work on future projects or when they refer me to other people for their projects.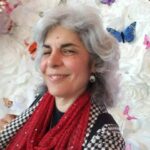 Editorial Director and Senior Writer for TileLetter and TileLetter ARTISAN
Lesley Goddin has been writing and journaling since her first diary at age 11. Her journey has taken her through a career in publishing and publicity, landing her the editor position of TileLetter and its special publications in 2006. Her goal is to educate, inspire, recognize and encourage those in the tile industry -- especially the tile and stone contractor. Other interests include the soft, purring marvels known as cats, labyrinth walking, drumming and percussion, and a range of spiritual, musical and artistic pursuits.