100 years of industry excellence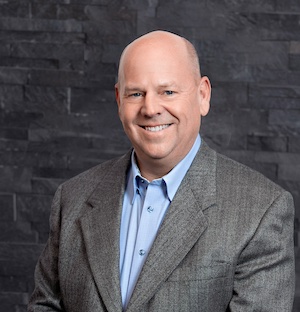 From 1987 to 2002, I worked in distribution in the Minneapolis/St. Paul market. At that time, the Twin Cities had several great tile contracting businesses and Grazzini Brothers & Company of Eagan, Minn., was the largest and most successful of all of them. It remains that way today. In fact, it has been celebrating an incredible milestone in 2023, as it celebrated 100 years in business.
History of an iconic company
In 1923, Frank and August Grazzini formed a partnership installing concrete walks. Shortly thereafter, they added terrazzo to their services-a trade they had learned in Italy. Their belief in the American dream – coupled with their old-world knowledge of the craftsmanship and artistry – provided the foundation for what is now one of the nation's leading tile, terrazzo, stone and floor coverings contractors.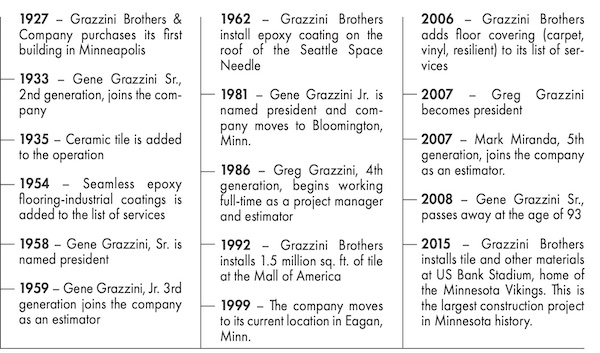 Grazzini Brothers is an NTCA Five-Star Contractor, and has received numerous awards for commercial and residential installation excellence. President Greg Grazzini is active in the industry, and is the current President of the Minneapolis Builders Exchange and Minnesota Tile Contractors Association. I was able to catch up with Greg for a short interview to discuss what it means to oversee a company with the prestige and legacy that exists at Grazzini Brothers & Company.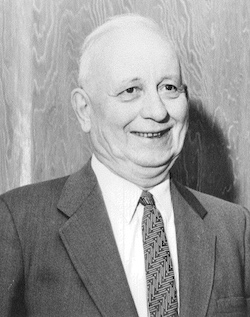 What does a milestone like 100 years mean to you as a fourth-generation leader of Grazzini Brothers & Company?
It is an honor and a privilege to be a part of our team. We have established a legacy of excellence. Our core values have remained constant: Proven, Reliable Craftsmanship. We have constantly expanded and we are proud to now have some fifth-generation people working with us, which is outstanding. We have more than 100 employees working with us in different parts of the country and are looking forward to more growth in the future.
Describe for us what your journey has been like in the family business.
I was going to be an accountant, but after a few years of working summers and holidays, I decided I liked the business so I joined the company in project management and estimating. I became president in 2007, and CEO in 2009. My father, Gene Grazzini Jr., who has been with our company since the early 1960's, is still active as chairman of the board.
What do you foresee to be challenges to your continued success moving forward?
Our biggest challenge is finding a qualified workforce. It is a chicken and egg situation. You are always chasing both ends. You can't find the work if you don't have the crews to perform the installations. The work is out there and finding it and getting contracted for it isn't the biggest hurdle. Finding how to backfill our aging workforce and replace our knowledge and ability in that workforce is our biggest challenge. We are always recruiting and looking for professional support, whether it be in the office or the field.
As a Minnesota contractor with a union presence in that community, how far does your company footprint take you for the projects you contract for?
People are sometimes surprised to know that half of our workforce is open shop, so that shows you that we do a lot more work than in Minnesota, where we are a member of the union in this area. We have established ourselves with a reputation for large projects like airports, schools, stadiums, etc. To do this type of work, we must be able to work within the state and local communities, and we pride ourselves on doing that successfully.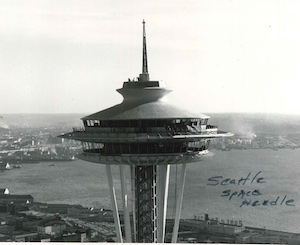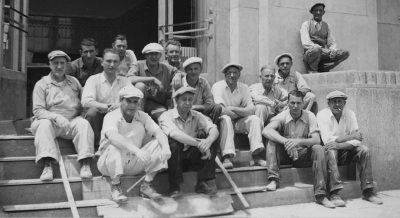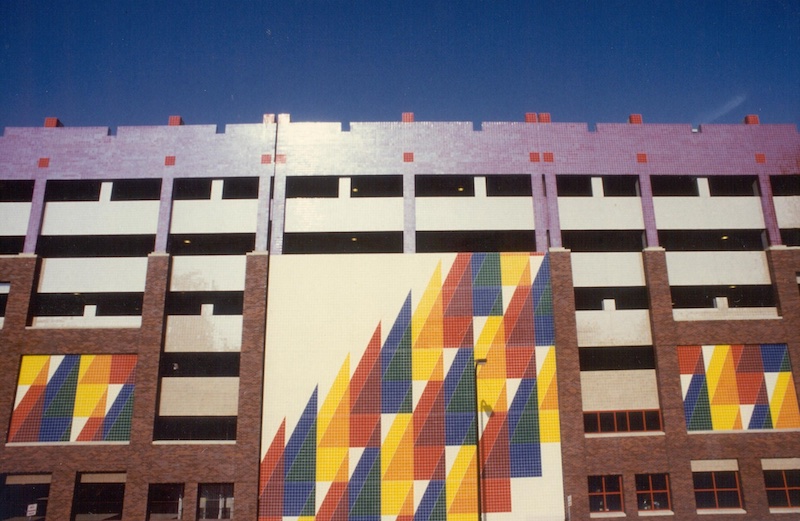 What is the value of supporting trade associations the way your company does?
We think trade associations are a great way for us to not only get to know our clients but also trade contractors in other fields like drywall, plumbing, electrical, etc. It is invaluable for us to network and collaborate with these groups. These are trade partners who you work closely with on important projects. As president of the Minnesota Builders Exchange, it has been a good experience for us because we can interact with our trade partners, and the general contractors and builders we contract with. We also support the AGC, ABC, and many other groups.
What does the next couple of years look like for Grazzini Brothers?
Fortunately, our backlog for 2024 and 2025 is strong. We surpassed our goal for 2024, so we are in the process of filling in the few remaining gaps there. We are trying to build for 2025 now. We concentrate on the public sector. Once money is dedicated to these projects, it can usually be counted on to remain there. The private marketplace is a little more unstable. We have projects going from the west coast to the east coast. We are always looking for the right projects.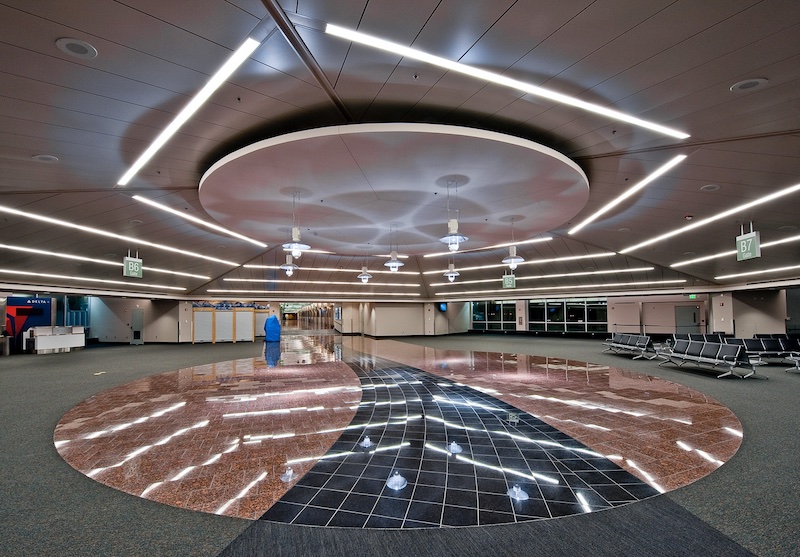 100 years of industry excellence. What are some of your favorites or most high-profile projects you can share with our readers?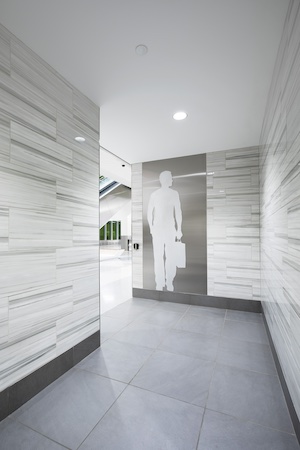 Some of the smallest are interesting too. We did a project in Point Barrow, Alaska which is as far north in the United States as you can get. The job was for Alaska Airlines. The freight alone cost more than the labor and the materials, if you can believe it! Airports have been a staple of ours since I have been president. We are involved in the Denver Airport Main Terminal Modernization (second time) and Glacier International Airport in Montana as we speak. Washington Dulles, Bush International (Houston), Kansas City (just finished), Anchorage and Fairbanks International Airport, MSP International Airport, and Bush International Airport in Houston, Texas are just a few of the many.
Some other projects in our history included the Mall of America, U.S. Bank Stadium – the home of the Minnesota Vikings – Nashville Sound Soccer Stadium, Fiserv Arena in Milwaukee, Washington Nationals Ball Park, Minute Maid Park in Houston, Texas, Climate Pledge Arena in Seattle, and Army Replacement Hospital in Fort Bliss, Texas are just a few examples.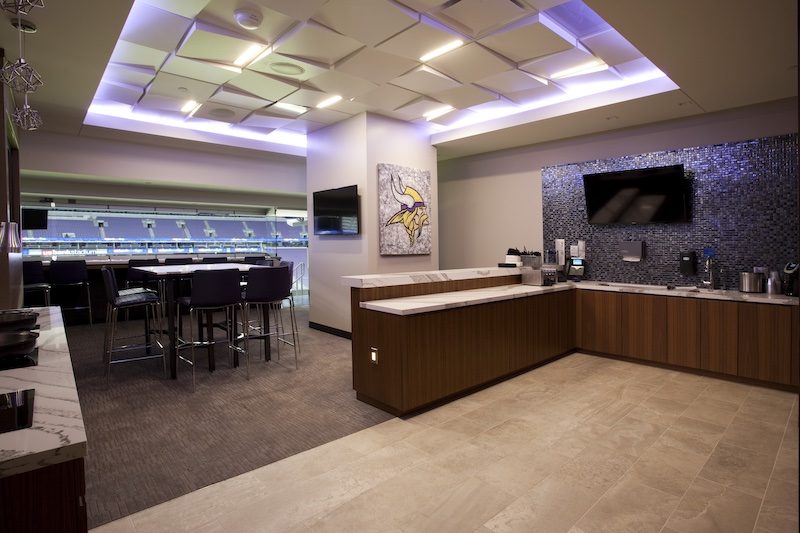 As a large contracting company, how do you approach investing in and embracing technology to manage your business?
This is one of our efficiencies and something we take very seriously. The bigger you get – and if you are managing projects across the country and in different time zones – efficiency is integral to your success. You are always looking at systems in estimating, CRM, accounting, etc. We use the capabilities of our technology investments, and we train our people to embrace this. This is not simple because with a company our size, you can't just buy something off the shelf and expect it to work. It has to be built to fit our needs and it takes dedication and expertise to do that.
What are the keys to managing large projects like the ones Grazzini Brothers does?
You want the secret sauce? Italians don't divulge the secrets in their sauce! Really, you must have the people to back you up throughout the project. From logistics to manpower to sourcing product in the local market to building the relationship with the contractor and owner – all those things take a lot of people with different skills. We have good competition in our regional market and around the country. It's not easy being a tile contractor and the bigger you are the less nimble you are. It takes a lot of talented people to navigate the challenges of being a large tile, terrazzo, stone and floor covering contractor. We are proud of our employees and all we have accomplished.   
---
Watch Bart Bettiga's interview with Greg Grazzini on YouTube: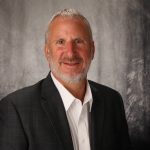 Bart Bettiga is the Executive Director of the National Tile Contractors Association and Publisher of TileLetter. Bettiga is a member of the Board of Governors of Coverings, one the largest tradeshows in North America. He has over 30 years of experience in the tile and stone industry and has served as the NTCA Executive Director since 2002. He is a well known speaker and author on ceramic tile and natural stone distribution and installation. He oversees the financial operations of the NTCA, TileLetter and the Ceramic Tile Education Foundation.