CTEF, the Ceramic Tile Education Foundation, has organized an online auction to take place in October to raise funds in support of its mission which the COVID-19 pandemic has severely threatened.
The CTEF aims to improve the tile industry through installer certification, education, training, and participation in the development of nationally recognized standards and methods. During normal times, CTEF generates income through in-person training and hands-on certification event fees. All events since March 2020 have been suspended, to be rescheduled once conditions are safer.
"These are unprecedented times especially for a non-profit organization such as CTEF," says Scott Carothers, CTEF director of certification and training. "The proceeds from this online auction will allow us to stay afloat through the pandemic so we can remain relevant and rapidly get back on track with ramping up the Certified Tile Installer (CTI) program, expand tile installation training as well as the Advanced Certifications for Tile Installers (ACT) program."
The CTEF online auction takes place from October 21st at noon until October 26th at 10 am EDT and includes over 50 items of particular relevance to tile installation professionals. Donated by tile and stone industry supporters, suppliers and manufacturers, these items include among others:
Tools such as mixers, saws, trowels, floats, sponges and knee pads
Materials such as tile, GPTP, backer board, underlayment, mortar, and grout.
Flooring products
And more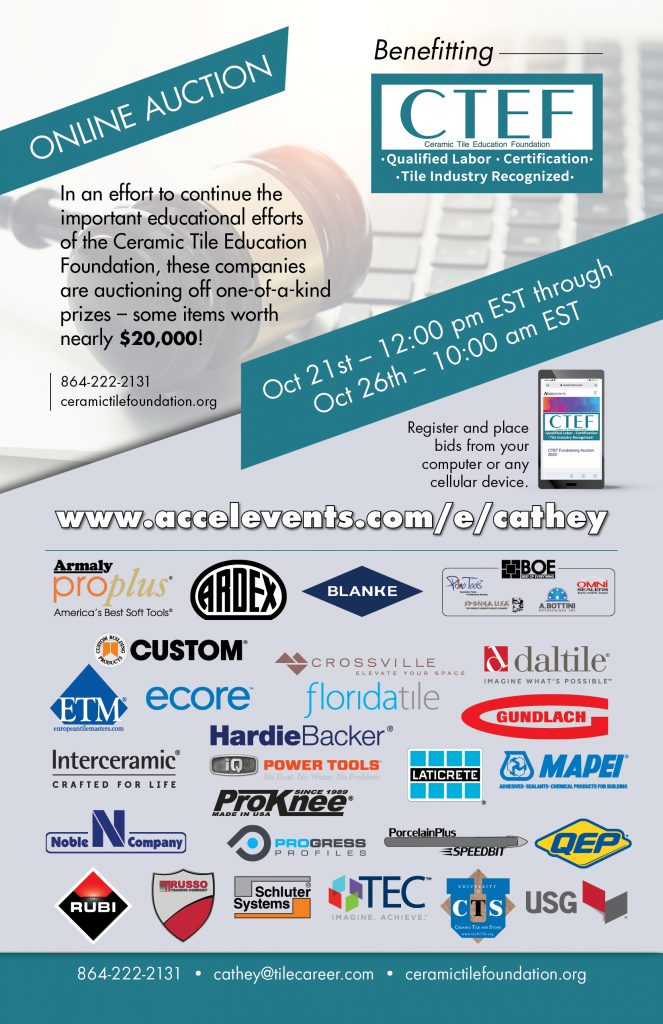 Those interested in participating in the online auction can do so via their computer, via text, or by contacting Cathey McAlister at CTEF. The first step is to register at www.accelevents.com/e/cathey.
"Fall is a great time to stock up on the tile installation products and materials that tile installers and contractors know, love, and depend on," added Carothers. "The really neat thing about the Auction is it is FREE. It costs you nothing to place your bids!"
CTEF gratefully acknowledges the participation of the following auction sponsors: Amarly, ARDEX, Blanke, Custom Building Products, Crossville, Dal Tile, Edge Strip Kits, ETM, ECore, Florida Tile, Gundlach, HB Fuller/TEC, Interceramic, James Hardie, Laticrete, Mapei, Noble Company, Pro Knees, Progress Profiles, QEP, Rubi Tools, Russo Trading, Schluter , Scodd Industries, University of CTS, and USG.
For more information, including how to bid using the different options for bidding, go to CTEF Online Auction: 10/21 through 10/26. Mark Your Calendar!