Martin Brookes, Woody Sanders discuss use of pedestal systems in Coverings Connected program
Back in April, when we all thought we would be in New Orleans for Coverings, show management presented a series of highly-informative sessions and webinars in its virtual Coverings Connected Program.
One such program was Application and Specification of Tile for Outdoor Use, presented by Martin Brookes of Heritage Marble & Tile, Inc., Mill Valley, Calif., and Woody Sanders of DW Sanders Tile & Stone Contracting, Inc., Marietta, Ga. This AIA/CES-accredited session focused primarily on the use of pedestal systems in exterior paving applications.
This article will touch on many of the salient points of that talk, and provides insight into the advantages and challenges of this technology.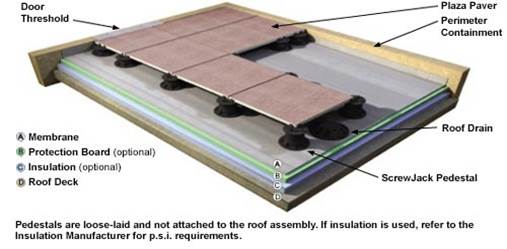 Why use pedestals?
Brookes and Sanders explained that pedestal systems are used primarily in outdoor living systems, when there is a high degree of urban density, and there's a desire to expand the living space, such as the roof. They provide a Green Squared® certified, lightweight and affordable assembly. They can also be used in government and hotel applications since they provide easy accessibility to under floor wiring or irrigation systems and they are low maintenance – they also make it easier to fine tune tile to eliminate rocking tile or other issues. Plus, pedestal systems can provide a deck that is a little softer to walk on than a hard bonded deck.
Pedestals can help with drainage, freeze-thaw issues, movement accommodation and pitched air-entrained concrete, providing some control over these issues. In addition, you can reuse tile and pedestals, even if you need to replace the membrane beneath.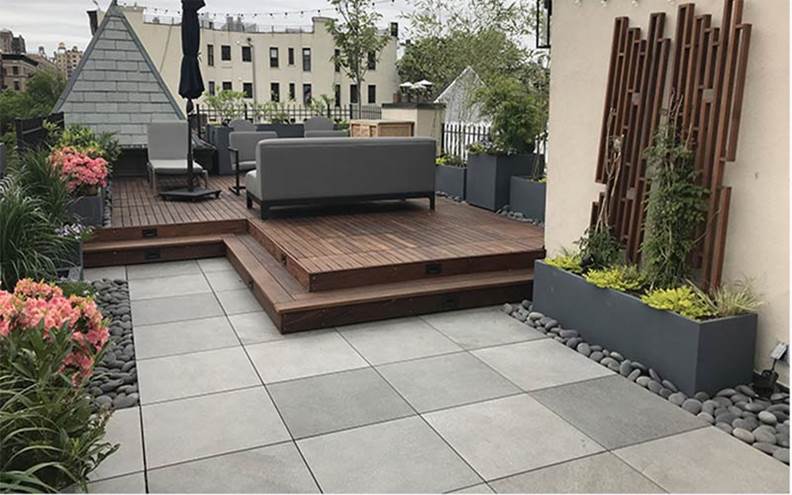 Pedestals and pavers – perfect together?
Sanders got involved with pedestal systems a few years back when he was looking for a better way of doing exterior decks."This is a great product group, and falls well into what tile and stone installers do," he said.
Porcelain pavers with 2 cm and 3 cm thickness are relatively new for U.S. applications, Sanders said, but there are some – from Daltile and Del Conca – that are specifically designed for pedestal systems. These are 24"x24", 24"x48" and even 8"x48" modules. Other materials can also be used: Indiana limestone, concrete pavers, ipe wood, and even rolls of turf. "We install a lot of ipe wood even though it isn't tile," Sanders said. "Fibergrate composite structures allow for some creativity, for bridging, to support turf."
One factor to consider with pavers on decks is the solar reflectance rating (SRI) – will a light-colored surface in a sunny area be uncomfortably bright; will a dark paver get too hot to walk on?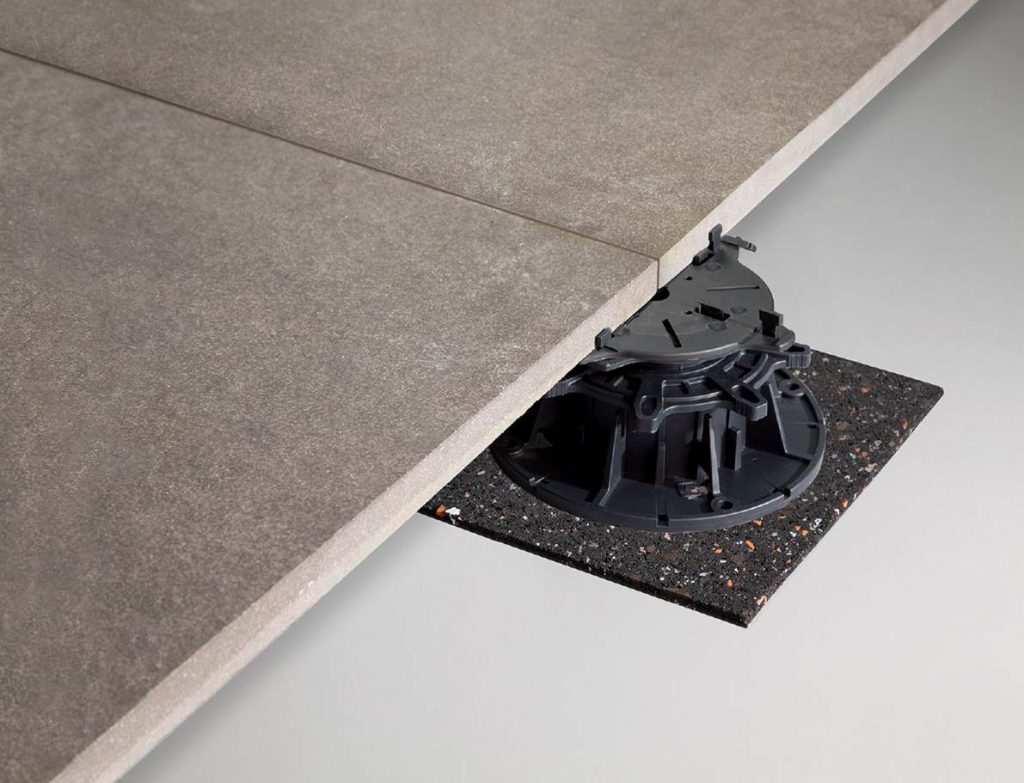 Working with pedestal systems
Pedestal systems offer a lot of advantages, not the least of which being that pedestals themselves can be made out of post-consumer PVC and offer an environmental advantage. Pedestals can be ordered in a fixed height (a common height is 1/8") or can range as high as 36" and be adjustable from the base or shim. They offer the ability to handle a 7% change in elevation, though most provide a 2-3% slope. It's advised to work with the pedestal manufacturer to find the combination of components and features that address the specifics of your project.
Challenges of pedestal systems
• Wind uplift or equalization. Because pedestal systems in effect are a free-floating system, wind can lift pavers and other surfacing material right off decks. Manufacturers have different ways to address this, such as clips or grommets, but sometimes – especially on tall buildings, an engineer is needed. In addition, there are few standards for roof deck systems, and even fewer for pedestal roof deck systems. Another important question to answer on a rooftop install is, "How does the roofer want me to protect roof membrane?" Brookes asked.
• Point loads. A 24"x24" paver weighs 30 lbs. It's advised that you consult with the tile manufacturer for what the point loads are and their recommended configurations – trays on corners or a five-spot configuration with an extra pedestal in the center? The goal is to ensure the tile makes 100% contact on the pedestal system for full support. It's also key to be sure that the roof type is compatible with pedestal systems and can support them. Brookes cautioned exercising special care with closed cell foam roofs. "Some do not meet 40 psi criteria to support pedestals," he said. "Make sure yours does. Be careful with less expensive ones."
• Roof decks. It's advisable to partner with a roofing company to do the waterproofing and pitch when working on roof install. Sanders said, "You don't want to DO waterproofing for roof projects. It's a very complex and different world. And Brookes added, "In California, I can't do roofing work, due to state licensing. I have partners who are very well versed in waterproofing and waterproofing systems."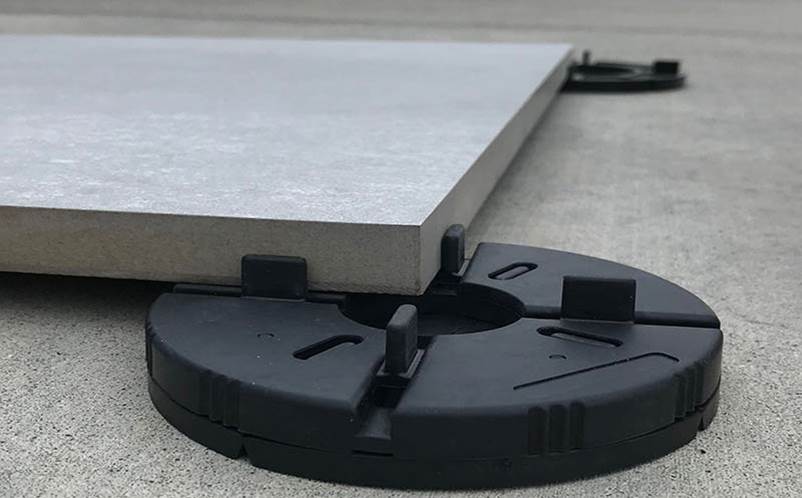 Sanders related his experience on the roof deck for the CNN project, which presented a challenge in learning the takeoff since isometric drawings weren't provided to the contractor. "We field verified it and found all the architectural drawings were wrong," he said. "Falls were wrong, and it was more complex. We wound up with another document with drawing of which pedestals go where and used it with laser level and heights." Sanders and his crew then had to determine the starting height, with egress specified at the bottom left. They utilized a series of pedestals that ranged in heights/couplers as they grew higher, and created a hand-drawn plan. During the installation process – which entailed two weeks of just assembling pedestals – they used every single component. The process also required two types of layouts – one for pattern and one that established elevation.
Retainment in this job was also paramount. There was a small parapet already in place, which was absolutely necessary to keep the assembly from falling off the roof. And DW Sanders Tile & Stone did a 100' mockup to establish how the mechanical, electrical, and plumbing would run through beneath the tile.
Conclusion
Pedestal systems provide a highly effective, efficient and well-performing system for decking in outdoor spaces, offering several advantages over bonded systems. When should you recommend this system over a bonded tile or stone deck? "We almost ALWAYS recommend this," Sanders said. And Brookes added, "Almost every deck in high end residential is now a pedestal system."
Questions about pedestal systems? Contact Sanders at [email protected] and Brookes at [email protected].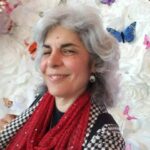 Editorial Director and Senior Writer for TileLetter and TileLetter ARTISAN
Lesley Goddin has been writing and journaling since her first diary at age 11. Her journey has taken her through a career in publishing and publicity, landing her the editor position of TileLetter and its special publications in 2006. Her goal is to educate, inspire, recognize and encourage those in the tile industry -- especially the tile and stone contractor. Other interests include the soft, purring marvels known as cats, labyrinth walking, drumming and percussion, and a range of spiritual, musical and artistic pursuits.