Pavers from Daltile's Xteriors program bring durable design to outdoor spaces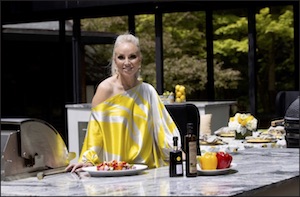 Real Housewives of New Jersey alum Margaret Josephs is encouraging her followers to begin daydreaming and planning in December so any backyard renovations they execute will be ready to thoroughly enjoy in spring/summer/fall of 2022! As part of her total home redo – inside and out – Margaret Josephs built a backyard patio that not only gives her family a private oasis to enjoy daily, but is also an outdoor living space big enough for large-scale entertaining. Stone-look porcelain tile from Daltile was one of the key elements used to bring Josephs' patio design to life.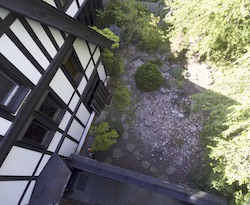 "I wanted the sophisticated style of my interior design to flow effortlessly into my outdoor space," said Josephs. "We totally scrapped the old backyard, plowing it all under. I wanted a clean slate. My design goal was to create something that could be described as functional and fabulous.
Functional and visually-impressive space
"Selecting and installing Daltile's Delegate 2cm porcelain pavers in Dark Grey across 1,000+ square feet created a functional space that was also visually impressive," she continued. "This beautiful grey backdrop was the perfect neutral to balance my love of prints and patterns, which I am known for when decorating a space. But neutral doesn't mean boring! Delegate's sedimentary slate-inspired design offers a rich visual with depth and interest.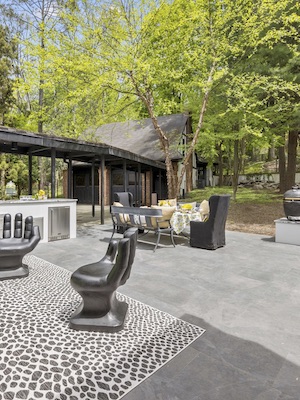 "The 20″ x 40″ extra-large size of the tile pavers creates a contemporary touch for my historic home," she added. "My husband Joe, being a contractor, is hard to impress, but Daltile blew him away. Porcelain pavers are more durable and won't crack in weather extremes like concrete will. I prefer the pavers, because they give me the level of style with durability that I demand out of my designs."
Joe Benigno, Josephs' contractor husband, found the Daltile pavers "incredibly easy to work with." His three-man crew laid the pavers on a 3″ cinder bed, sitting on an 8″ compacted stone bed. This process accommodates any movement, which is common with outdoor pavers in New Jersey, where the weather is unpredictable. The ability to lay the stone without grout, yet with matched, level, and clean joints is the perfect solution. The entire process took a week, which includes excavating the area. Verifying heights throughout the process with a transit or laser level ensures all pavers will lay completely flat as installed.
"Here in Jersey, we do it the old school way, the way my father taught me, and the results are perfect!" said Benigno.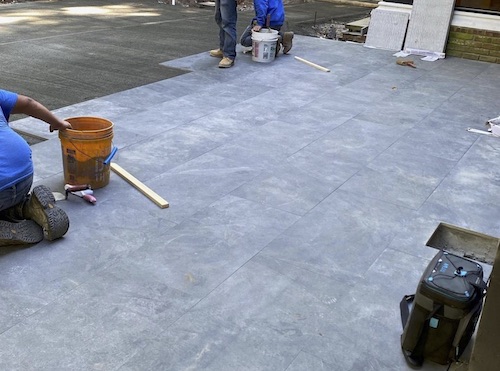 "Outdoor living is currently a very hot design trend," said Laura Grilli, Director of Product Design for Dal-Tile Corporation. "Outdoor living is just what it sounds like: homeowners are spending more time eating, visiting, working, and relaxing outside when they are home. Consequently, more beautiful outdoor spaces are being created to serve as extensions of a home's interior living spaces."
"Very often, it used to be that the outdoor space was viewed as completely separate from the indoor space, or the outdoor area was simply an afterthought," added Grilli. "I like the current trend where the outdoor space is being considered part of the house, an extension of the home. It is viewed as a livable space that homeowners are getting to use every day. Decorating your outdoor living space is now considered just as important as decorating the living room that is inside the house."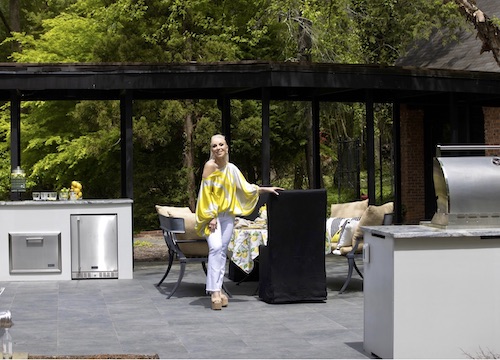 "As we look at the growing importance of outdoor living spaces, it is important to note that porcelain tile is well-suited for these areas, due to the unsurpassed durability of the material and its inherent ability to withstand the harshest of conditions," said Grilli. "With Daltile's Xteriors program, we are able to provide stunning porcelain tile products for any type of exterior surface – from floors and walls to pools – bringing the comfort and high design of interior spaces to the outdoors. I love the porcelain pavers that Margaret chose for her back patio renovation. These pavers are part of Daltile's Xteriors line."
Gracious outdoor living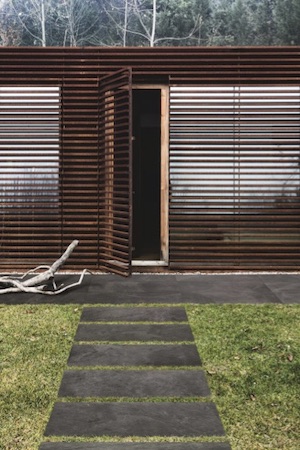 Daltile's Xteriors is an exceptional collection of products designed for gracious outdoor living. With Xteriors, consumers enjoy the benefits of durable, easy-to-maintain porcelain tile that far outperforms other outdoor materials: UV-resistant, stain-resistant, fire-resistant, slip-resistant, and freeze/thaw-resistant.
"Much of our inspiration for Daltile products that are geared especially for outdoor spaces comes from the traditional 'high-end elements' that consumers like to use outside such as marble, hardwood, limestone, and travertine to name a few," added Grilli. "The problem with using the natural materials outside is that they require a lot of work to keep them looking nice. Travertine and marble have to be sealed. The patina of hardwood and limestone will weather over time. You don't have any of these problems with Daltile's porcelain products, so we are able to provide the fabulous, highly-realistic visuals of these traditionally high-end aspirational materials, without the problems associated with the natural materials. Bottom line, we have taken inspiration from the materials traditionally desired and used outdoors, and now just make it easy to feature that look while enjoying all of the durability, performance, and low-maintenance attributes of porcelain."