PROFILITEC, Italian producer of state-of-the-art floor profiles and related installation solutions, has produced a fully-animated video featuring​SHOWERTEC™, the firm's innovative system, which offers all​ ​necessary elements to build or renovate an entirely waterproof, maintenance-free shower area. Click on this link to view: https://youtu.be/68dKUccYAzw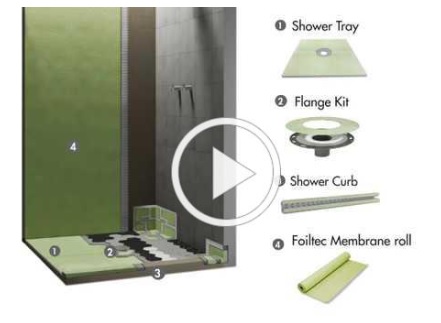 Showertec™ offers advantages that surpass current standards. These include vapor permeance levels that conform to industry requirements for steam showers​; high-density, pre-waterproofed foam elements ​saving significant installation time, which contain recycled content underscoring Profilitec's commitment to incorporate environment- friendly materials whenever possible.
The new video showcases the entire Showertec™ system, which is comprised of:
Shower Tray – pre-sloped incorporating the Foiltec™ Waterproof & Vapor Tight Membrane, which is pre-attached, assuring simple and quick installation while surpassing all industry requirements for steam showers
Shower Curb – made of high density EPS foam and pre-wrapped in Foiltec™ Waterproof Membrane on all sides. An opening along the curb allows for ​height adjustment, if needed.
Foiltec™ Membrane – Waterproof and Vapor Tight with a 0​.033 perm rating (ASTM E96-E) rating.
Foiltec™ Sealing Strip
Square Drain Kit – composed of a bonding ​flange with vertical drain and integrated anchoring membrane, a Foiltec™ Circular Waterproof Membrane Ring, Foiltec™ Internal and External Corners and Square Drain, which is composed of​ ​a ring for the vertical alignment of the drain, grid support, construction plug​, plus  grid and fasteners
"Our latest how-to video is very explicit, and helps viewers understand our product, its components and more importantly… guides them through the installation process,​" stated Greg Gelston, president of Profilitec. "Sealed systems such as Showertec have enabled the process to build a shower less labor intensive. Our new video demonstrates that even further."
###
About PROFILITEC:
PROFILITEC prides itself on "doing business the right way," which according to President & CEO/Owner Roderick Egli, "Always includes maintaining our integrity and transparency." Recently relocated to state-of-the-art facility in Isola Vicentina, PROFILITEC products are strategically warehoused in upstate New York for ease of accessibility.