A learning mind is a growing mind. I know a lot of our brain power is focused on our jobs day to day, but how do you feed your mind, heart and soul – professionally or personally – to stay motivated, inspired, guided, engaged, calm and happy?
Wow, that's a big order! If your mind is anything like mine, if I don't put something positive and nourishing into it daily, it tends to go scampering off in a million directions – squirrel!!! – or descends into low energy states like worry, fear, and despair.
Where do industry members where they turn for inspiration? What books, movies, articles or other resources have had a profound impact on their personal or professional lives?
An impromptu survey found that books that are read for business have a positive impact on personal lives and vice versa. Biographies, fiction or classics helped propel some industry members onto their life path. And faith-based or spiritual readings and resources offer hope, clarity and direction to some in our industry.
Organizing your company – and your personal life
Heather Ruhl, Program Manager for H.B. Fuller Construction Products said Switch: How to Change Things When Change is Hard by Dan Heath and Chip Heath, "…is about change management in organizations, however much of what works well to create organizational changes also works in your personal life," Ruhl said. "I've applied what is in the book to help motivate me to change my communication style, to create a better workout habit, and to help me get organized and stay there."
These authors also wrote The Power of Moments: Why Certain Experiences Have Extraordinary Impact. Erin Albrecht CIM, M.Ed., Owner, J&R Tile, said this book is full of "instantly-engaging true stories" and it "explains the science behind how small moments can leave a lasting impression." This book so strongly impacted Albrecht that her office staff is using it for a weekly book study. "We are currently working on our own ideas to create powerful moments for our employees and customers," she said. "It's all about relationships!"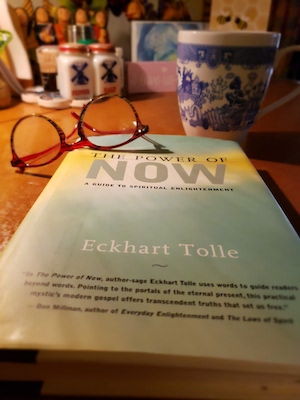 Earlier this year, on a Facebook thread, Albrecht mentioned Eckhart Tolle's The Power of Now as a vital volume to her. At the time, NTCA's Executive Director Bart Bettiga chimed in about its power in his life, too. He said it helps him train his mind "to be more focused and present," allowing him to "enjoy the journey and the experience much more than I have in the past."
Tolle's classic – together with a book Bettiga just finished reading called 10% Happier: How I Tamed the Voice in My Head, Reduced Stress Without Losing My Edge, and Found Self-Help That Actually Works – A True Story by Dan Harris – helped him stop, "going to those places that create anxiety for me," he said. "Just think about it. What if we could be 10% more of everything in our lives? Be 10% more productive, attentive, empathetic, grateful, and especially – 10% happier?"
Katia McGuirk, Executive Director of The TileWorks of Bucks County, creditsAngela Duckworth's Grit: The Power of Passion and Perseverance as helping her "identify personal qualities that lead to success." She said, Duckworth's "Grit Scale" captures and quantifies the importance of goals, hard work, overcoming setbacks, focus/distractions and diligence/finishing. It led to a "middle-of-the-night mini-ephipany" that galvanized her vision for broadening the reach of the Moravian Pottery and TileWorks and expanding its involvement in the industry and the community at large.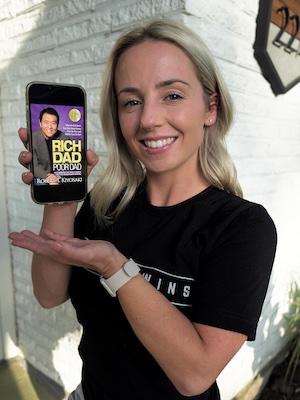 A business book that had a big impact on "That Tile Chick," Schannon Violet, was Rich Dad, Poor Dad by Robert Kiyosaki. She learned about this book at the very beginning of her entrepreneurial career and it opened her eyes to the importance of real estate investing, also changing her "view on money and how we make it," she said. Shifting her thinking and perspective, it "ignited the spark to the flame that has brought me where I am today," she said, opening her "eyes to the importance of financial literacy, independence and the importance of building a business that can produce a passive income. It changed my outlook on life forever."
Kyle Hedin, of Illustrious Hardwoods and Floor Academy fame, values the timeless advice from the 1926 book The Richest Man in Babylon by George S. Clason. The book teaches tips like setting aside 10% of your earnings before paying bills, learning to live under your means, and "truly learning who to take advice from on investing." When a young man turns to a brick maker for advice about buying jewels and loses his savings in the process, he learns, "If you would know the truth about sheep, go to the herdsman," Clason writes. "Advice is one thing that is freely given away, but watch that you take only what is worth having. He who takes advice about his savings from one who is inexperienced in such matters shall pay with his savings." Hedin observed, "Often people take advice from people that know absolutely nothing about what they are talking about. What is their track record in this field? Why do they listen to their friends about how to run their construction business? Why would you not go talk with other seasoned professionals who are doing it right? It is a very valuable lesson, and has helped me avoid many missteps in my career so far." 
Classics and fiction
Social Media Community Liaison for Schluter Systems, North America Shannon Huffstickler has read Walden by Henry David Thoreau many times and listened to it while driving, always gleaning new insight. "The first chapter titled 'Economy' is my favorite. It speaks directly to my core values, reminds me of what is truly important for me to do with my time, energy and attention. And somehow simultaneously, Thoreau's tongue-in-cheek humor also helps me to laugh at myself for getting caught up in social constructs and falling for the charm of prescribed priorities just to obtain the false security that being part of a herd offers."
Joe Still, TSR Specialty Products Division at LATICRETE International and Principal/Owner at C3 Consultants, said that Jules Verne's From the Earth to the Moon helped him decide "that science was for me."
Another other-worldly book of sorts is The Hitchhiker's Guide to the Galaxy by Douglas Adams that taught Shawna Bouchard, Senior Marketing Specialist at Johns Mansville, "that most things are out of our control, absolutely 100% absurd, and we're all on borrowed time and will meet the same end – and we can't avoid it." The wacky wisdom in this book helps her to not "stress the petty sh*t."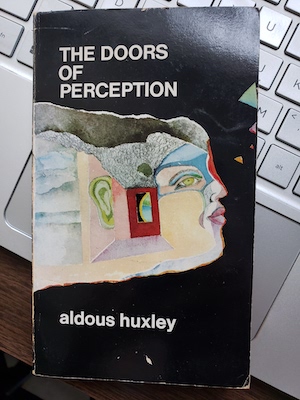 Works by Aldous Huxley – such as The Doors to Perception – and by Carlos Castañeda inspire artisan tile setter Seth Ready of Ready Set Tile and Mosaic.
Another artisan tile setter, Lee Callewaert, Dragonfly Tile and Stone Works, and his wife Jane, treasure
The Four Agreements, by Don Miguel Ruiz. "Based on Toltec wisdom, it is a beautiful reminder of the patterns we all have acquired since childhood (through no fault of our own) that are not helping us and how important it is to identify these harmful patterns and adopt new 'agreements,'" Jane said: "Be impeccable with your word," "Don't take anything personally," "Don't make assumptions," and "Always do your best."
Fostering faith
NTCA contractor member Tim Steudeman, Owner of Built on Integrity, credits Wild at Heart: Discovering the Secrets of a Man's Soul by John Eldredge, with profound personal insights "into my own workings."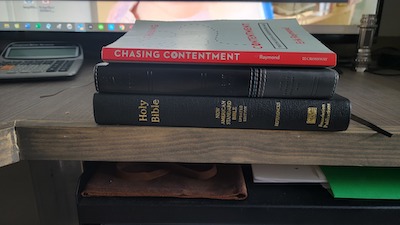 NTCA's Bettiga, often turns to the Bible to stay "focused on what matters."
And NTCA Five-Star Contractor Woody Sanders, President, D.W. Sanders Tile & Stone Contracting, says a curated list of readings and audio books feeds "every part of me through the Gospel." Books include:
Holy Bible – New American Standard Edition
Systematic Theology by Wayne Gruden (also listens in audio book)
Chasing Contentment: Trusting in God in a Discontented Age by Erik Raymond (also listens in audio book)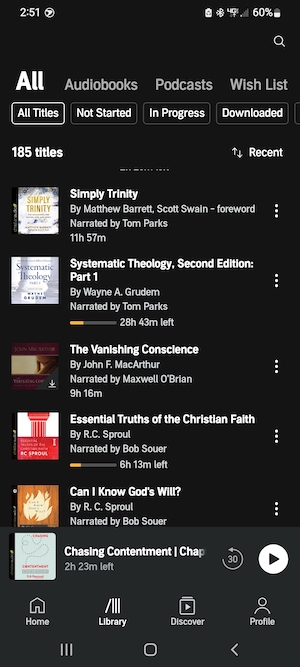 Other audio books that Sanders plays between jobs when in the field and on his commute include:
Simply Trinity by Matthew Barrett
The Vanishing Conscience by John F. MacArthur
Essential Truths for Christian Faith by R.C. Sproul
Can I Know God's Will? by R.C. Sproul
What books, films or resources inspire, motivate and uplift you? Share your favorites at [email protected] and we'll include them in a future Reading Room feature.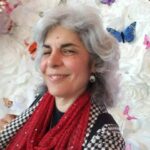 Editorial Director and Senior Writer for TileLetter and TileLetter ARTISAN
Lesley Goddin has been writing and journaling since her first diary at age 11. Her journey has taken her through a career in publishing and publicity, landing her the editor position of TileLetter and its special publications in 2006. Her goal is to educate, inspire, recognize and encourage those in the tile industry -- especially the tile and stone contractor. Other interests include the soft, purring marvels known as cats, labyrinth walking, drumming and percussion, and a range of spiritual, musical and artistic pursuits.