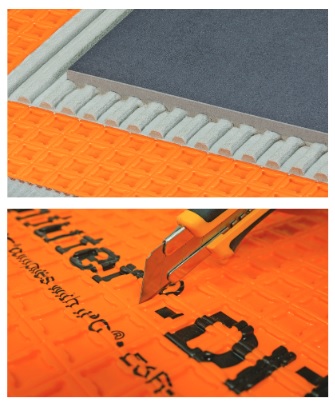 In 1987, Schluter Systems revolutionized the tile industry with the introduction of DITRA, the original uncoupling membrane designed to prevent cracked tile and grout. Today, DITRA is even better. The same, trusted, and reliable uncoupling membrane now features innovative enhancements that will help get the job done even faster.

What has changed? DITRA features a new look with design improvements that facilitate installation of the roll. Cutting grooves are now included to provide a guide for straight and precise cuts. Air release vents appear at the corners to allow for faster filling of the membrane with fewer trowel passes. The membrane is now more flexible to enhance workability and
lay perfectly flat. Lastly, the enhanced undercut design allows for an even stronger anchoring of the tile.

What hasn't changed? The four essential functions of DITRA that make for
a long-lasting tile installation: uncoupling, waterproofing, load-distribution,
and vapor management.
---
About Schluter®-Systems
Schluter®-Systems products are specifically designed for the tile industry to ensure that installations maintain integrity and durability. The company's product line includes over 6,000 items, including tile trims, uncoupling membranes, waterproof
building panels, shower systems, and thin-set mortar. Schluter-Systems is renowned for its state-of-the-art technology with attention to detail for highly functional and visually appealing results. For more information, visit www.schluter.com.