Welcome to summer, friends! It seems like a very, very long winter (hasn't it lasted a couple of years?), but there seem to be blooms and warmth and promise of connection and enjoyment in these upcoming sultry months.
You'll likely need some cool reads to chill with after a long day at work or even relaxing on a beach. And we have the goods!
NTCA President Martin Brookes leads the issue off with some thoughts about how to successfully weather the supply chain challenges that many are experiencing right now. With advanced planning and communication with your manufacturing and distribution partners, you may be able to keep disruptions to a minimum.
View our cover story and learn how CUSTOM answered the call from Nashville's "Batman Tower" that was undergoing renovations involving a sun-flooded atrium and some severe thermal cycling. With expert technical assistance and top notch products, CUSTOM delivered a BAM! POW! punch to potential problems.
Did you go to Coverings? I know, it seems like MONTHS ago (well, it WAS!) but some of the products introduced there are just getting out into the market now. Take a short tour of some select new introductions seen in Las Vegas, and see how they might enhance your business.
Summer is the time for tents and scaffolds as exterior work may need extra shade to keep materials and workers cool in the blazing heat or accommodations to reach high-up places. CTEF's Scott Carothers shares his knowledge about scaffolding types and tips for tenting in our Technical article.
Knees are arguably the most aggrieved body part for tile contractors. As a follow up to our April Workplace Wellness story, we explore the development of one of the most popular kneepads in use in the industry – ProKnees – and get some ergonomic advice from inventor and founder
Lee E. Richards.
Bart Bettiga recently met with the new Schluter Senior Leadership Team to learn about this new model of management and what's ahead for the company. Find out more in our One-to-One story.
Study to be a doctor; become a tile contractor. That's the path Timothy Steudeman's career took and the industry is the better for it. Owner of Built on Integrity in Sulphur Springs, Texas, Steudeman sees tile as a blend of science and art that gives him a chance to be creative and pursue excellence in every job – for his customer and his own satisfaction.
CTEF Executive Director Brad Denny gets candid with us in the Training and Education section, musing about the Certified Tile Installer (CTI) hands-on exam and things you may want to think about if you are getting ready to take it yourself. Plus, Denny shares with us all the prep needed for CTEF staff to organize and conduct a CTI test. Learn more about this industry-recognized credential and maybe get inspired to schedule your own CTI exam.
One last thing – do check out the Training and Education Opportunities at the front of the book. We release information on upcoming workshops and regional trainings in many forms each month at tileletter.com or on social media and of course, at the Education Calendar at www.tile-assn.com that lists all the training and education events for the year. But we also print the upcoming events in the front of each issue of TileLetter. Take a look and see if there is something available in your neck of the woods, and come by, say hi, meet your peers and get some useful information to expand your knowledge or streamline your process!
God bless,
Lesley
[email protected]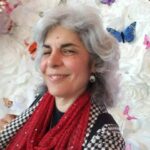 Editorial Director and Senior Writer for TileLetter and TileLetter ARTISAN
Lesley Goddin has been writing and journaling since her first diary at age 11. Her journey has taken her through a career in publishing and publicity, landing her the editor position of TileLetter and its special publications in 2006. Her goal is to educate, inspire, recognize and encourage those in the tile industry -- especially the tile and stone contractor. Other interests include the soft, purring marvels known as cats, labyrinth walking, drumming and percussion, and a range of spiritual, musical and artistic pursuits.