A series of new shower drain grates from Schluter-Systems features brand new designs that fit into a virtually invisible frame, resulting in a stylish and truly seamless look for shower floors. Three new grate designs are available for both the standard 4" square point drains, and for Schluter's linear drains in lengths from 20" to 48".
The Schluter®-KERDI-DRAIN-STYLE grates (for point drain) and KERDI-LINE-STYLE grates (for linear drain) were developed through an in-depth project between European and North American designers, who came together to combine unique design trends from both sides of the globe into three fashionable shower grates. The design objective was to tie in to today's latest tile trends, while providing distinctly different looks that will fit in with various bathroom decors. The drain grates do not contain any screw holes, creating an uninterrupted design that adds to the seamless appearance.
"Pure": This grate features a clean yet elegant design that provides a subtle touch of style to the shower. This grate is fresh yet trendy, and ideal for those wanting a more refined look in the shower.
"Curve": This curvaceous drain grate style really strikes a pose in the shower. Soft, rounded lines adorn this shower grate to add a touch of flare, while keeping a crisp and clean look.
"Floral": This floral drain grate features soft, rounded petals that combine to create a harmonious and symmetrical pattern. Inspired right from nature, this grate truly blossoms in the shower.
The new "STYLE" grates are designed to integrate with the Schluter®-KERDI-DRAIN point drain and KERDI-LINE linear drain.  Both types of drain feature an integrated bonding flange that provides a secure connection to the KERDI waterproofing membrane at the top of the assembly. This is an integral part of a sealed system that creates waterproof showers by protecting the substrate from water infiltration, hence preventing mold and mildew. Creating waterproof showers ensures their longevity, thus enhancing the sustainability aspects of these products.
The KERDI-LINE is a low-profile linear drain that is ideal for barrier-free spaces and can be installed adjacent to walls or at intermediate locations in showers, wet rooms, and other applications that require waterproofing and drainage.
All of the new KERDI-DRAIN-STYLE and KERDI-LINE-STYLE grates and frames are made with brushed stainless steel.  The interior of the grate assembly is smooth and free of protrusions for easy cleaning.  These new designs will be available in March of 2018.
About Schluter®-Systems
Schluter®-Systems products are specifically designed for the tile industry to ensure that installations maintain integrity and durability. The company's product line includes over 4,000 items, including tile trims, uncoupling membranes, waterproof building panels, shower systems, and most recently thin-set mortar.  Schluter-Systems is renowned for its state-of-the-art technology with attention to detail for highly functional and visually appealing results.  For more information, visit www.schluter.com.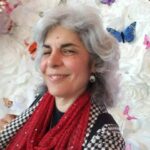 Editorial Director and Senior Writer for TileLetter and TileLetter ARTISAN
Lesley Goddin has been writing and journaling since her first diary at age 11. Her journey has taken her through a career in publishing and publicity, landing her the editor position of TileLetter and its special publications in 2006. Her goal is to educate, inspire, recognize and encourage those in the tile industry -- especially the tile and stone contractor. Other interests include the soft, purring marvels known as cats, labyrinth walking, drumming and percussion, and a range of spiritual, musical and artistic pursuits.