Porcelain tile is already one of the most outstanding and versatile materials in a contractor's toolbox. Add enhanced slip resistance to porcelain tile's innate attributes and the number of happy customers, profitable jobs, and repeat business opportunities just increased!
Two of the hottest trends in the home design world are "seamless, continuous design" and "outdoor living." Seamless, continuous design is the aesthetic practice of having a material, look, or theme flow across multiple rooms or even from indoor to outdoor. Outdoor living is just what it sounds like: homeowners are spending more time eating, visiting, working, and relaxing outside when they are home. Consequently, more beautiful outdoor spaces are being created to serve as extensions of a home's interior living spaces.
Porcelain tile with enhanced slip resistance is helping create new design and installation opportunities for contractors regarding both of these two trends. Porcelain tile is inherently tough, perfect for the indoors or the outdoors. Porcelain tile is also stain proof, scratch proof, waterproof, fire resistant, hypoallergenic, and resistant to bacteria, mold, and mildew. Add these features to what tile already offers in style, design, color, texture, and size options and porcelain tile becomes a very attractive material for the indoors, outdoors, or flowing between the two.
Because of the amazing technology we now have at our fingertips today, when inspired, manufacturers are not limited to creating a product that is exclusively for "indoor" or "outdoor" use. In the past, designers creating outdoor spaces were limited to consider only those materials that could traditionally withstand the elements, such as teak wood or products that were engineered or plastic. But now, innovative slip-resistance on porcelain tile allows the same beautiful designs used indoors to also work well in outdoor designs. Daltile porcelain tile, in particular, features innovative StepWise technology on many of its porcelain products, providing 50% more slip resistance than regular time. This gives the freedom to create virtually any design imaginable for both indoor and outdoor use.
Daltile's StepWise technology utilizes a special material that, when fused into the glaze, creates a surface that achieves the optimal balance between slip resistance and cleanability. Utilizing this revolutionary technology, Daltile is able to combine the porcelain tile looks and sizes that consumers want with the other important selling points — durability and cleanability. StepWise is also waterproof, free of toxic chemicals, and it never wears off.
Porcelain tile is well-suited for outdoor areas, due to the unsurpassed durability of the material and its inherent ability to withstand the harshest of conditions, far outperforming other outdoor materials: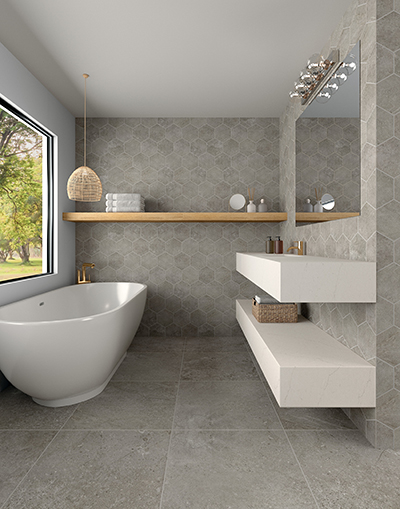 UV resistant
Stain resistant
Fade resistant
Scratch resistant
Fire resistant
Slip resistant
Freeze/thaw resistant
De-icing salt resistant
For these reasons, tile can appropriately be used in almost every room in a home well as outdoor feature walls, fireplaces, kitchens, countertops, patios, and pools.
The majority of people want to have tile in their home. It is an aspirational product. It also adds value to a home. Tile is a durable product that will last the life of the structure, whether used indoors or outdoors.