Stone Design Inc., the Midwest's premier supplier of natural stone slabs, engineered and sustainable surfacing, proudly introduces TopZstone, a surface material made with the purest quartz and the latest technology.
Ideal for kitchen and bathroom countertops, TopZstone can also be used on floors and walls offering a beautiful, contemporary look to any environment.  30 on-trend colors are available in polished slabs ranging in sizes 64 x 130" and 63 x 127".  The company also offers the product line in half-slab formats.
With its clean aesthetics, TopZstone offers limitless design possibilities with many colors available in the spectacular book matching feature to create true masterpieces. This new quartz collection offers bright solid whites to strong veining patterns for luxury looks.
"Stone Design continues to have its finger on the pulse of what's trending in the surfaces industry," exclaimed Jeff Dahlberg, Senior Sales and Business Development Manager. "This collection is a welcome addition to our extensive quartz product offerings for both our clients, and our clients' clients.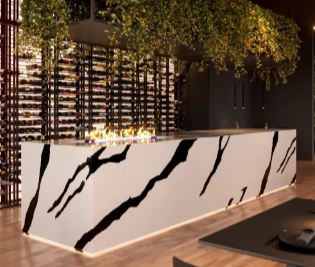 TopZstone is engineered using one of the hardest and most abundant minerals on earth, quartz and is manufactured at three Breton facilities located in Spain, Brazil and the USA (Georgia).
Dahlberg added, "Color consistency, combined with a nonporous surface make TopZstone beautiful to look at and resistant to mold and bacteria. It does not require regular polishing and sealing so it practically is maintenance free, except for daily cleaning with mild soap."
TopZstone by Stone Design offers a 25 year of warranty against possible manufacturing defects.
About Stone Design Inc.
Founded in 1983, Stone Design is the Midwest's premier supplier of natural stone slabs and tile, engineered and sustainable surfacing products, with showroom and warehouse locations in Illinois, Indiana and Wisconsin. The company serves an extensive base of architects, designers, builders, tile contractors, kitchen & bath dealers, remodelers, and fabricators throughout the U.S. With a combined on-hand inventory of over 10,000 slabs in over 1,100 styles and finishes, product is available for delivery via the company's extensive fleet of delivery trucks running throughout the Midwest.