Cape Cod Regional Technical High School (CCT) in Harwich, Mass., has a reputation as one of the most renowned and respected secondary schools in the area, offering career and technical education opportunities.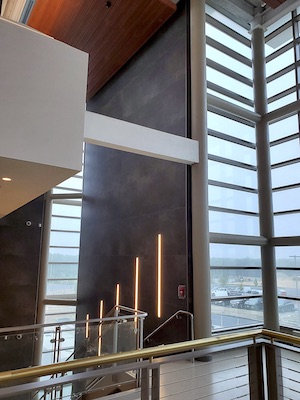 In a display of the community's commitment to the school, local citizens overwhelmingly voted in favor of $104 million in funding to build a new, 214,000 sq. ft. CCT facility. The building, situated on 67 acres, would feature 22 general classrooms, five small group spaces, six science labs, two art areas, and 17 vocational classrooms.
In envisioning the spaces, in which faculty would provide 21st century learning and advance a progressive educational philosophy, the design team of DRA Architects and Brait Builders Corporation established lofty goals to enhance the students' experience. The team paid special attention to the overall layout, opting for group academic spaces around specific technical disciplines. This configuration aids in fostering a sense of community and collaboration among the program students. Likewise, the designers sought to integrate features and materials befitting the future-focused curriculum that's the driving force of the school.
The vision
The walls of the open, two-story lobby and stairwells proved to be ideal areas to make bold design statements. Project specifiers selected Crossville's gauged porcelain tile panels (GPTP) as coverings for these expansive surfaces that connect the school's café and learning commons. The panels' generous outer dimensions of over 3'x9′ allow for the use of minimal grout lines, as thin as 1/16″ for a contemporary, seamless look.
In order to achieve the envisioned aesthetic, ARDEX and Crossville Tile were involved early on, providing in-depth technical recommendations and support to Capital Carpet and Flooring Specialists, the tile installation company, during the planning and bidding process. Tiles of this size have a very small margin of error, so it was crucial to choose the right products and have the right people in place who are trained on these installations, products and equipment.
Capital Carpet and Flooring had attended a special training at an ARDEX Academy and since has had in-depth experience with gauged panel installations. GPTPs require a unique set of specialized tools to handle, cut and install the panels, as well as specific installation processes and methods, such as vibrating or walking out the tile. Understanding the time considerations involved to install panels and the unique installation techniques makes training and experience critical.
Many tile manufacturers like Crossville offer focused training for gauged panel installations. ARDEX also offers a specific course called Super Format Tile Installations.
Though installation products from multiple manufacturers were initially considered, the project ultimately moved to ARDEX Tile and Stone Installation Systems to ensure a coordinated single-source system approach perfectly tailored to this specific installation. ARDEX was also able to provide a comprehensive SystemOne™ Warranty to back this project for years to come.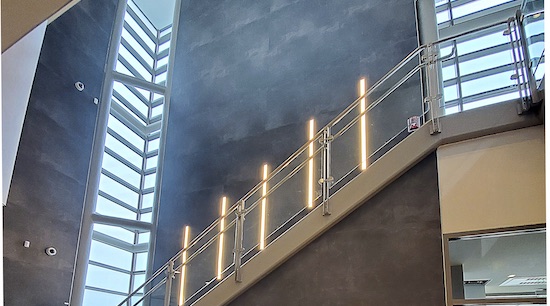 Super format tile (gauged panels) installation
The designers chose selections from Crossville's Filo porcelain tile panel collection for the project. The unique texture of this tile stems from the image of a continually-repeated glistening wire that forms a woven pattern and it made it the right choice for the bold statement desired by the designers.
The light weight of the Crossville porcelain tile panels made the installation a smooth process for the installers that worked in teams of three on a scissor lift. When the installation team faced questions, the Crossville Technical Department was readily available and guided the team through any application issues. The ARDEX team was also on site at various intervals during the installation and on call throughout the installation for any assistance the crew might need.
Capital chose ARDEX X 77™ MICROTEC® Fiber Reinforced Tile and Stone Mortar. Its true 60-minute open time provided the proper time needed for installation in these areas. The fiber reinforcement in MICROTEC® Technology incorporated in ARDEX X 77 made it the ideal choice for Crossville's beautiful porcelain gauged panels.
ARDEX FG-C™ MICROTEC® Unsanded Grout was the perfect finish for all the wall tiles. The grout creates strong, full joints with an excellent color consistency that supported the envisioned design concepts.
Tile setting in bathroom and kitchen areas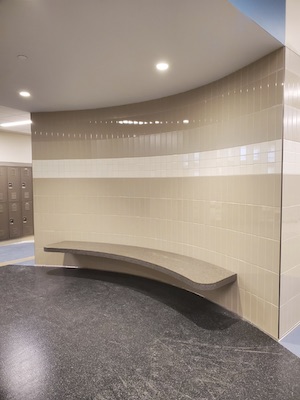 Renovations also took place in other areas of the school. Part of the vocational curriculum includes large commercial kitchens to train chefs in the making. Capital Carpet and Flooring Specialists installed 1,600 sq. ft. of quarry tile in these kitchens with ARDEX X 5™ Flexible and Versatile Tile and Stone Mortar and grouted them with ARDEX WA™ Epoxy Grout and Adhesive. Beyond the chemical resistance and hygiene of WA, its unique characteristics made it the right choice for this area.
Bathroom renovations included 12,000 sq. ft. of wall tiles and 6,000 sq. ft. of floor tiles, with some mosaics as small as 2″x2″. ARDEX 8+9™ Rapid Waterproofing and Crack Isolation Compound was applied for waterproofing and anti-fracture and the various tiles were installed with the highly versatile ARDEX X 5 tile and stone mortar.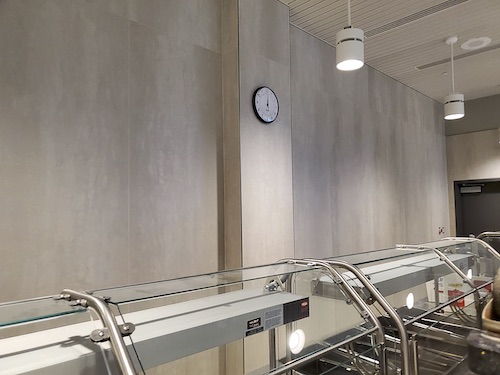 Recap
After several years of preparation, close consultation and intensive renovation work, the project was finalized in 2020. The team continued their diligent work throughout the COVID-19 pandemic, and its restrictions. The ARDEX in-field team made multiple job-site visits following Centers for Disease Control and Prevention COVID guidelines to ensure products were available, installation requirements were met, and no questions left unanswered.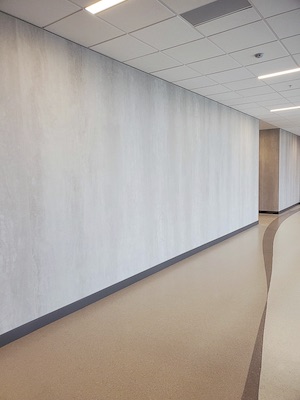 Crossville's Filo line of GPTP offered aesthetic appeal, installation efficiencies, performance and durability. Paired with ARDEX's high-performance installation products, the Super Format tile delivered the technical specifications necessary to endure beautifully even in the high traffic zones of the school's busiest common areas.
Gabriel Carvalho, Project Manager at Capital Carpet and Flooring Specialists, praised the collaboration with ARDEX. "I have been working with ARDEX for 22 years as an installer and project manager and appreciate the reliability the products deliver as well as the support we get from the ARDEX in-field experts," he said. "Our team had been installing with other mortars and grouts, but once they used ARDEX products on this project, they loved the performance, ease of use and time savings. We now use ARDEX products on most all of our tile and stone installations."
As a new hub of learning with its specialized classrooms and labs, Cape Cod Regional Technical High School will continue to be an integral part of their local community. Thanks to leading-edge design elements – including Crossville's porcelain tile panels, the school is fully in step with the future of Cape Cod and beyond.