Clayhaus Modern Tile shepherds each tile from custom clay to precision glaze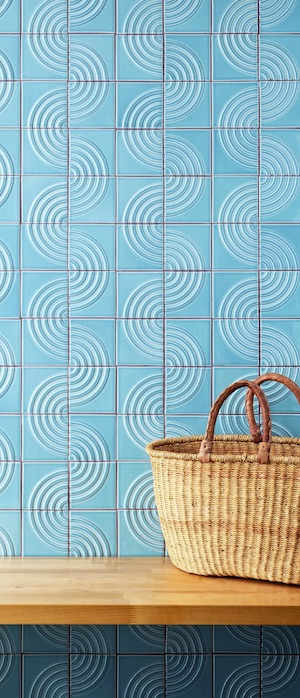 When it comes to American-made, handmade ceramic tile, you don't get more American-made than Clayhaus Modern Tile. The Portland tile maker formed in 2010 after a run at making eco-friendly recycled sustainable glass tile called Stardust Glass from 2006-2010. When its window glass supplier went belly up due to the housing industry dive, Creative Director Jason Coleman parlayed his 6.5 years' experience making ceramic tile with Pratt & Larson Tile into a new venture with wife, business partner and Director of Sales Megan Coleman. Thus Clayhaus Modern Tile was born.
The new company took life in a 400 sq. ft. detached garage and was financed when the Colemans mortgaged their house for the startup. "Jason and I are one of a handful of tile manufacturers who have started our business from the ground up," Megan said. "We did not buy an existing tile company; we did not inherit a tile company nor did we have one handed over to us. We started from nothing."
Early tiles were created one job at a time for wholesale distribution and remodeled kitchens and baths. Then inquiries came in from architects and designers, which led to commercial projects in hospitality, restaurants, grocery stores and office buildings. Today, Clayhaus is located in an 8,000 sq. ft. facility on the Central East Side of Portland.
Megan said, "We give 100% to the crafting, making and process of making our tile for our customers. We take it very seriously, and have very high quality control standards." She said that is the benefit of being and staying small: "We know how each tile is being cared for and what it's taking to get to the end user. It's my job and Jason's job as owners to be sure we feel good and proud of everything that is going out the door. There is trust between the end user client and manufacturer."
As a testament to the commitment to quality, Clayhaus orders a custom-formulated clay from local supplier Georgies Ceramic & Clay, and uses Skutt and Geil kilns along with tile extruders and ram presses to produce handmade tiles with some machine pressed tiles that allow the company volume in its inventory.
"We are not just project based," said Megan. "We have a full pipeline and do anything from a 15 sq. ft. order to most recently 4,000 sq. ft., in a Manhattan, N.Y., subway station job." Clients can also use a custom You Design feature on the site to hone the tile to exactly the color and blend they seek.
The company is known for small batch tiles for interior walls and light residential bathroom floors, created by 5-7 employees, that Megan calls "a small but mighty crew. They are paid a fair wage and they are excited about finding the final project to put on Instagram or Facebook to brag about it. They are concerned about the quality." That quality takes time, typically from 6-10 weeks to process an order, and Megan recommends that people call for lead times that are specific to their project and the tile they are seeking.
Color and design: the heart of Clayhaus
Color is key for Clayhaus, and Jason is the "glaze guru," according to Megan. "We are not afraid of color," she added. Clayhaus started out with bold, bright, vivid colors, always very saturated. "We put a LOT of glaze on top of our tile surfaces," she said, standardizing a specific gram weight application to be "sure to have uniform coverage in the same job. Our tiles have consistency from batch to batch, and from tile to tile as much as we possibly can, because our core audience is folks who want a lot of color in mid-century, modern, or something that pops from all the other materials used in the project."
In the early days, Clayhaus supplied only crackle glazes, but in response to customer requests over time they added more glossy finishes, and then added more muted, matte glazes with less sheen. Today, Clayhaus offers limited crackle glazes, along with glossy and matte glazes and some new metallic glazes that Megan said are, "really cool and have sort of that metallic sheen that really stands out from any other glazes in our collection."
Clayhaus has designed some of its own patterns, and has signed on some designers to create for the company. The iconic Cassette decos were designed by Jason himself, from his past as a musician and his love for all things vintage and analog, Megan said. "He took an old tape and cast a mold off of it," she explained. The Cassette deco has been a very popular item with designers. Clayhaus was a finalist in the 2015 Martha Stewart American Made Awards which helped get that design out into the marketplace.
Clayhaus also works with two local designers. Stephanie Dyer was pitching an encaustic design that wasn't Clayhaus' bailiwick, but Jason collaborated and fine-tuned it, turning it into a bas relief pattern with a dimensional deco that became known as the Topo (short for topography) Collection.
Kristine Morich is another collaborative designer with Clayhaus, and developed the Signal 4″x4″ line, which Megan calls the company's most popular dimensional line. "The design community has really responded, so much that it pretty much anytime Google opens up a new location, we get requests from them usually either for the Signal Collection or the Cassettes," Megan said. Kristine also developed the Via Collection, which is a flat field tile that can produce sophisticated, ornate patterns depending on how all the shapes are combined.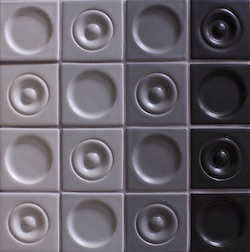 Artisan installers only, please
Since Clayhaus tiles are handmade, the manufacturer always provides an installation guideline and instruction sheet with all orders. "It's good for [installers] to know this is a handmade product that is going to have variation. It is not a rectified tile product," Megan said. "There are a lot of tile installers, but not a lot of ARTISAN tile installers, so we really encourage our clients to work with artisan tile installers who are familiar with the irregularities in both color and size with a handmade product.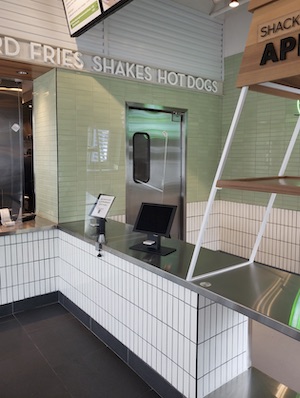 Clayhaus emphasizes reading the instructions about the recommended grout joints. "The worst thing [installers] can do is take a tile that isn't perfectly square and try to jam the tiles all together and not leave enough grout space; our recommendation is 3/16″. Our tile looks so much better when there is breathing room in between the tiles."
Aside from those tiles with crackle glazes, Clayhaus tiles don't require sealing, but sealing the grout is recommended. Clayhaus urges testing the grout color, especially when working with a matte glaze. "Sometimes grout can get stuck or left behind in some of the surface pores that are a characteristic of our tile," Megan said. "The best way to avoid that is we provide instructions that say TEST TEST TEST and don't use a high contrasting grout."
Clayhaus supports members of the trade with its Trade Partners Program for builders, contractors, installers, designers, architects, etc. Trade members register their accounts at clayhaustile.com, and receive discounts off regular retail pricing. "It does make a difference," Megan said. "We want those folks to have the discount because we want them to come back and order again."
The bottom line for Clayhaus Modern Tile? "We appreciate the opportunity to make something for our customers," Megan concluded. "It makes my day when our end user – whether homeowner, designer, trade folks or even the installer – sends us a message, whether it's a photo of the installed tile or a comment, of how happy they are with their tile."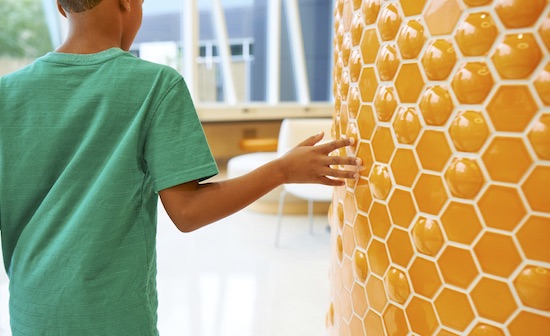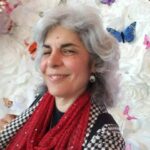 Editorial Director and Senior Writer for TileLetter and TileLetter ARTISAN
Lesley Goddin has been writing and journaling since her first diary at age 11. Her journey has taken her through a career in publishing and publicity, landing her the editor position of TileLetter and its special publications in 2006. Her goal is to educate, inspire, recognize and encourage those in the tile industry -- especially the tile and stone contractor. Other interests include the soft, purring marvels known as cats, labyrinth walking, drumming and percussion, and a range of spiritual, musical and artistic pursuits.