Did you have a chance to witness the first ever CTI Challenge? It took place during Coverings 2018 in the Installation Experience space, pitting two intensely passionate Certified Tile Installer teams to complete an ambitious installation over three days. The installation had to meet tile industry standards and guidelines.
Here's a recap.
What was the CTI Challenge?
The "CTI Challenge" was a live event designed by CTEF training and certification director Scott Carothers, and took place between rival teams who are both NTCA members and Certified Tile Installers.
It consisted of:
Identical 11' x 13' areas with 8' walls common to the Installation Experience
The layout was as follows: The 20" x 20" tile was installed on the floor in a straight pattern which continued up two walls to a height of 8'. Within the floor, the plan called for the pebble stones to create a lazy river that connected at the doorway (which remained closed during the tile installation) to the other team's layout providing a common river flow through both areas.  Combining the pebble stone with the floor tile required very intricate and labor-intensive scribing onto the floor tile. The difficult part of this process lies in the ability to cut the rounded and oval shapes accurately into the large floor tile.  Likewise, the stacked stone on the walls required similar scribing skills to connect it seamlessly to the surrounding tile.
Products included: Daltile 20" x 20" Veranda Dune # P527 Porcelain Tile, #DA06 Creamy Sand Pebble Stones, and # S703 Haikou Grey Stacked Stone. All grouted with Custom Building Products Polyblend grout # 386 Oyster Grey. Substrate products included WonderBoard by Custom Building Products and KERDI-BOARD by Schluter Systems.
Timeframe: Beginning Monday, May 7th, each team conducted its own assessment of the wall and floor substrates and executed the necessary corrections using trowel-applied patch. KERDI-BOARD was used as the wall substrate while WonderBoard was used on the floor. The Challenge took place on Tuesday, May 8th and 9th. After the teams completed the tile work, the construction fencing and blocked doorway were removed to allow Coverings attendees to view the beautiful and high-quality workmanship of these tile artists.
Alena Capra of Alena Capra Designs provided design assistance and material selections.
How did the CTI Challenge demonstrate the work of Qualified Labor? 
All of the work followed these industry standards and guidelines:
Floor tile according to TCNA Handbook Detail F144, Cement Backer Board and Ceramic Tile
"For tiles with at least one edge 15" (381 mm) or longer, the substrate shall have a maximum permissible variation of 1/8"in 10' (3 mm in 3 m) from the required plane, and no more than 1/16" variation in 24" (2 mm in 610 mm) when measured from the high points in the surface."
These four craftsmen demonstrated the truest sense of Qualified Labor as defined in Tile Council of North America Handbook. Qualified Labor and true artistic talent combined to provide Coverings attendees with a fine example of tile installed as it should be.
Who participated in the first ever Challenge?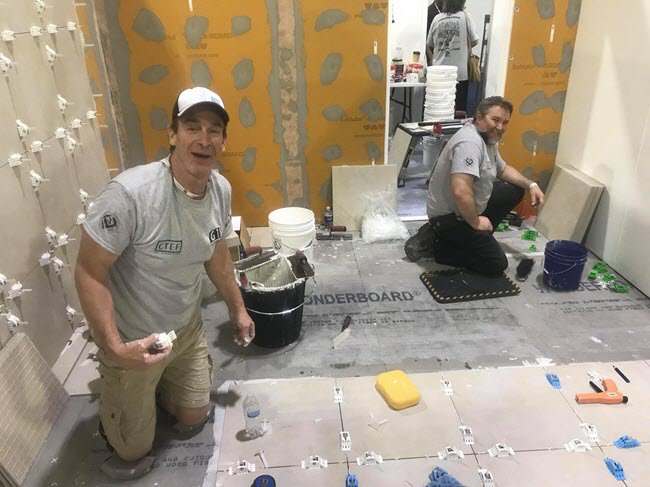 Two teams of two expert installers participated. All four were Certified Tile Installers and active members of the National Tile Contractors Association (NTCA).
The Chicago, Illinois team included:
The Portland, Oregon team included:
What sparked the idea of a CTI Challenge?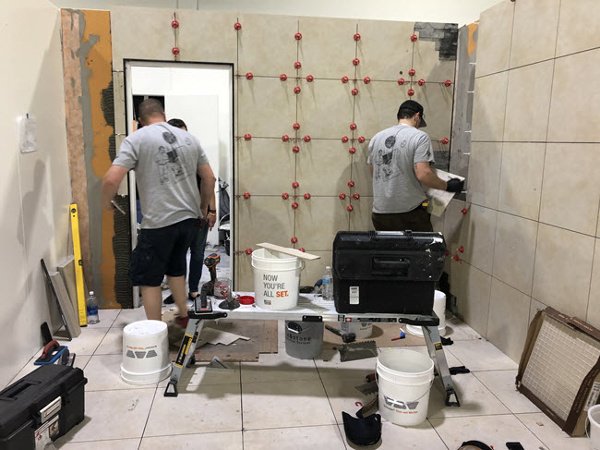 Definitely a strong competitive spirit, friendly rivalry and great pride in tile workmanship! Not to mention a great deal of enthusiasm that both teams shared in the Global Tile Posse Facebook Group.
As Greg Twarog explains, "Jason and I talked in the beginning about having an installation challenge when we got to Coverings and we didn't really know what we wanted to do as the challenge, but the main focus was to create a scenario in which we could see and talk with other installers and industry professionals about proper standards and installation techniques that we practice every day as we install our projects in the actual installation setting."
Jason McDaniel was thrilled when Scott Carothers took the idea seriously; he was ready to do something cool. Since there wasn't enough time to work out the logistics of the challenge for TISE18, the Challenge was moved to Coverings 2018 and incorporated into the Installation Experience Hall of Excellence.
Expect the Unexpected in a CTI Challenge!
The two teams arrived at Coverings 2018 without a single idea of what to expect for the challenge. Jason envisioned an over-sized CTI hands-on test to specific methods and standards. Neither team expected a 20-foot pebble-scribe installation to be completed in three days!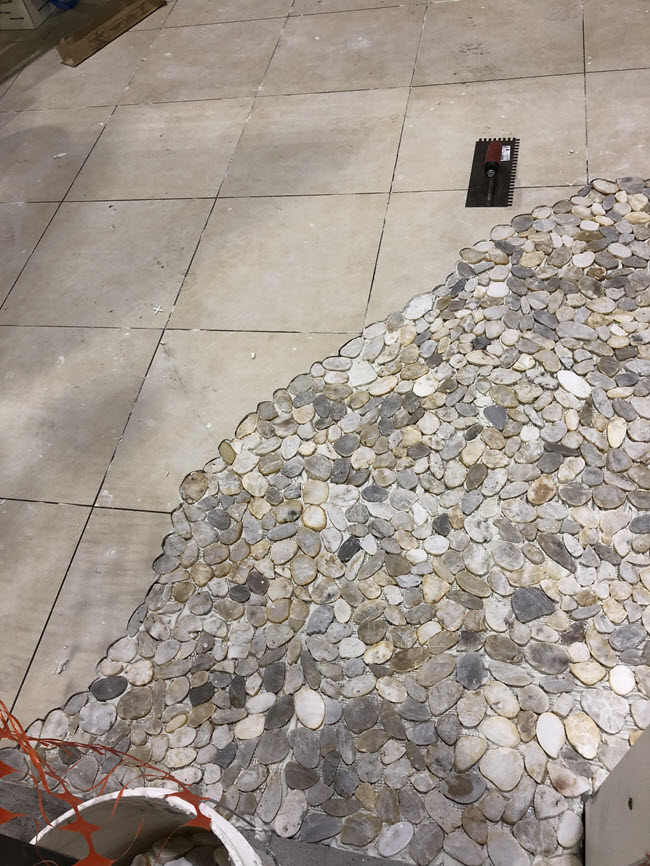 Greg explains, "Once Scott was on the task, it was all too clear to me that the unexpected was to be expected. So, I prepared by not preparing. There is no point to over think the situation that is an unknown.
The scale of the project was a little ambitious so once we all realized the scale should be paired back we did as in any normal good team project going on across America. We talked openly about the best solutions to get it paired back and keep it moving so we could finish in the 3-day time frame.
We completed as much as we all could within that framework. That was the success of this Challenge: the work itself not so much the full completion of it.
In my eyes, each piece of tile there was cut, shaped and installed by our industry's top CTI professionals. It would have lasted decades not just days because it was all installed using the proper methods and standards."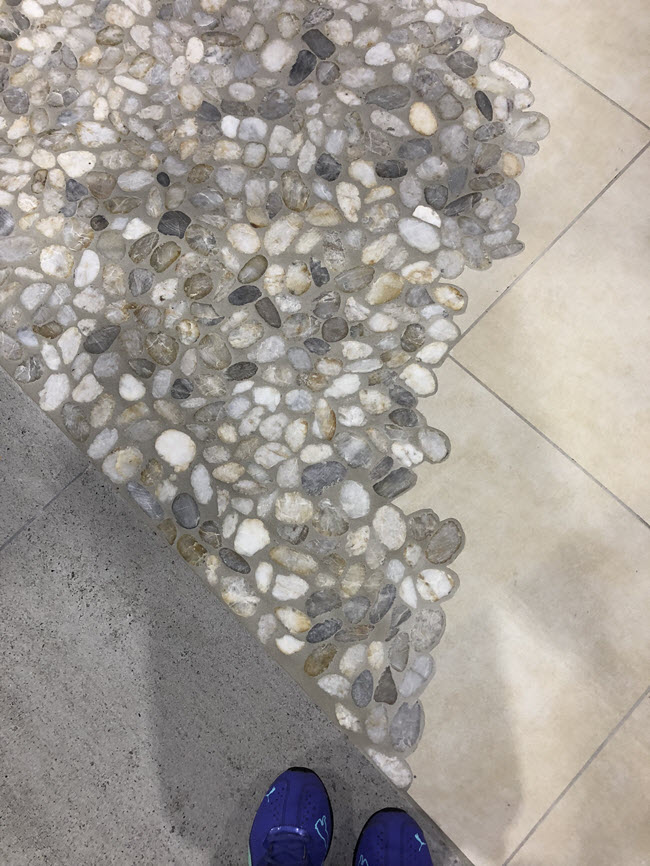 As you can see these photos, the workmanship was outstanding! It generated conversation, awareness and awe. Crowds asked about the pebble stone scribing process . Some thought it was ordered already cut and ready to install, but of course it wasn't  It was all custom-cut and fit on site.
Other attendees asked about the lippage control systems, trowel sizes, and grouting techniques being used.  They were eager to interact with both teams.
And the Best Part About Participating in the CTI Challenge?
Greg Twarog says: "The best parts were where I did slow down and stop to talk with passersby about how do you do that, or what are you doing there .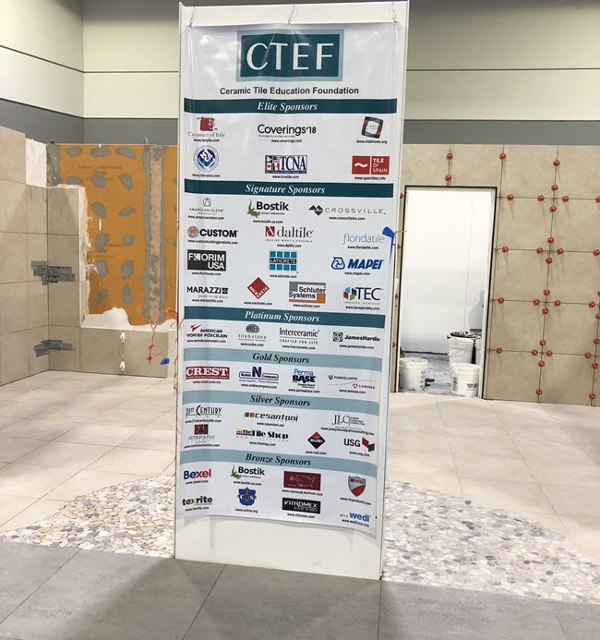 It was as if we were installing in a home or business and someone was stopping to ask a question that, if they had been at home, they may not have asked. And that is true enlightenment for some people. They then understand that the lines on the walls have a purpose; the trowel size is important to get proper adhesion, or the lippage control clips keep the tiles into plane with one another to limit the Lippage that's seen in the large format tiles.
It was those moments that were most enjoyable to me. Aside from ribbing Jason and Shon of course! 
Who won the first ever CTI Challenge?
Judges Mark Heinlein and Scott Carothers agreed that this first ever CTI Challenge was a draw. Both teams worked tirelessly to create great installations! They set a new standard.
As Jason explains, "How could there be a winner or loser? We are the first people to do this. This is too extraordinary a situation!"
Greg adds, "I hope this will be a continued challenge to be celebrated year after year at Coverings. What better tribute is there to our industry than to invite CTI challengers to go to our leading industry event and show how they install using their industry knowledge and craftsmanship in a public group setting.
That's not happening anywhere else in the world. I feel it was a great honor to tile in that setting next to some of the greatest. I consider all of them friends. John, Jason, Shon and thank you to Keith Barnett who was a great help as well. I look forward to seeing what next year's Challenge and Challengers bring to all of us watching!" 
Thank You, CTI Challengers 2018!
And thank you to all who came by to encourage the challengers, witness the challenge, celebrate when it was over and generally be amazed by the work they completed.
Here you see many of the top tile industry installers and fans posing with the CTI Challengers of 2018.
What's your reaction to the first ever CTI Challenge? Did you enjoy what you saw? Are you ready to be challenged?

This story was taken from the CTEF Blog. More information on CTEF can be found by visiting their website at www.ceramictilefoundation.org or visiting the CTEF Blog by clicking this LINK.