Proof that women and girls can do ANYTHING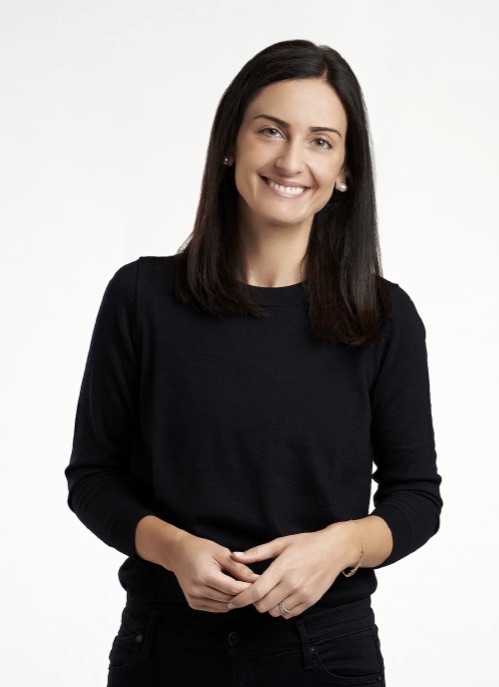 This section is usually dedicated to existing young talent in our industry. For this issue, we are going to look at even YOUNGER talent – starting in grades kindergarten to 2nd – and one way a woman-owned marketing company is sowing the seeds about careers in STEAM to a generation of young girls through a brilliant book based on a real-life project developed, planned, built and marketed by women. 
Reported on in TileLetter and TileLetter.com last summer (https://bit.ly/3ADY7zX), Group Two Owner/President Mollie Elkman and Creative Director Georgia Castellano put their heads together and wrote The House That She Built, a children's book that is based on the construction of a real-life home that utilized women and women-owned companies for every aspect of the project. 
Group Two is the woman-owned marketing company and team that created the overall branding including naming the project, creating materials to securing labor, donations and media coverage.
"The idea for the home originated from the founding members of the Utah Professional Women in Building (PWB) group," Elkman said. "They were a brand new council at the time. From their stories, they have shared that it first came up almost as a joke, and then the conversation turned into more of a 'Well, why not?!'" See more here: https://bit.ly/3AAwMP8
The project, which spanned two years from concept to planning to building and listing the home, inspired and intrigued the duo. "Seeing how they came together and used those skills to create something completely unique and one-of-a-kind was incredibly powerful and inspiring," Elkman said. "It is physical proof that women and girls CAN do anything." Read more about the house and its all-female crew here: https://bit.ly/33OXub3.
Abby Copelan, Business Owner and Installer at The Local Tile Chick LLC and Co-Owner/Designer at Copelan Customs of Bend, Ore., was one of the women who installed the tiles for the 3,200-sq.-ft., 4-bedroom, 3.5 bathroom home. Over 100 women from all over the country came together for this project. 
The book
The book came together organically, out of some content for the women to say at the home's grand opening, Elkman said. "We thought that a progressive poem building with each line would be a fun way to show all the women involved and how each of the roles is so important to the finished product. That was actually the first manuscript! We presented it to NAHB Builder Books and our amazing publisher Patricia Potts immediately saw the importance of the message both within the industry and for all children."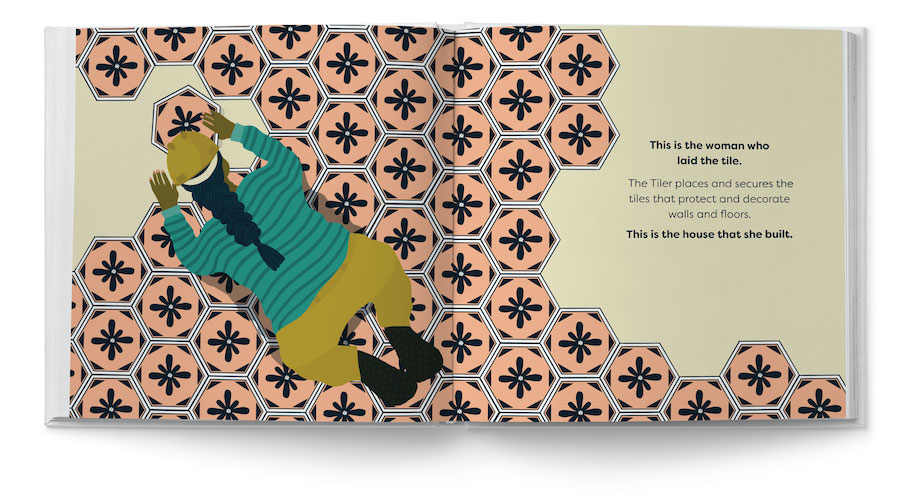 The House That She Built turned out to be Builder Books' first children's book ever done as well as the first book with a significant opportunity to reach the general public. Elkman sees a place for it "in every home, school and library and every day new opportunities are presenting themselves to get us closer to that goal. The awareness of careers in construction is so important. We can't undervalue the impact of children seeing someone who looks like them or who they identify with doing these jobs."
Indeed, a recent Upworthy.com (https://bit.ly/3G68Jc3) article by Laura Willard noted that Florida State University recently conducted a comprehensive study of 20th century children's books. Janice McCabe, who is the Assistant Professor of Sociology leading the study, said, "The widespread pattern of underrepresentation of females that we find supports the belief that female characters are less important and interesting than male characters. This may contribute to a sense of unimportance among girls and privilege among boys. The gender inequalities we found may be particularly powerful because they are reinforced by patterns of male-dominated characters in many other aspects of children's media, including cartoons, G-rated films, video games and even coloring books."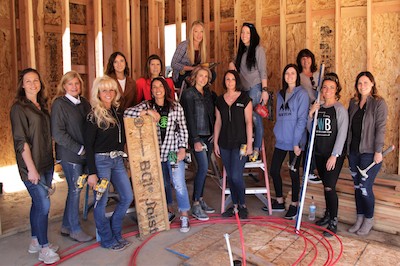 Targeted to K-2nd grade, The House That She Built is being enjoyed by a larger age range. People are buying the books as baby gifts, middle schoolers are reading them to younger siblings and with reading buddies at school. And industry people are buying and sharing them with friends and family and donating them to schools and libraries.
Elkman said education programs that focus on STEAM are in the works in classrooms and Girl Scouts USA. "We use the characters and careers in the book to go through the process of a project. For example we have built bird houses while learning about the skills for each trade in the book."
84 Lumber and Andersen Windows and Doors saw the value of the message and sponsored the book. The initial run of 10,000 books has sold out. Advance orders are now being taken at https://shebuiltbook.com/, from individuals or even companies who give them as gifts.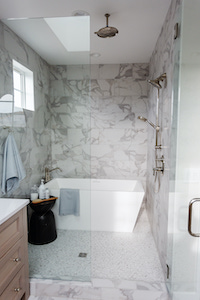 Elkman explained, "The vision with the book is to completely change the conversation for long-term sustainable growth for our industry. We believe that career-based gender bias is formed with the youngest learners and recruiting from middle school and high school is great but it doesn't change the perception of working with your hands or going into a trade rather than going to college."
Being hands-on captivates attention at a young age and engages imagination and inspiration. "One of the activities we did was with a first grade science class and we had Kelly Ireland with us," Elkman said. "She is a master plumber and worked on the project in Utah. It makes ZERO sense that when the average person thinks of a plumber they think of a man with a plunger. Kelly is so smart and loves problem solving. By the time the class was finished every child in that room wanted to be a plumber because they had a chance to talk to Kelly and see how incredible she is.
"This book is her story," she added. "It is the story of the real women in these careers. It's a tool for them to share what they do and change the narrative."
Elkman will be a panelist on the Coverings education session: Women's Work: Emerging Opportunities on The Jobsite and in the Workplace! On Thursday, April 7, 2022 from 9:30 a.m. to 10:30 a.m. She also will conduct a book signing at the NTCA booth #N2862, a "Because It's Tile" podcast studio interview with Ceramic Tile Distributors Association's Rick Church and offer insights on The House That SHE Built at the Experience Stage in the Coverings Lounge.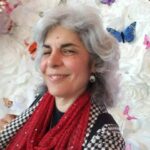 Editorial Director and Senior Writer for TileLetter and TileLetter ARTISAN
Lesley Goddin has been writing and journaling since her first diary at age 11. Her journey has taken her through a career in publishing and publicity, landing her the editor position of TileLetter and its special publications in 2006. Her goal is to educate, inspire, recognize and encourage those in the tile industry -- especially the tile and stone contractor. Other interests include the soft, purring marvels known as cats, labyrinth walking, drumming and percussion, and a range of spiritual, musical and artistic pursuits.