J&R Tile in San Antonio positioned for growth under her leadership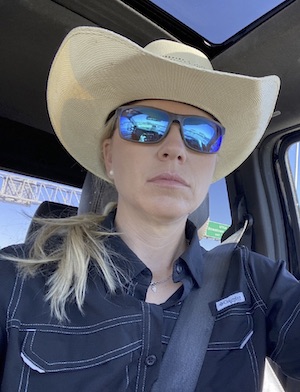 John Kotara and his brother Raymond founded J&R Tile more than 30 years ago. John was, and remains, convinced that a tile installation company should know how to handle all types of tile, natural stone, and paver installations. In addition, John has always maintained that tile installers should work to continuously develop new and creative ideas to solve problems.
With John's philosophy setting the course, Erin Albrecht has taken the lead on continuing J&R's focus of educating her staff and sharing this knowledge with the tile industry. Erin recently took over as Owner of J&R Tile, succeeding her mother Christine Kotara, who remains on staff with John serving as a mentor and consultant. We caught up with Erin to get her thoughts on the tile industry and what the future holds for J&R Tile.
J&R Tile is active in the National Tile Contractors Association (NTCA) and the Ceramic Tile Education Foundation (CTEF). How do you currently use or plan to use these relationships to help grow your business?
This is a vital component of our business strategy. As an NTCA Five-Star Contractor who employs installers certified by the Ceramic Tile Education Foundation, we work closely with both groups to track specifications and include these qualifications in our bids. One of the most important things we do is highlight our qualifications and explain their importance in pre-construction meetings. We share this information with others so that they too are promoting the NTCA and CTEF programs. This raises awareness with stakeholders who can really make a difference by insisting these qualifications be met.
As a female leader of a tile installation company, what can you share about what the challenges you face in the construction industry, and what advice would you give to a young woman looking to follow in your footsteps?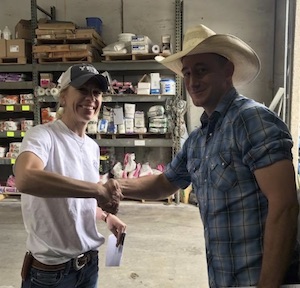 In many meetings I am the only woman in the room. I think the most important thing to focus on is to always be prepared. I take this very seriously. I work hard to garner as much information as possible about a project leading up to a meeting. I am prepared to discuss the technical components of the job, and I am prepared to address why our company is a good fit. I spend a lot of time with industry leaders I respect to gain their perspective and I reach out to our manufacturer partners for education and training. Being knowledgeable gives you the confidence you need to thrive in a male-dominated industry. You also must be transparent and honest about what you do know and what you don't. Everyone has strengths and everyone has areas they can strengthen in their leadership skills as well as their technical and business knowledge. I find that one of the most important things as a leader is to cultivate a team of professionals from your supply chain to be available to support and assist you when you need them. Having these people at your fingertips allows you to gain access to important information quickly without compromising yourself by giving misinformation through a lack of knowledge. If you do this you quickly gain acceptance and respect from your customers.
How do you approach the role your suppliers and partners play in the growth of J&R Tile?
This is so important. We expect a lot of our suppliers. They are the experts in product development, and we look to them to educate and train our team. We embrace new ideas and technology. We think this is what makes us attractive as a partner with general contractors and architects. In fact, we often suggest systems and products for the projects that we get involved in based on the relationships we have developed with our suppliers. When you can suggest a product to be considered based on the knowledge you have gained with the support of your suppliers, you are cementing that relationship as the expert in your field. This is integral to the success of J&R Tile. Designers and architects can't possibly know everything about tile and our allied products. They need us to help guide them through this process. Our suppliers help us every step of the way.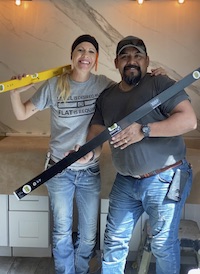 Finding and retaining qualified labor in the tile industry is a real challenge. What does J&R Tile do to address this ongoing dilemma?
And this is even more of an issue in a border state like Texas where we are. The best way to address this in my opinion is to attack it on many levels. First and foremost, the most important thing is to establish a company culture that clearly demonstrates a career path for the individual joining our team. We present our employees with many opportunities in training, education, personal development, and more, and we recognize and reward them in this process. Certification in both the Certified Tile Installer (CTI) and the Advanced Certification for Tile Installers (ACT) programs offered by the CTEF is encouraged and supported. We highlight success stories in our company like Triniti Vigil who has assumed a strong leadership role at J&R Tile and frankly in the tile industry as a Certified Tile Installer and project manager who is also a role model for the next generation.
We also take advantage of monies and programs offered by local, national, and state agencies. Workforce development grants and apprenticeship grants or support dollars are there if you take the time to research what is out there for you. We make this a priority for our business. We also try to ensure that we are hiring a person who will fit into our team culture. We aren't just trying to fill a position. We commit to our people by clearly demonstrating our support of them through the training opportunities we provide, and we celebrate their progress through recognition as much as compensation. We take a very serious approach to making sure the person we hire fits our company culture.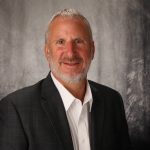 Bart Bettiga is the Executive Director of the National Tile Contractors Association and Publisher of TileLetter. Bettiga is a member of the Board of Governors of Coverings, one the largest tradeshows in North America. He has over 30 years of experience in the tile and stone industry and has served as the NTCA Executive Director since 2002. He is a well known speaker and author on ceramic tile and natural stone distribution and installation. He oversees the financial operations of the NTCA, TileLetter and the Ceramic Tile Education Foundation.