Non-traditional roles offer flourishing opportunity for women in tile
Creativity, diverse experience and determination spell success

Let's face it: tile setters, contractors and those who work in this industry are awesome. Can I get an amen!? We often think of this industry as a male-dominated sector of construction, and in truth, there are greater numbers of men in the ranks.
But more and more women are stepping into this industry – in a range of roles. Not only is the industry embracing their unique combination of gifts and opening up new opportunities for them, but the industry is benefiting from the wisdom, expertise, dedication and creativity women bring.
The women in this story are setting tile, running businesses, helping to train others, shining a light on the artisan aspect of the trade and developing resources to elevate the industry at large.
Katie Sue Marcotte, co-owner of Maine Modern Tile, is a champion of the tile industry as a career destination for women, due to its "unmatched culture of inclusivity." She developed many strengths in her youth from a supportive family and is a sponge for lessons from the industry, operating with warmth and competence.
Melissa Swan, co-owner of Tilevita tile contracting company with her wife Lilah, invokes gratitude, humility, installation excellence, wisdom, and determination as fuel for her success. And she is one of NTCA's newest Technical Trainers to boot!
Jane Callewaert of Dragonfly Tile & Stone Works is literally a "Jane of all trades," and I might add, master of many! With a diverse background in social work, sales, management, training and education, she is indispensible to Dragonfly – and to the many initiatives she working on within the industry at large. And this year, she is a Regional Director with NTCA.
These women all contribute to making our industry a better, more equitable and diverse place to work.
Come meet them!
---
Katie Sue Marcotte, Maine Modern Tile, Otisfield, Maine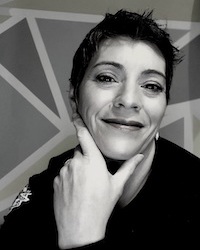 Katie Sue Marcotte, co-owner of Maine Modern Tile, is unabashedly enthusiastic about the tile industry as a career path for women. "Because of its unmatched culture of inclusivity, I think that tile is the best trade for women to enter today. It is a place for artistic expression and rewards attention to detail. It is also a trade where most tasks can be safely handled independently, without risk to self or others."
Marcotte brought her "diverse background in construction, an eagerness to learn and love of people and how they tick" to her family-owned and operated tile installation company, where she and partner Eric Edmunds share all responsibilities and tasks, from sales to marketing to installation. She had support from the get go – her family did not impose or perpetuate gender roles, so she developed strengths – and shortcomings – "that are individual and specific to myself," and not based on gender. "I have always found it to be true in life that even people with the strongest preconceived notions will make exceptions for those they become especially drawn or connected to," she said.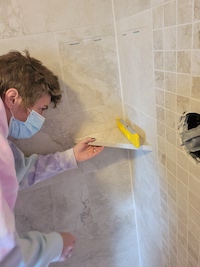 Gaining respect as a tradeswoman has not been a challenge, but the toll physical work has taken on her body has been. "I have had many injuries in the past, especially in my thirties, shortly after having my daughter," she said. "Alas, biology is not on our side compared to our male counterparts when it comes to physical build." But she parlayed a problem into a positive, creatively "finding ways to do physical tasks while avoiding injury. Reflecting on those struggles now, I can see that it led to the creation of many systems in our business that lessen the risk of jobsite injuries for everyone."
The industry has been generous in its encouragement, Marcotte said. "I have been received so warmly in the tile industry! Having worked in various trades over a span of time, my experience is that the tile community is the most welcoming to all.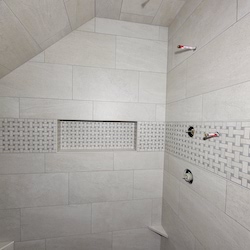 "I have gained technical knowledge and support from the National Tile Contractors Association (NTCA), and its members as well as a heartwarming amount of support from my comrade Luke Miller and the members of his Tile Money community." She also calls Kyle Hedin of Floor Academy a friend who "spent entirely too much time teaching a stranger with learning disabilities how to calculate overhead, and the important distinction between mark-up and margins."
Marcotte encourages women new to the industry to reach out to the NTCA, the Ceramic Tile Education Foundation (CTEF) and the National Association of Women in Construction (NAWIC) "for opportunities and available mentors in their area." She also offers personal support and willingness to talk, directing those interested in a chat to find her through the NTCA Member Directory on its website under contractors.
"If you are considering a career in tile, please know that you are not only welcomed, but you are also wanted," she said. "We are eager to meet you!"
Melissa Swan, Tilevita 
Indian Harbour Beach, Fla., and NTCA Technical Trainer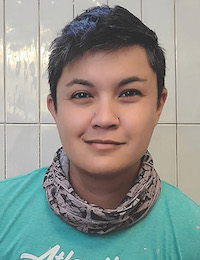 Melissa Swan, who owns and runs Tilevita with wife Lilah, is clear about her calling. "I am a tile setter, through and through," she said. "I feel like I have clay running through my veins." Though she did an informal apprenticeship at 21 in the early 2000s, she wasn't "hooked deeply until the last 5 years."
Swan has "done all kinds of work to put food on the table. 'No' was not in my vocabulary." Creative, industrious and willing to learn, she saw her tile career skyrocket in 2015 when she started focusing on it.
"My wife and I started our own company, and it slowly grew from a 'handyman' gig to a full-on, high-end residential tile company that specializes in bathrooms (showers specifically) and backsplashes," she said. "Showers are our bread and butter. Once we realized how bad some of the installs were, and how simple it was to do them properly, it was a no-brainer. Everyone needs a shower. Turns out, people with a little more expendable income tend to like pretty showers. These are our clients."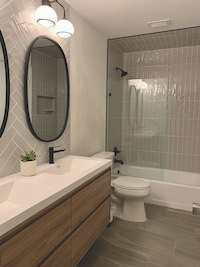 Swan considers being a tile setter her life's work. She believes it's a privilege and considers being entrusted with working in someone's home a sacred duty. "It is a HUGE deal to me to be able to work in people's homes," she said. "To be trusted with the biggest investment some people will make in their entire lives…My craftsmanship and perspective together bring to the table something that is above and beyond just being a contractor – it's being a part of something bigger than myself. Being a woman on top of that offers a level of detail and attention that may be particular to my gender or may just be particular to my training. It's hard to tell."
She observed that since there are so few female tile installers, "no matter what you do, you stand out," she said." That said, she personally has not felt any pressure to prove herself. "I just let my work and my personality speak for themselves. I've been very lucky in this way."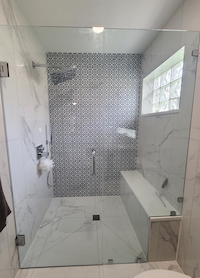 Swan recently was sub-contracted to work as part of the NTCA Technical Training team. "It is quite an honor to have been chosen for this role," she said. "Luckily I have the best of the best showing me the ropes."
She is convinced "the tile industry is a fantastic career for women! Even though it is still a male -dominated industry, that means there is a lot of room for progress and pioneering!"
For those women considering a career in the tile industry, she recommended taking care of yourself physically and mentally from the beginning. "Stretch, get regular massages, listen to your aches and pains," she advised. "Combat inflammation like it is a part of your job. Talk to someone about the mental stress you may be experiencing. I know for me, my happiness is directly tied to my gratitude, so keeping that mindset is very helpful in managing my stress."
Jane Callewaert, Dragonfly Tile & Stone Works, Inc., Grafton, Wis.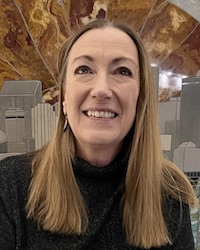 Those in the tile industry know Jane Callewaert as an avid proponent of all things artisan, partner at Dragonfly with husband tile artisan Lee Callewaert, a frequent participant at the NTCA Artisan Roundtables Live!, and a strong, dedicated, capable presence on various industry initiatives including co-chairing NTCA's Consumer Education Committee. She's been involved in Coverings Artisan presentations and helping to shape the recently-accepted recommendations for artisan installations for the NTCA Reference Manual. Recently, Callewaert has also signed on with NTCA as a Regional Director, and will be instrumental in crafting strategies to meet the goals of the association.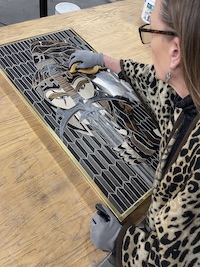 Callewaert is no stranger to working in non-traditional roles, spending her earlier years in the healthcare industry, after a stint in medical social work. She worked in pharmaceutical and hospital product sales and held various management positions including Director of Training and Education for a large medical device company.
"Life is full of wonderful surprises if we are open to them," she said of jumping into the tile industry, and helping Lee start and manage a tile contracting business. "I've been able to apply my business experience, my organization skills, and my passion for customer service. I often see my role as administrator and communicator and am happy to work behind the scenes."
Callewaert's flexibility and ability to synthesize past experience into effective skills for current opportunities and initiatives are a boon. "I don't give much thought to the 'challenges' as a woman in any field," she said. "I never did when I was calling on doctors as one of the first lady 'detail men.' There were challenges but as I've aged they've just become good 'stories.' I thought it was wonderful to be different and to pave the way for women who followed me."
Dragonfly has welcomed women to its team as apprentices over the years. "Women often bring a unique perspective, an eye for details and a strong work ethic to the craft," she said. "I've enjoyed the respect shown by our clients to our women employees and to myself as a female manager. So many of our client decision makers are women themselves and while at times there is an element of surprise when they first realize a woman is on the team, I think it's a happy surprise.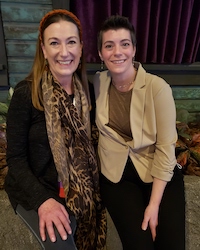 "This is such a great time for women in the tile world," she added, she said, giving a shout out to those who work as craftswomen, "artists who are gaining a place at the table as we regain this historically important element of the craft," and those women who have transitioned to other industry positions. She added, "This is an exciting time to be a woman in the industry and I'm nothing but honored to be right here with these amazing women."
She reminds women that "There is a sea of people and resources to support you, including many women who share in your journey. There are countless opportunities and resources to help you expand your skills and knowledge so that as you grow or as your needs change, opportunities will be broader. There is a strong need for qualified labor, which adds an element of security. For those with an entrepreneurial spirit, you can spread those wings."  
---
Calling all women!
Looking for support or opportunities in the tile and construction industries? Visit these sites:
National Association of Women in Construction – nawic.org
The core purpose is to strengthen and amplify the success of women in the construction industry. The association is committed to championing women to impact the direction of the construction industry. NAWIC provides education, community and advocacy for women. Its annual conference takes place August 16-20, 2022 at the Hyatt Regency Minneapolis in Minneapolis, Minn.
Move Over Bob works with bonafide trailblazers to create a place of discovery for women in every part of their journey within their construction and trades careers. Through an inclusive and curious approach to each story, Move Over Bob quilts together a multifaceted community that is ready, willing and well equipped to step up to the challenge.
Girl Flip promotes and empowers women in the building trades by creating opportunity, awareness, education, and stability for women in non-traditional roles.
Women in Non-Traditional Employment Roles (WINTER) – www.winterwomen.org
A non-profit work-development program's mission is to train, educate, and prepare women for transformative careers in the construction industry.
Founded by Robin Thorne, Founder and CEO of CTI, an engineering and specialized construction firm, this non-profit organization empowers young women to become involved in the construction, engineering, or demolition industries.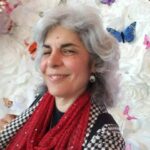 Editorial Director and Senior Writer for TileLetter and TileLetter ARTISAN
Lesley Goddin has been writing and journaling since her first diary at age 11. Her journey has taken her through a career in publishing and publicity, landing her the editor position of TileLetter and its special publications in 2006. Her goal is to educate, inspire, recognize and encourage those in the tile industry -- especially the tile and stone contractor. Other interests include the soft, purring marvels known as cats, labyrinth walking, drumming and percussion, and a range of spiritual, musical and artistic pursuits.