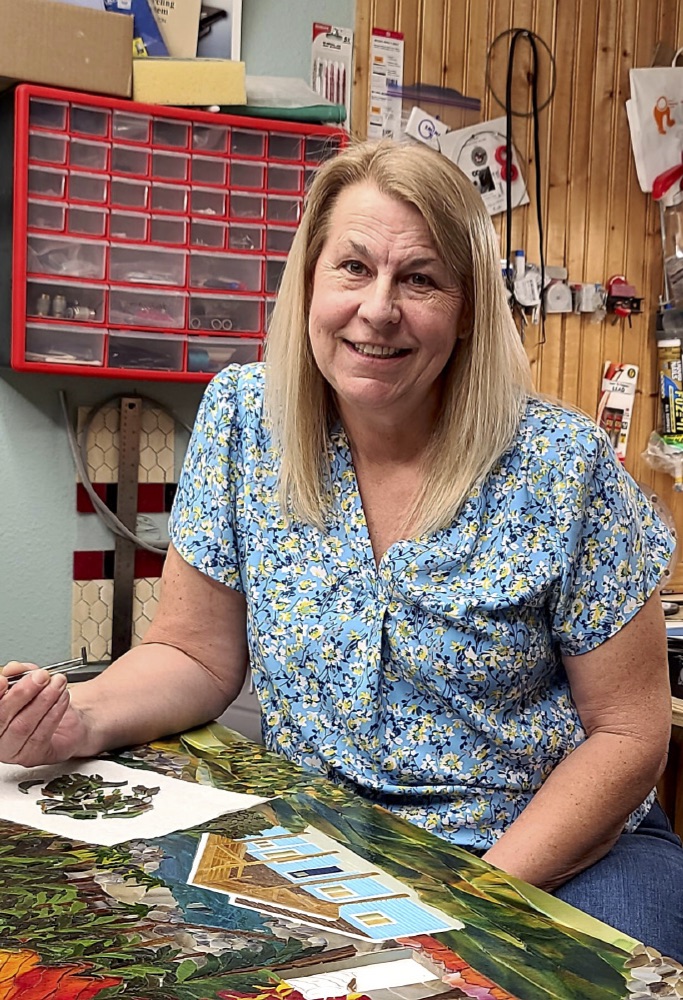 Part of the power of being human is our ability to adapt to new situations. Lisa Bustamante embraced that power to adapt – and parlayed her love of painting and creating ceramic art into a brand new career.
After raising her children and running a childcare business out of the family home for 18 years, her husband was placed on the swing shift at work. Bustamante decided to use those evening hours to take a beginning mosaic class at a local community college.
She started with small projects like olive oil bottles or lazy Susans and other gift items. Then she and her husband decided to remodel their kitchen, and the room became a canvas for her burgeoning career. Swirls of brown and cream 2″ x 12″ stained glass were hand cut and set to the countertops; Bustamante cut hearts out of floor-length mirrors to use on the backsplash. The Bustamantes liked the results so well, they decided to completely renovate their master bathroom!
This time 1″ x 6″ stained glass tile with blue streaks formed the field tile with two iridescent stained glass trees on each wall, all hand cut for the 4′ x 6′ shower stall. The Bustamantes replaced the vanity countertop with clear acrylic and she adhered mosaic petals with cherry and fuchsia iridescent stained glass to the top. She backlit it with rope lights inside the vanity, turning the vanity top into a nightlight.
"Fast-forward: three years of self-taught cutting skills on stained glass and creating mosaics," Bustamante said. "I was told by fellow designers to follow my dream and go into business. That is my story and I'm sticking to it!"
First foray into business
Bustamante explained that "going into business has been a whirlwind of fun, stress, and excitement." Her first commissioned piece as Custom Mosaic Creations, Inc., was taking Starbucks artistic coffee mugs her client's husband had collected and turning them into a mosaic. Her client lost her husband suddenly and wanted a memorial mosaic of his mugs installed above her stove during a kitchen remodel.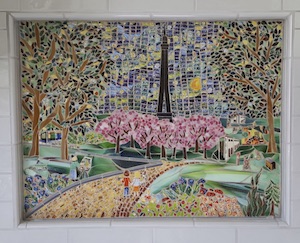 Bustamante listened in rapt attention to the story of her client's husband's proposal to her at the Eiffel Tower in Paris, complete with a nosegay of flowers and a walk holding hands. Once in the studio, Bustamante designed a park-like scene to be created in the stained-glass and coffee-mug mural with two people walking hand-in-hand towards the tower. "When I delivered the mosaic to be installed, she was moved to tears," Bustamante said. "That was my first experience at seeing how my mosaic art emotionally touches the client and is a true heirloom to them." And learning people's stories and turning them into art that captures the essence of an experience or a scene that is a beloved memory has become an integral part of her process.
"What sets my business apart from other mosaic artists is that I get emotionally involved in the story and add positive energy to the project, while thinking about the client and their story and creating their mosaic."
Over the last seven years of Bustamante being in business, she has enjoyed being involved with builders and design organizations. Last July, at Coverings '21, she joined the National Tile Contractors Association (NTCA) after learning about all the benefits NTCA offers.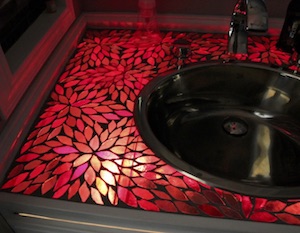 "The greatest value of being a member for me is the NTCA Reference Manual and the knowledge I am learning from like-minded tile setters," Bustamante said. "I am hopeful that being involved with NTCA will show that I am a reputable business owner and a professional in the tile industry. I currently do not have my Certified Tile Installer (CTI) credential from the Ceramic Tile Education Foundation (CTEF), but I am planning on taking the test in the future. I have several tile companies here in Portland, Ore., that I can depend on for installing custom mosaics as they have CTIs on hand and are ready to take on any job I need them to install."
Bustamante entered 2020 with several projects on the table, but experienced a temporary stall due to COVID-19 lockdowns. However, since then, she has been commissioned to create two large custom mosaic backsplashes.
Business is full speed ahead for Bustamante. "The greatest satisfaction I get from being a tile contractor is that I get to be in business for myself and I get to reach into people's hearts and heads to learn about their stories, and in turn, create their story into an amazing custom stained glass mosaic that speaks directly to them," she said. "When I deliver the projects they are deeply touched. I am able to visualize what they are trying so hard to explain what they want to be created. It makes me feel warm and fuzzy when I am able to create their vision into a mosaic."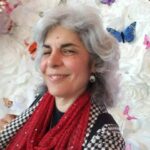 Editorial Director and Senior Writer for TileLetter and TileLetter ARTISAN
Lesley Goddin has been writing and journaling since her first diary at age 11. Her journey has taken her through a career in publishing and publicity, landing her the editor position of TileLetter and its special publications in 2006. Her goal is to educate, inspire, recognize and encourage those in the tile industry -- especially the tile and stone contractor. Other interests include the soft, purring marvels known as cats, labyrinth walking, drumming and percussion, and a range of spiritual, musical and artistic pursuits.