Consumer-targeted documents explain pitfalls of leaky showers and guide consumers to qualified installers

Technical advice and expertise come in a lot of forms. In fact, were you aware that the National Tile Contractors Association (NTCA) has established a Consumer Education Committee (CEC) with participation from the Ceramic Tile Education Foundation (CTEF), Tile Council of North America (TCNA), LATICRETE, iQ Power Tools, Schluter and contractor members of the industry? The purpose of the CEC is to gather information FROM consumers about their biggest concerns when contracting tiling services and provide information TO consumers about some of the biggest problem areas they may encounter in their search – and what to do about them.
At this writing, there are two documents in their final proofing stages: "13 Questions to Find the Right Installer" and "Help! My Shower is Leaking!" Information on these documents will be disseminated through the NTCA website, Why Tile, social media, email and will be available for download for distributors and contractors to use with their customers, or can be downloaded directly by research-savvy consumers themselves.
As a preview, here is some information presented in the paper colloquially known as the "leaky shower document," which opens by stating: "Many times, a leaking tiled shower can be the result of an unqualified person performing the work. A leaking shower can damage other areas of the bathroom or even the room below the shower. There are multiple reasons why this could happen. Learn what they are, and how to avoid them."
Some of the tips the document offers are these:
1. Your first line of defense should be to have your plumber check for leaks in the:
Shower control valve and/or pipe to the shower head 
Water supply lines 
Drain and trap 
2. Your second line of defense should be to have your shower door installer check for leaks in:
The door track (if present) because of screw penetrating the curb 
The vinyl sweep on the bottom of the door 
Between the vertical metal frame and the tiled wall 
Between the door and the metal frame attached to the tiled wall 
It also explores what evidence of a leaky shower looks like, such as: water stains on the walls, water dripping from the ceiling, wet, damp or discolored floor tile outside the shower, loose tile on curbs in the shower, or cracking grout or mineral deposits on the grout lines. The document offers potential causes for each of these conditions, ranging from clogged weep holes, to improper slope, to improper or complete lack of waterproofing .
The leaky shower document details other evidences of leaking showers such as cracked tile on the curb or deteriorating walls, or walls that are damp and spongy with evidence of mold or mildew. Sometimes a leaky shower stinks – literally – due to a number of potential causes outlined in the document, including stagnant water and organic shower products like soap, shampoo, body wash and body oil trapped below the tile allowing mold to grow.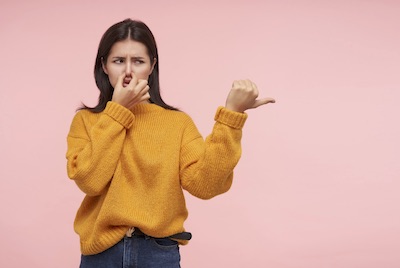 The document concludes with a message about the importance of seeking qualified labor to address this problem, and to be aware of quick fixes:
"Unless otherwise indicated (such as plumber or glass installer), it is important that you seek the help of an industry QUALIFIED tile professional who uses tile industry standards and approved best practices for shower installations and strictly follows the material manufacturer's specifications and instructions.
It's helpful to understand this about showers: A properly constructed shower manages and directs all the water that flows through it to the drain, and nowhere else. The shower 'fixture' needs to be water tight, utilizing one of the two basic types of showers: a 'Water In, Water Out' shower system, which is constructed with a clamping ring drain and waterproof shower pan liner or a 'Sealed System' that employs a bonding flange drain and a waterproofing membrane that extends to the shower head. Both systems require that the walls, seats, ledges, niches, and curbs be treated with the appropriate waterproofing product. If the waterproofing, drain components, or any part of the shower system is not installed properly, is damaged, punctured, or compromised during installation, a leak can and will result in failure.
"PLEASE NOTE: Beware of the claims that a leaking shower can be eliminated by using grout or caulking repairs/replacement or the application of a sealer or coating. These actions will, at best, provide only a temporary fix. Beware of individuals and companies who are NOT insured, licensed where required. Tile installers certified by the Ceramic Tile Education Foundation have demonstrated their dedication to their craft and have been evaluated by an industry-recognized program for proficiency. Wisely consider, interview, and hire dedicated tile professionals who have received proper training and have experience in the process of providing a long-lasting and trouble-free shower installation. A qualified tile professional will perform work in accordance with the Tile Council of North America (TCNA) Handbook Methods, American National Standards Institute (ANSI) Standards, and the manufacturer's written instructions."
Finally, the document includes links to the CTEF and NTCA to assist consumers in finding qualified tile installers in their area.
Stay tuned for the availability of this shower document as well as the paper that guides consumers to hiring an experienced, qualified installer.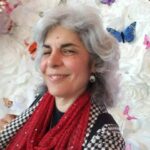 Editorial Director and Senior Writer for TileLetter and TileLetter ARTISAN
Lesley Goddin has been writing and journaling since her first diary at age 11. Her journey has taken her through a career in publishing and publicity, landing her the editor position of TileLetter and its special publications in 2006. Her goal is to educate, inspire, recognize and encourage those in the tile industry -- especially the tile and stone contractor. Other interests include the soft, purring marvels known as cats, labyrinth walking, drumming and percussion, and a range of spiritual, musical and artistic pursuits.