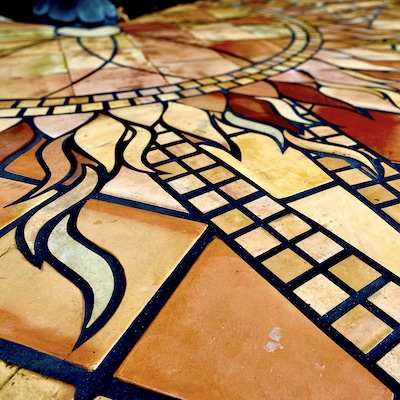 A couple of months ago, we put out the call for stellar tile installation projects to consider for the TileLetter 2023 Media Planner cover, with the promise that the chosen project would have a case study feature in January. 
Well, here it is, folks – the project selected to grace the media planner cover and accompanying case study.
The project is a beautiful Saltillo tile sun patio installation done by Michael Moreno of Artisan Tile in Lompoc, Calif. TileLetter staff loves the bold design and bright colors, which seem to bode well for a prosperous 2023.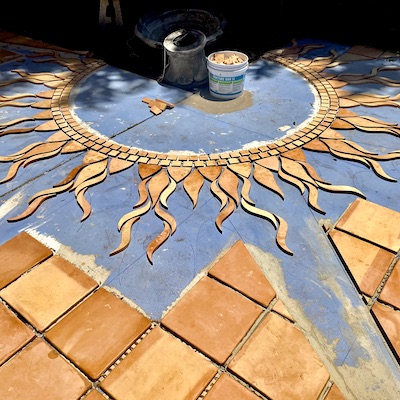 The sun was installed during 2020-2021 in Moreno's own backyard at the patient request of Moreno's wife Jennifer. "Like a lot of home projects, this was on backburner for a couple years. I had some time between projects so I informed Jenny that I would finally be getting to the back yard, but that I would not do just a run of the mill install, and that I would have to make it interesting and enjoyable to myself." Moreno admitted that he can sometimes "go overboard" and delay the project by making things complicated when doing personal projects. "This was no different," he said.
"I drew a rough sketch of the sun on the substrate," he added – just a large 3/4 circle and some giant rays. "I then installed the straight-set tiles around the sketch. I had no idea how I was going to detail the sketch. I sat on it for about a week, thinking about contrasts, lines, rays and flames. I knew there would be flames. So after a week of contemplation and some test pieces I settled on the design of the large rays and the smaller encircling flames."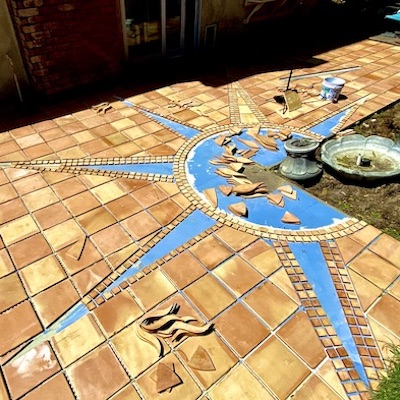 Moreno was still pondering the treatment of the center of the sun. "I ended up cutting the pillow edges off the Saltillo to turn them into sharp squares," he said. "I set these pieces tight, as I didn't want to mimic the 1/2″ +/- joints everywhere else. I then cut 1/2″ joints into these tiles in the shape of petals. By using grout lines in a decorative manner I was able to create a rather interesting contrast inside the sun between the petal joints and the tight joints of the tile."
Moreno sourced the Saltillo tile and materials from his local Tile Co. distributor in Santa Maria, Ca. He used LATICRETE Fracture Ban on the substrate and ARDEX X5 for adhesive, with CUSTOM's Saltillo pre-mix for the grout. The entire project took about three weeks, with the assistance of his son Michael Moreno Jr., and Tyler Rock.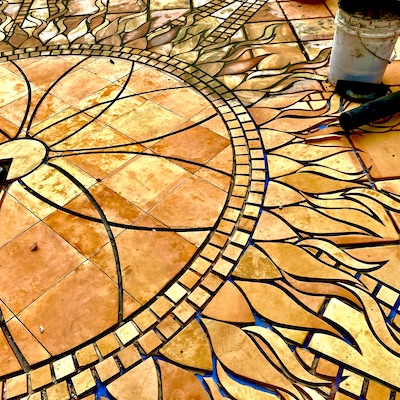 We're happy to present such a vibrant project as a case study – and the promise of a sunny year for our media planner cover. Keep in mind, we'll be looking for a 2024 media planner cover come July 15, 2023, so if you have a project you are particularly proud of, send high resolution photos
to [email protected] for consideration.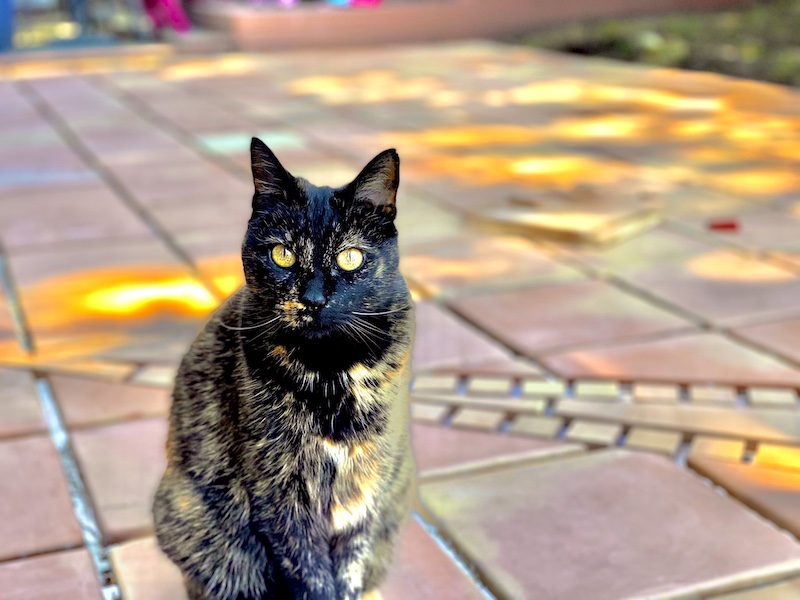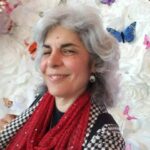 Editorial Director and Senior Writer for TileLetter and TileLetter ARTISAN
Lesley Goddin has been writing and journaling since her first diary at age 11. Her journey has taken her through a career in publishing and publicity, landing her the editor position of TileLetter and its special publications in 2006. Her goal is to educate, inspire, recognize and encourage those in the tile industry -- especially the tile and stone contractor. Other interests include the soft, purring marvels known as cats, labyrinth walking, drumming and percussion, and a range of spiritual, musical and artistic pursuits.