"Know yourself – and know your audience." – Tennessee Ernie Ford
Happy New Year!
This morning I was reading a Facebook post many of you may have likely seen. It was about world-class violinist Joshua Bell playing anonymously on a $3.5 million Stradivarius violin for 45 minutes in a D.C. Metro subway (incorrectly identified in the post as the New York City subway), among throngs of people going to work and appointments, for which he raised $30 in tips. Two days before, the post says, he played to a sold out crowd in Boston, where tickets averaged over $100 each (this was in 2007).
The thrust of the post was to know your worth, and to remove yourself from an environment that doesn't serve or reward you.
I agree with knowing your worth. That is essential. You invest time in training, education, years of practicing your craft and your artistry, and customers expecting you to accept a pittance for your professionalism are seriously not respecting what goes into your craft.
But something else occurred to me. In addition to knowing your worth, know your audience. If I were a betting woman, I would wager that Joshua Bell did not expect accolades or large sums of money when he gifted his beatific music to people rushing back and forth to work. And the original poster seemed to think that people didn't appreciate Bell's artistry. "The experiment proved that the extraordinary in an ordinary environment does not shine and is so often overlooked and undervalued."
I have a different perspective. I'd say the "experiment" illustrated that people were intent on getting to work and catching their trains, and weren't attuned to the glories of the music. In a concert hall, the audience is expecting and prepared to enjoy the performance, and have made music a priority for the evening. It isn't competing with deadlines and schedules and jostling crowds.
So yes, know your worth, but also know your audience and read the room. Realize that when people have other things on their minds, your special talent may not touch them unless it is addressing their concerns of the moment. What are your client's needs? What are their practical concerns? What is their budget? What other aspects of the project are they juggling as well as the tile? How can you make your component of their project not only a beautiful, professionally-installed, long-lasting aspect of their space, but how do you make it easier for the customer to work with you? Doing so can help remove any obstacles the customer may have to meeting your well-deserved price, by adding value to not only the tile installation, but the entire project experience.
Just a thought to ponder as we enter into a new year.
In the meantime, we have a range of compelling articles for you to start off 2023, from information in our Business section on how to redeem your NTCA vouchers, to an invitation to be highlighted in our Member Spotlight feature, to our case study of a beautiful sun-design patio by Michael Moreno. We have two Training & Education stories for you this issue: one that introduces you to the NTCA Tile Setter Craftspersons of the Year, and another by student journalist Amanda Mourelatos about how Tucson-based Mourelatos Tile Pro helped to educate and support students at the Southern Arizona Construction Career Days event last fall. Bart Bettiga shares insight from Trevor Lang, President of Floor & Decor, in his One-to-One feature, and we look at what the folks at Oatey say about mitigating moisture in our Technical section. Our cover feature explores the new Pike's Peak Summit Visitor Center and how MAPEI materials helped that challenging project be a success. And take a peek at our Industry Calendar to plan your conference and trade show visits for 2023.
At this writing, 2023 looks to be off to a good start! I'm affirming it will be a good one!
God bless,
Lesley
[email protected]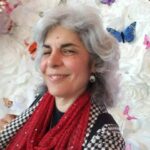 Editorial Director and Senior Writer for TileLetter and TileLetter ARTISAN
Lesley Goddin has been writing and journaling since her first diary at age 11. Her journey has taken her through a career in publishing and publicity, landing her the editor position of TileLetter and its special publications in 2006. Her goal is to educate, inspire, recognize and encourage those in the tile industry -- especially the tile and stone contractor. Other interests include the soft, purring marvels known as cats, labyrinth walking, drumming and percussion, and a range of spiritual, musical and artistic pursuits.