Miami, FL September 2022 – The Spanish Ceramic Tile Manufacturer's Association (ASCER) announces the call for entry for the 2022 edition of Tile of Spain Awards of Architecture, Interior Design and Final Degree Project.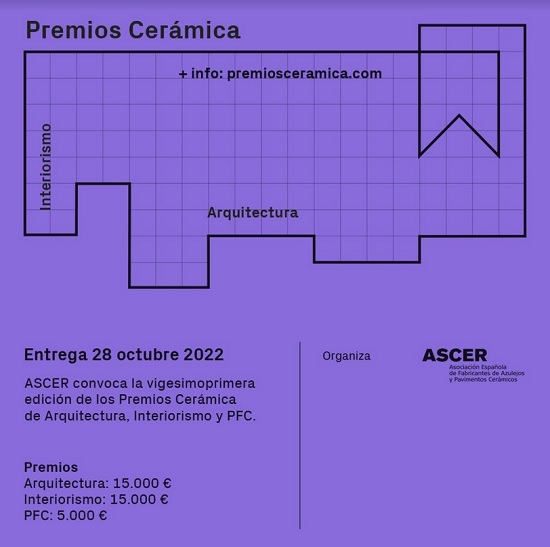 Celebrating twenty one years of ceramic excellence, the highly coveted Tile of Spain Awards program honors the outstanding use of Spanish ceramic tiles in architectural and interior design and highlights projects from all around the world.

The 2022 installment of the Awards are sponsored by Endesa, PortValencia and PwC Spain and have received support from the Valencian Government. The jury will be led by British architect Eric Parry. Parry is the founder and principal of Eric Parry Architects, established in 1983 in London, England. The judging panel is also comprised of esteemed architects and interior designers including: Luis Rojo, José Juan Barba, Ángel Pitarch and Agnès Blanch.

The Tile of Spain Awards have a prize fund of €35,000 (approx. $35,500) shared between three categories. The two main categories, Architecture and Interior Design, each have cash prizes of €15,000. The Final Degree Project award has a cash prize of €5,000. The panel of judges is also entitled to give two special mentions in each category.

Entries from Spain and abroad are being accepted now through October 28th, 2022. Visit www.tileofspainawards.com to enter the contest or learn more about the Tile of Spain Awards.
---
About the Awards The objective of the Tile of Spain Awards is to promote the use of Spanish ceramic tiles in architecture and interior design projects (both in Spain and abroad). The program boasts a consolidated trajectory and is held in high esteem by architecture professionals.
The Tile of Spain Awards offers cash prizes totaling over $35,000 that are divided among three areas. The two main categories – Architecture and Interior Design – each have a cash prize of over $15,000. Special mentions may also be made in both categories, based on the judges' criteria. The third category, the Final Degree Project, targets students of architecture and has a cash prize of over $5,000. In all three categories, entries are welcome from both Spanish and international participants.
The award ceremony will be held in Valencia during CEVISAMA 2023. Full details of this and previous editions of the awards are available at www.tileofspainawards.com.
About Tile of Spain In Spain, tile makers labor as they have for centuries – pushing their passion for design and innovation to new levels of artisanship. With one of the purest and strongest domestic clays available, Spanish manufacturers have an unparalleled ability to make the end product more diverse. From rustic handmade forms; to technical facades that cool buildings and clean the air; to the impossibly slim, sustainable recycled and ink jet masterpieces that fire the imagination. The Spanish Ceramic Tile Manufacturers' Association (ASCER) is the private organization whose primary objective is to support Spain's ceramic tile manufacturers and the industry as a whole by stewarding and promoting the Tile of Spain brand worldwide. A strong global leader, the ceramic tile industry of Spain is comprised of over 120 manufacturers concentrated primarily in the province of Castellón. For more about tile produced in Spain, contact Tile of Spain Center at the Trade Commission of Spain, 2655 Le Jeune Road, Suite 1114, Coral Gables, FL 33134. Call 305-446-4387 or visit www.tileofspainusa.com.