Welcome to the October issue of TileLetter! This is the month we celebrate women in tile. 
Why do we do this, you ask? Well, it's often said that construction is a man's world and in fact, women comprise only 9.9% of the 8.3 million people in construction (but that's still that's 821,700 women!). 
Yet, according to an article in Big Rentz, there's been 94% growth in female owners from 2007 to 2018, and 9% of female-owned firms achieved revenues of more than $500,000 in 2018. What's more, 4% of new construction firms were launched by women last year, and 44% of the top 100 contracting companies have women in executive roles. 
So women form an important part of the construction industries. We see women's role in our industry as well. And growing efforts are being made to recruit more women into our industry as the NTCA University Update story about a new NTCA recruitment video illustrates. Already we are in prominent positions, as is evidenced in the Women in Tile story that explores the careers of Schluter Systems' Shannon Huffstickler, CTEF's Heidi Cronin and Stuart Tile Company's Janet Kozey. Women's work is stellar, as you can see in the project gallery in our Hot Topics section, with installs by Chanel Carrizosa, Rachel Cahalan and Jaime Martin. Women are intent on credentialing skills, as you'll read in our Training and Education story about Carrizosa's CTI exam in 2017. And we also profile a woman-owned company in our Member Spotlight – Fischer Tile & Marble in Sacramento run by Taryn Fischer. 
Exploring these stories also is a testament to the tremendous support offered by those in this industry – both women AND men. While it's true that some women have had to deal with gender-related hurdles, we've also had support from many industry sectors and won the respect of colleagues and customers. 
So enjoy this issue, and if you happen to know a woman who's doing amazing work or making inroads in our industry, email me with her information. It's never too early to start working on the 2020 Women in Tile issue of Tileletter.
God bless,
Lesley
[email protected]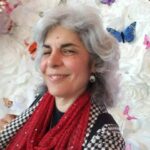 Editorial Director and Senior Writer for TileLetter and TileLetter ARTISAN
Lesley Goddin has been writing and journaling since her first diary at age 11. Her journey has taken her through a career in publishing and publicity, landing her the editor position of TileLetter and its special publications in 2006. Her goal is to educate, inspire, recognize and encourage those in the tile industry -- especially the tile and stone contractor. Other interests include the soft, purring marvels known as cats, labyrinth walking, drumming and percussion, and a range of spiritual, musical and artistic pursuits.