Celebratory gala event marks Virginia Tile Troy's official opening
LIVONIA, Mich. — October 18, 2021 – Virginia Tile held its grand opening gala last Thursday, October 14th in honor of the official opening of its new flagship location in Troy, Mich. Over 200 industry representatives and Virginia Tile supporters gathered from across the country to celebrate the exciting milestone. The event featured a ribbon cutting ceremony, live entertainment, delicious food, and signature cocktails.
Virginia Tile's CEO, Sunil Palakodati, presided over the official ribbon cutting and was accompanied by Tara Tomcsik-Husak, president of the Troy Chamber of Commerce, Chad Treuthart, Virginia Tile vice president of residential sales and showrooms, Ethan Baker, the mayor of Troy, Brian Mark, former owner of RBC Tile & Stone and current board member, and Bill Stephenson Sr., former owner of Virginia Tile and current board member.
During the ceremony, Virginia Tile was presented with the Troy Chamber of Commerce's member plaque and a certification from the city of Troy, welcoming the company to the community.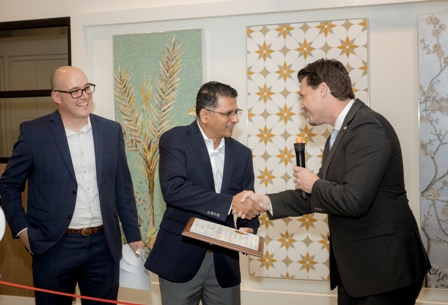 "Virginia Tile's new flagship location is the perfect addition to the Troy community and the Troy Chamber," said Tara Tomcsik-Husak. "I was in complete awe of the showroom's beauty, as it not only helps to build creative ideas that can be incorporated into your home or business, but it also showcases the quality of their products and services. It's one of the reasons that I personally chose their products for my own home."
The opening of Virginia Tile Troy brings a premium tile and stone experience to the Troy area for both residential customers and contractors. The "all in one" space offers a best-in-class experience complete with the addition of large format tiles, a customer friendly pick-up area, fully stocked warehouse, and more.
"We are very pleased with our new showroom and the connections made during this special evening. Having Mr. Mark and Mr. Stephenson, along with the new executive team, kick off this new chapter for Virginia Tile made this a memorable event," said Virginia Tile Director of Product and Marketing, Sean Cilona. "We are thankful for the support of our suppliers and our customers. We look forward to growing the Virginia Tile brand and legacy throughout the country."
Virginia Tile Troy is now open, supplying high-end domestic and import design products and providing superior customer service to both residential and commercial customers.