LOS ANGELES – Walker Zanger, North America's premier slab, stone, and tile design resource, launches its new large-format porcelain tile collection, Paramountstone. The new collection draws inspiration from the pigments and silky, matte texture of concrete. Offered in two natural concrete colors—Trail Dust, a taupe iteration, and Iron, a deeper gray, Paramountstone provides a new dimension to minimalism.
True to Walker Zanger's quest to find what's new and next in surface design and innovation, Paramountstone reimagines the possibilities of porcelain surfaces. The collection's alluring texture creates a perception of natural depth and an elevated feel of sophisticated concrete with a smooth-touch finish. Paramountstone's grey-hued color options in Iron and Trail Dust create neutral, contemporary spaces with minimal grout lines for a polished and sophisticated style. The new large-format collection also offers coordinating mosaics for shower floors, making a whole-room surface solution with one product collection.
"Paramountstone is a classic example of Walker Zanger's commitment to bringing beautiful, innovative, and durable solutions to today's designers and homeowners," said Suzi Portugal, Vice President of Design and Sourcing. "The crafted collection offers a versatile tile design and unconventional format sizing to create fresh spaces with a practical and livable surface material."
The new porcelain collection is available in two large-format sizes, including 8"x48" and 24"x48" and one coordinating mélange mosaic. The series is suitable for residential and commercial floors, walls, countertops, fireplaces, showers and interior and exterior spaces.
Paramountstone is a boutique collection available exclusively through Walker Zanger showrooms. To learn more, please visit walkerzanger.com.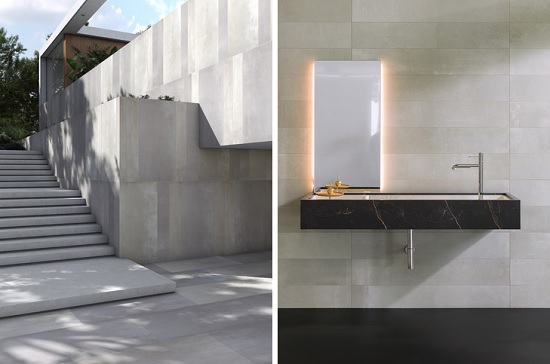 ---
About Walker Zanger
Walker Zanger is the leading stone and tile design resource in North America. For over 70 years, the company has helped design-trade professionals and homeowners realize their boldest design visions with the most unique, original, and thought-provoking surface materials. Walker Zanger has quickly become a go-to expert in the industry and is often the first to discover new materials, styles, innovations, and specialty surface products. Rooted in natural stone slab design, the company continues to push the boundaries of possibility, including recent introductions of cutting-edge materials like recycled glass slabs and thinner-than-stone porcelain slabs that emulate natural marble veining. The company carries on the innovative spirit with equal passion today in 11 curated showrooms and slab galleries, and 200 authorized dealers nationwide. Walker Zanger also presents exclusive collections inspired and created by some of design's most influential minds today; Michael Berman, Robert A.M. Stern, and Pietta Donovan have all lent their aesthetic vision to the brand. Walker Zanger is more than a destination for the world's finest stone and tile materials, it's where inspiration lives and 'Design Realized' endures. To learn more about Walker Zanger, please visit www.walkerzanger.com.