Lake Zurich, ILL., March 29, 2018— WarmlyYours Radiant Heating has joined with an up-and-coming kitchen and bath buying group as the sole vendor of radiant heating solutions.
 WarmlyYours, a radiant heating company that specializes in electric floor heating systems, joined with Kitchen and Bath Global Partners (KBGP) earlier this year. Since the company's establishment in 1999, WarmlyYours has been working closely with buying groups in the kitchen and bath industry. This expertise has made WarmlyYours the preferred vendor for radiant heating products for many buying groups, such as KBGP.
As a buying group, KBGP seeks to differentiate itself by going beyond just the traditional benefits of collective purchasing with unique value-added services. According to the KBGP website, "We help dealers and manufacturers grow stronger through mutually beneficial partnerships. Not only do we provide our members with the collective buying power of group purchases, we play an active role in supporting and furthering the interests of our members. We provide a full range of services including; talent acquisition, education, consulting and technology to help our members grow stronger businesses."
One of the ways KBGP accomplishes their core goals is by vetting their members to make sure that they're committed to selling the products of partner manufacturers while at the same time making sure that vendor partners provide quality products and competitive pricing for their members. In addition, KBGP assists members with consultation services concerning topics like talent acquisition and using key performance indicators to grow a business.
KBGP is led by Thad Whittenburg, who serves as president of the group. Whittenburg has over 30 years of experience in the kitchen and bath industry. According to his KBGP biography, Whittenburg enjoys "working closely with individuals and teams to help them reach their goals. He specializes in providing education and consulting services for our members to help them find solutions in our rapidly changing industry."
Elodie Pasek, the director of business development for WarmlyYours, said that the internal culture and overall vision of KBGP meshed well with those of WarmlyYours.
"We are so thrilled that Thad thought of WarmlyYours as the exclusive source for radiant heating products. Our dedication to customers and helping them make the right decision for their remodeling or new-construction projects is what we thrive on! We look forward to working with current and future members of KBGP," said Pasek.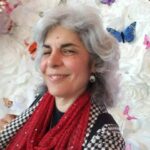 Editorial Director and Senior Writer for TileLetter and TileLetter ARTISAN
Lesley Goddin has been writing and journaling since her first diary at age 11. Her journey has taken her through a career in publishing and publicity, landing her the editor position of TileLetter and its special publications in 2006. Her goal is to educate, inspire, recognize and encourage those in the tile industry -- especially the tile and stone contractor. Other interests include the soft, purring marvels known as cats, labyrinth walking, drumming and percussion, and a range of spiritual, musical and artistic pursuits.