Lake Zurich, Ill., June 28, 2022 — WarmlyYours has introduced a number of new electric towel warmers that can be used with either a plug-in or hardwired electrical connection.
These new dual connection towel warmers are designed in such a way that they can be easily converted by a licensed electrician from their default plug-in connection to a hardwired one while maintaining their cETLus listings post conversion. WarmlyYours has onboarded 5 different towel warmer models with dual connection capability including new versions of some of WarmlyYours's most popular models, the Infinity and Riviera. All of the new towel warmers come with an updated LED switch and TempSmart overheat protection which will shut the device down once it reaches 167°F (75°C).
Julia Billen, owner and president of WarmlyYours, said that the dual connection towel warmers provide end-users with a degree of design flexibility.
"For some people, the initial install location for a towel warmer isn't where they want the device forever. With dual connection models, you can install the device as a plug-in and then when you decide where you want it permanently, you can have it converted to hardwired for a more streamlined appearance," said Billen.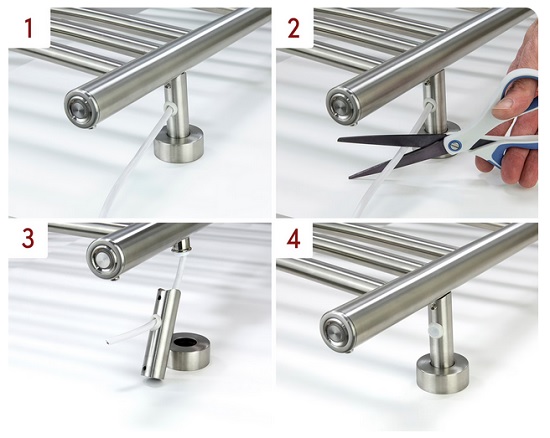 Billen also said that an additional benefit of the new dual connection towel warmers is that they don't have a cover plate for hardwired installation which means that the towel warmer will have a balanced appearance after installed.
"Towel warmers are meant to be both functional and attractive. This new design allows for these devices to deliver a level of luxury that you can feel AND see," said Billen.
Additionally, the Infinity and Riviera dual connection towel warmers can be paired with Austrian towel warmer crystal accessories for an added sense of high-end flair.
---
About WarmlyYours
For over 20 years, WarmlyYours Radiant Heating has offered the industry's most innovative solutions in radiant heating technology, from our flagship floor heating systems and radiant wall panels to snow melting systems, as well as comfort products, including towel warmers, mirror defoggers, shower floor and bench heating, and countertop heaters. With locations in the United States and Canada, WarmlyYours provides unrivaled personalized customer support from start to finish, featuring measuring and design services, 24/7 technical support, and our No Nonsense™ Warranty.
For more information, visit www.WarmlyYours.com.