Overland Park, Kansas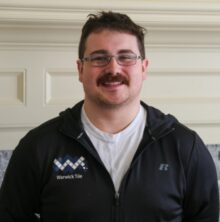 Drue Hernandez, owner of Warwick Tile in Overland Park, Kans., is a combination of innovator and specialist. The company is strictly residential, having worked with many homeowners the last two years and recently getting jobs from some new contractors and a designer. Instagram is a key resource for new work.
But Warwick doesn't do residential the typical way. "Our specialty is epoxy grout and adhesive installations," he said. "Not a lot of companies in the residential sector mess with epoxy because they lack the knowledge and experience with it."
Warwick also prides itself on premium products and methods – in fact that is a selling point for the contractor's clientele. "We prime almost all of our surfaces before sticking any kind of prep work," Hernandez said. "We do a lot of self leveling just to ensure we have as close to a perfect installation as possible. We offer full system warranties with companies like LATICRETE, ARDEX, and Progress for those clients that want that insurance or just the best products the industry has to offer.
"Another highlight for us is we try to have close relationships with manufacturers and their reps so we can always provide the most up-to-date and accurate information on products and methods," he added.
---
Benefits of being an NTCA member
2021 is Warwick's second year with the NTCA. Hernandez said that he felt that the NTCA membership helps to legitimize his small new business, and demonstrate that it means to represent the industry with quality and professionalism.
"One of the biggest things that drew me to the NTCA was the apprenticeship/education programs," Hernandez said. "As an industry that doesn't require licensing and regulations, I think it is crucial for there to be programs in place to help smaller companies like mine provide a quality apprenticeship that develops quality, knowledgeable installers. We don't currently have an employee utilizing the programs, but they are good to always have on hand and the education seminars are beneficial for me to attend as well." Eventually, Hernandez said he would like to be one of the only residential NTCA Five-Star Contractors in the area.
Covid backlash
Though Warwick sailed through Covid relatively unscathed, the fallout from the pandemic is affecting the company now due to delays and shortages.
"We have had to make sure our tile orders are being placed 3-5 weeks in advance to make sure everything is here and inspected prior to project start," Hernandez said.
And labor is harder to find as well, but Hernandez exercised his characteristic ingenuity to get on top of the situation. "I have actually partnered up with a close friend and tile contractor, Irving Bustamante of Bustamante Precision Tile," he said. At press time, he'd been working with Bustamante for about four months. "The difference has been night and day. Teaming up with Irving has helped both of us get through jobs quicker, and it's a beautiful thing having two skilled installers working in unison that have the same vision and level of quality in mind," he said. "Our goal in 2021 will be to both hire apprentices and help to expand our company. We have recently gained two new contractors who found Warwick Tile through Instagram and we hope to start long-lasting relationships with them."
Creativity, precision and ingenuity in the installation practices and running the business result in the "euphoria of finishing a project and sitting back to admire your handiwork," Hernandez said. "Every job probably has something about it I would change and nothing is perfect, but the sense of accomplishment and pride I get is incomparable to any high." He also values getting messages from past clients who love their installations. "It has yet to get old!" he concluded.