Tarkus Tile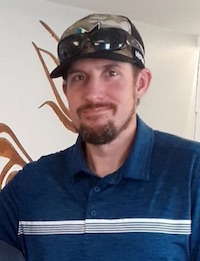 Mark Christensen is the owner of Tarkus Tile, specializing in high-end residential tile and stone installations in the Salt Lake City, Utah, area. A member of the National Tile Contractors Association, Tarkus Tile has been recognized nationally for excellence in installation on several projects; most recently receiving the Coverings Installation Award (CID) for residential tile. Mark has been installing tile and stone for over 20 years, and has developed a niche in high-end new construction. With the challenges presented by constructing homes in the mountains and surrounding area, Mark enjoys collaborating with local builders and contractors, as well as homeowners, to create ceramic and stone installation masterpieces. We caught up with him to gain his perspective on this growing community and to share his passion for his craft.
---
How did you enter the tile trade and develop the unique skills you have as a tile craftsperson?
In 1998 I was headed to Mexico on a road trip and ended up in Phoenix to visit a friend. He had a job working for a tile contractor. I helped him out for a few days to get some gas money, and I liked it and ended up staying there for some time. I got thrown into the fire immediately and was challenged to do some things I wasn't qualified to do; but by doing so, I learned a lot. After a year or so I moved back home to Utah and started working for some local tile companies. I am pretty much self-taught. I joined the John Bridge forum online and started networking with peers around the country and that helped me a lot. This opened my eyes to new systems and technologies. Basically, a lot of trial and error and a lot of networking and research led me to where I am today.
Do you have any thoughts on how our industry can attract people into our trade to make them aware of the opportunities that we have as tile contractors?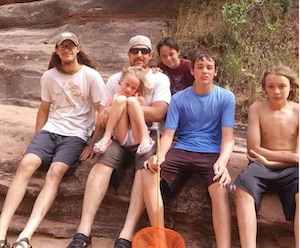 Social media is opening the eyes of the next generation to many career opportunities, and our industry is quite attractive in that way, due to the beauty of our installations. I think this is good and it attracts interest. I do think people have to understand early on though how much hard work it takes to be successful, both physically and mentally. That being said, there are a lot of passionate tile installers who demonstrate how much we enjoy our job and take pride in our craft. This creates interest and opportunity for the next generation. I have four sons and they work with me quite a bit, and they know it is hard work, but they also see how much fun we have – and they also can see a clear pathway to financial independence and success. I think this is really important.
How has social media been important to your career?
It has been life changing. I work mostly by myself. The forums created an opportunity to learn about other systems and products. I heard about the NTCA on a forum and joined the association through this platform. And it goes beyond the technical sharing. We talk about business and life. I have made friends and I have collaborated with others on the forum on projects. It was a game changer.
Describe yourself as it relates to the type of person you are and why tile has appealed to you. Are you artistic or do you like building things from scratch? Do you have a math or engineering background?
I think a little bit of everything. I am not extremely artistic or mathematically inclined, but I LOVE the challenge of assembling and building things. My dad was a jack of all trades and had lots of tools, and I grew up solving problems and building things from the ground up. I think that led me to really enjoying tile and stone.
How were you able to become a preferred tile installer for builders and owners of the types of high-end projects you currently do?
It takes time. You have to get hired to do one project like this first, and if you do a good job, and communicate with your client throughout the process, you build a name for yourself, and it snowballs from there. This type of work generally gets secured from one builder or homeowner recommending you to the next one. Word spreads fast both positively and negatively. And the work goes both ways. I have found that if you find a few general contractors that you can develop a relationship of mutual trust, you will be successful in this type of work.
What was special about your 2021 CID Award winning installation?
The house had eight bathrooms. The indoor pool and athletic area, which also had a steam shower, was in the basement. This is the section I submitted for award consideration. I was on this project for eight months. Because it was when COVID-19 hit, I had the luxury of working in this home mostly by myself. It allowed me to take my time and make it perfect. The project was unique in that the homeowner acted as the general contractor, and they did not have a real vision of what they wanted. This allowed me to have creative leeway and we worked really well together. I couldn't really bid the project so we agreed on a time and materials arrangement. It was a great experience.
The pool was built to have a curved step, but they wanted the pool deck to flow into it, so we had to raise the floor over a radiant slab. We did a ton of mud work on both the floors and the walls. This allowed us to meet subsurface tolerances for all of the materials and have flat and level floors and walls.
I take pride in knowing how to do mudwork, and this really changed my life. It opened my eyes and it raised my game. This is important because I don't think you can do this type of work without knowing how to master these skills. I use all types of systems, but there are times when you have to be able to mud the walls or floors.
It was an honor to be recognized by the industry and to share the award with my friends and peers.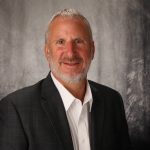 Bart Bettiga is the Executive Director of the National Tile Contractors Association and Publisher of TileLetter. Bettiga is a member of the Board of Governors of Coverings, one the largest tradeshows in North America. He has over 30 years of experience in the tile and stone industry and has served as the NTCA Executive Director since 2002. He is a well known speaker and author on ceramic tile and natural stone distribution and installation. He oversees the financial operations of the NTCA, TileLetter and the Ceramic Tile Education Foundation.