The imposition of countervailing and antidumping duties on Chinese tiles
On May 4, the U.S. International Trade Commission confirmed that Chinese exports of ceramic tile are causing injury to U.S. ceramic tile manufacturers. As a result of this decision, U.S. Customs offices were to begin collecting tariffs ranging from 562.52% to 689.5% for countervailing and antidumping duties.
In effect, we can expect that U.S. Customs will not collect tariffs from Chinese tile imports because with such high tariffs no importer will consider buying ceramic tiles from China.
In 2018, tile imports from China to the United States were about 690 million square feet, 31.5% of total imports (2,197 million square feet). In June 2019 the U.S. Department of Commerce announced preliminary duties on Chinese tile imports, and by October 2019 such imports were down almost to nothing. As a result of these actions in 2019, tile imports from China were 434 million square feet, 37% less than in 2018. Chinese imports made up 21.2% of total U.S. tile imports by volume in 2019. This was down from 31.5% in 2018, and represented China's lowest share of U.S. imports since 2008, as shown in the chart on the previous page, produced by Tile Council of North America (TCNA).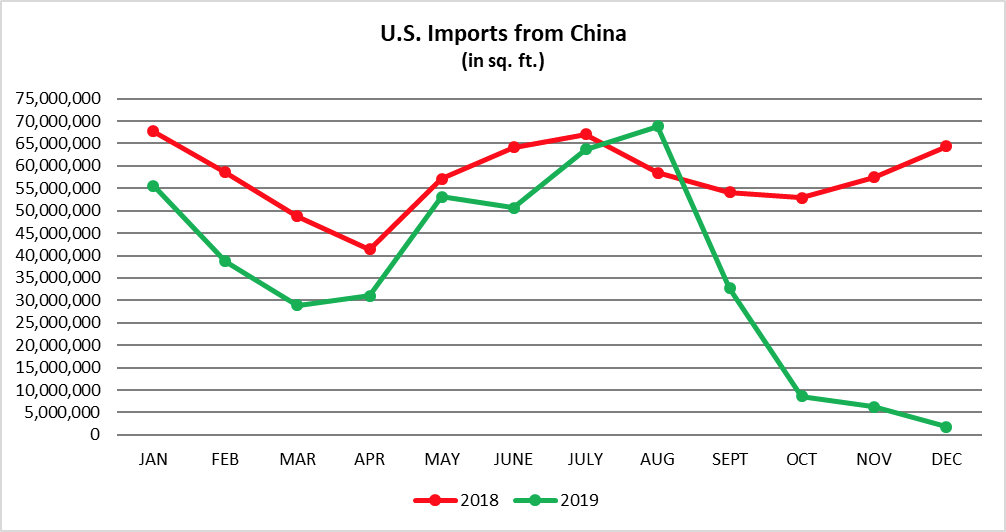 Prior to COVID-19 – projecting tile consumption in the U.S. in 2020 at the same level as in 2019 – we expected that the exit of Chinese tile imports from the American market would generate a supply shortage of about 690 million square feet of tiles.
U.S. shipments vs. imports
About 30% of tiles entering distribution channels in the United States are shipped by local factories, while 70% are imported, according to the U.S Consumption of Ceramic Tile chart, compiled by TCNA, below.
In 2019, U.S. manufacturers operated at about 75%-80% capacity, supplying 864 million square feet of tiles to the American market. We expected that working at full capacity these factories would have been able to ship an additional 275 million square feet of tiles, leaving a shortage in the market of 415 million square feet. Such a large amount of tiles would have to be replaced by imports.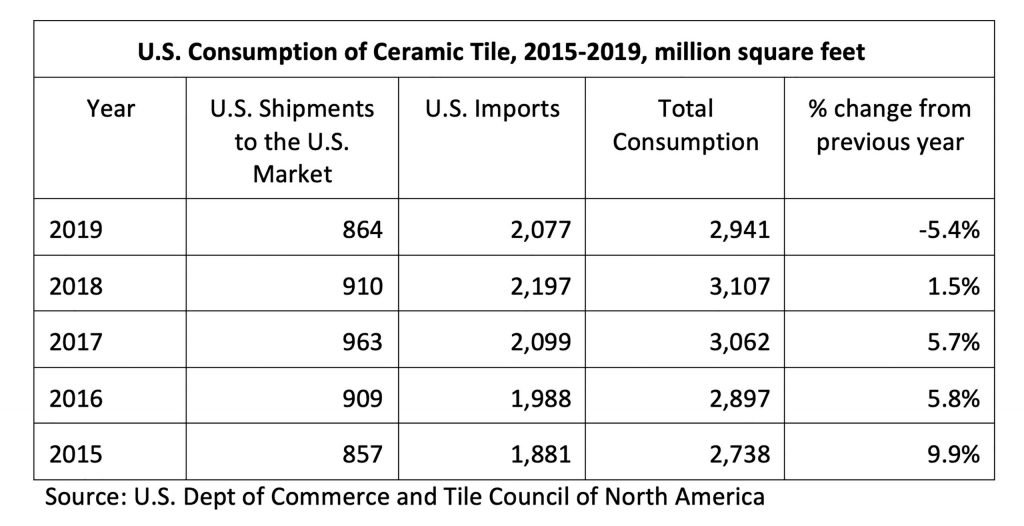 In the United States, there are over 600 companies that import tiles. As a result of the tariffs on Chinese tiles, many importers who bought in China began increasing their imports from countries that already sell large quantities of tile to the United States, such as Spain, Italy, Brazil and Turkey. The largest importers from China began looking for tile among low-price countries such as India, Taiwan and Malaysia with the potential of making up the shortage of tiles in the U.S.
Due to the fact that finding foreign suppliers with the right products takes time, prior to COVID-19, we expected shortages of supplies, price increases, and loss of market share to competing flooring products such as LVT, which is not affected by tariffs and quite popular among consumers.
The effect of COVID-19
COVID-19 destroyed all previous projections. Both new residential housing construction and residential remodeling are in sharp decline. In normal times, about two-thirds of ceramic tile shipments are directed to these two sectors of the tile market. In the first quarter of 2020, due to the lack of imports from China, imports of ceramic tile were 422 million square feet, almost 15% lower than in the first quarter of 2019 (496 million square feet). This was before the impact of COVID-19.
In 2020, the effect of COVID-19 may reduce the demand of ceramic tile by over 30%, leaving many importers and distributors with large quantities of unsold tiles in stock. Many will try to sell at discounted prices. Hopefully, construction will fully resume in most states in remaining quarters of 2020, but the damage to the economy will be felt in 2021.
At this time, there is a lot of uncertainty, and we will have to wait until the present emergency ends to be able to have a clearer view of the market.